UK Minister of State The Rt Hon Gregory Hands of the Department for International Trade arrived in Hanoi on February 1 to hold high level trade talks on how the UK joining the Comprehensive and Progressive Agreement for Trans-Pacific Partnership (CPTPP) will boost the economic firepower of the world's most dynamic trade bloc.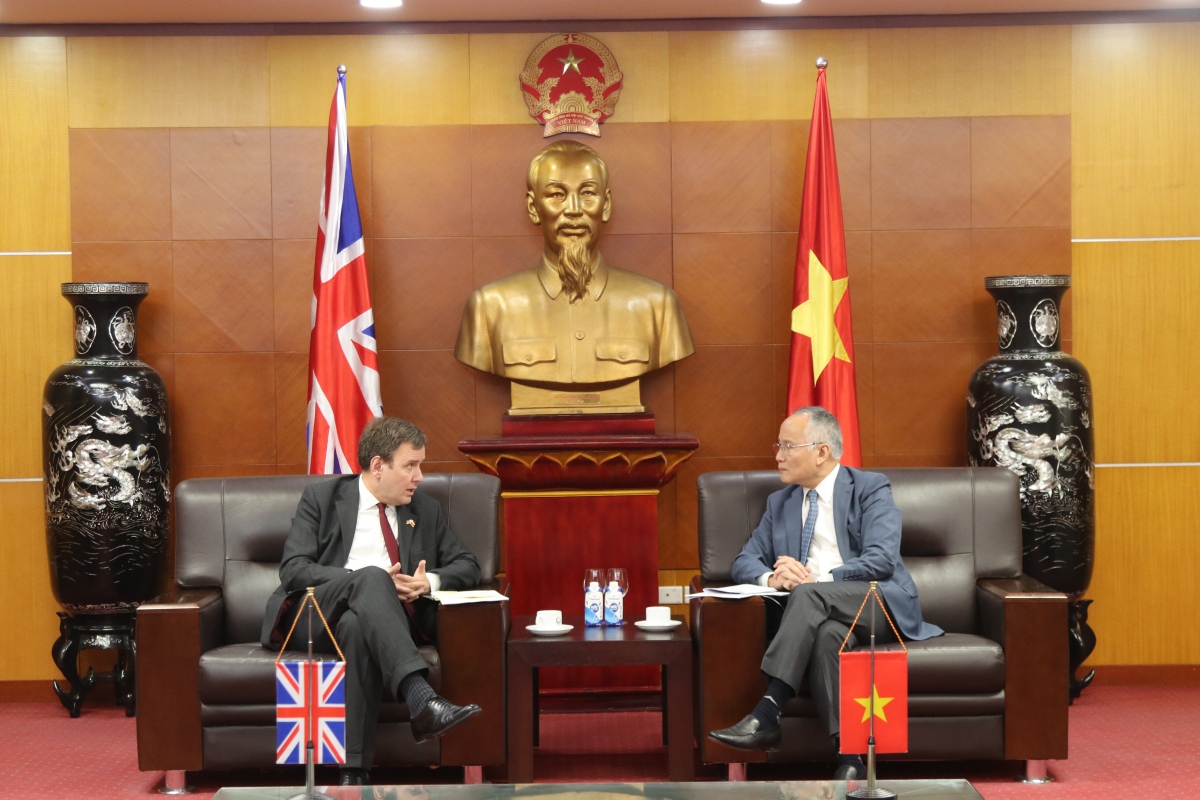 Minister Hands meets with Vice Minister of Industry and Trade, Tran Quoc Khanh.

Upon his arrival in Hanoi, Minister Hands met with Vice Minister of Industry and Trade, Tran Quoc Khanh.
With the next round of CPTPP negotiations upcoming, the UK Minister expressed.
his country's desire to finalisze accession at the earliest possible opportunity. The occasion also provided an opportunity to mark 50 years of UK-Vietnam diplomatic relations and discuss the thriving bilateral trade relationship which has increased by 12.4% over the last year and is valued at £5.9 billion.
As a founding CPTPP member state, Vietnam marks the first leg of the UK Minister's three-day visit to the Asia-Pacific region, which will also include Malaysia and Singapore.
Speaking of the trip, Minister Hands said, "Joining CPTPP will add even more economic firepower to this exciting and dynamic trade alliance, adding £2 trillion to CPTPP's GDP."
"This visit will strengthen our bilateral relationships with Vietnam, Malaysia, and Singapore – the fast-growing economies who, between them, do £30bn worth of trade with the UK every year and represent huge opportunities for our life sciences and technology sectors," he added.
"As a major economy and strong advocate of free trade, our membership will support the trade bloc to shape the high standards of global trade – particularly in the face of increased protectionism," Minister Hands assessed. The Minister's visit underlines UK's post-Brexit shift as it seeks to boost trade with the Indo-Pacific region, an area which is predicted to account for the majority of global growth by 2050.
During his time in Hanoi, Minister Hands also held talks with Vice Minister of Agriculture and Rural Development Phung Duc Tien. The event saw both sides celebrate the growing partnership in terms of agri-food trade and broad agricultural co-operation, thereby building on the Memorandum of Understanding (MoU) signed between the two countries' agricultural ministries last year.

"UK ready to boost CPTPP's economic firepower": UK Trade Minister have 616 words, post on dtinews.vn at February 1, 2023. This is cached page on Talk Vietnam. If you want remove this page, please contact us.