Prime Minister Pham Minh Chinh's visit to Singapore aims to affirm both nations' desire to take their economic connectivity to new heights in the context of a series of new-generation free trade agreements (FTAs) coming into effect and being implemented.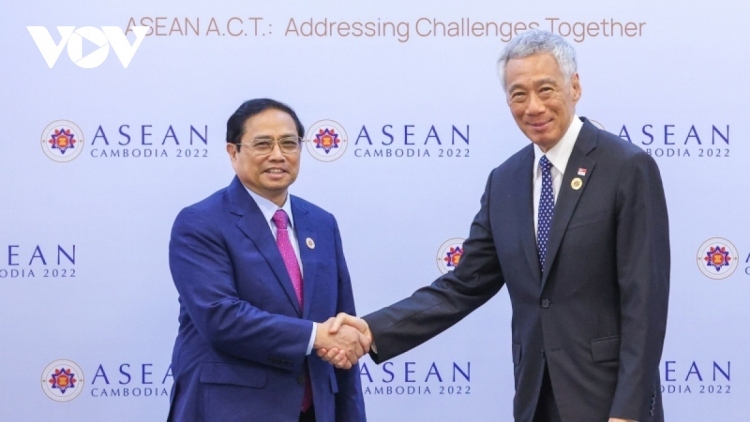 Prime Minister Pham Minh Chinh (L) and his Singaporean counterpart Lee Hsien Loong

PM Chinh, his spouse, and a high-ranking delegation of Vietnam will pay an official visit to Singapore from February 8 to 10 at the invitation Singaporean PM Lee Hsien Loong. The visit takes place amid the dynamic and strong development of the Vietnam – Singapore strategic partnership across multiple fields.
This year will see the two countries celebrate the 50th anniversary of their diplomatic relations and the 10th anniversary of their strategic partnership.
In 2022, the exchange of delegations and high-level meetings between the two countries was maintained both regularly and effectively. This saw a trip to Singapore by former President Nguyen Xuan Phuc, as well as visits to Vietnam by Speaker of the Singaporean Parliament Tan Chuan-Jin , Deputy Prime Minister and Coordinating Minister for Economic Policies Heng Swee Keat, and President Halimah Yacob
In terms of investment and trade, Singapore represents the country's leading economic partner in the region with a total trade turnover of about US$9 billion in 2022, an increase of 10.1% compared to 2021's figure of US$8.3 billion.
Singapore holds the leading position in ASEAN and second out of 141 countries and territories investing in Vietnam, featuring 3,032 valid projects with a total registered capital of US$70.39 billion.
Most notably, the Vietnam – Singapore Industrial Parks (VSIP) can be viewed as a symbol of economic co-operation between the two countries with 12 VSIP zones in nine Vietnamese provinces and cities with a high occupancy rate of roughly 83.2%, attracting US$17.6 billion in total investment capital for about 900 projects and creating nearly 300,000 jobs.
During recent high-level visits, the two sides' leaders agreed on a number of major co-operation orientations which are suitable for the Industry 4.0 era, especially in new fields such as the digital economy, digital transformation, regional and global supply chain connectivity, green economy, sustainable development, and chain co-operation in production.
PM Chinh's visit is designed to bring joint economic connectivity cooperation to new heights amid the signing of a series of new generation FTAs, with the participation of both sides coming into force and being deployed, including the Comprehensive and Progressive Agreement for Trans-Pacific Partnership (CPTPP) and the Regional Comprehensive Economic Partnership (RCEP).
Regarding defence and security co-operation, the agreement on bilateral defence ties signed in February, 2022, the defense co-operation plan for the 2023 to 2025 period, and the Memorandum of Understanding (MoU) in the field of cybersecurity signed in October, 2022, are being implemented by the two countries. This will effectively bring into play dialogue mechanisms, thereby augmenting linkages between armed forces.
According to Kavi Chongkittavorn, a Thai scholar and veteran international relations expert, what makes the Vietnam-Singapore relationship unique is the two countries' co-operation in the field of national security, particularly with the maintenance of high-level visits and strategic dialogue.
Within ASEAN, both sides share common views on major power competition and its implications for the region as a whole.
Both countries strongly support the central role of the bloc, calling on all ASEAN dialogue partners to actively participate and support the regional group in building a community of peace, stability, and prosperity.
Furthermore, bilateral co-operation in other fields such as education, culture, and tourism have also been strengthened as reflected by specific and substantive written agreements and MoUs.
The island-city state is an important member, having a voice in ASEAN at multilateral forums and within the international arena.
The two countries have always closely co-operated on regional and international issues of shared concern, including the East Sea issue. This has seen co-operation at multilateral organisations and forums, including the UN, ASEAN, and APEC, as well as signing bilateral and multilateral FTAs such as the CPTPP and the RCEP.
PM's Singapore visit to take economic co-operation to new heights have 878 words, post on dtinews.vn at February 7, 2023. This is cached page on Talk Vietnam. If you want remove this page, please contact us.