MUSIC & PERFORMANCES

Hanoi-Concert VNSOxVYO: Family Concert
Dec 6, 08 pm
Hanoi-no longer holding a cloud
10 – 18 Dec 2022, 02 pm – 08 pm
Á Space, Alley 59 Ngô Gia Tự Street, Long Bien District
From the organizer:
Linh San's solo show titled 'no longer holding a cloud', curated by Châu Hoàng.
'no longer holding a cloud' is the first stop that marks the more than year-long journey of Linh San working with the idea of 'matter dispersal', when for the first time, she experimented with clay, a material that requires a different handling of form-creation to her earlier practice with poetry and videos.
This mixture of soil, water and chemicals is not a material to simply create shapes; it also envelopes and cradles the years gone by, a place for memories to be incarnated and be liberated. Done with meticulous and painstaking efforts, in almost a ritualistic manner, the series of works in 'no longer holding a cloud' materializes the shapes of the feelings left inarticulate, a reflection on the absence, the remnants left behind of a fragment of life, and the path to becoming oneself through each fold and mold.
______________________________________________________________________

EXHIBITION
Hanoi-"Companion" – An Exhibition with Catherine Tomkins

01 – 10 Dec 2022, 10:30 am – 03:30 pm
CHAU & CO Gallery, No. 11 alley 123 Nguyen Dinh Thi Street, Tay Ho District

From the organizer:

Sticking to the top floor of an old villa on Đội Cấn street as the place to live and work in Hanoi for the past few years, it's more likely Irish painter Catherine Tomkins didn't see it coming that one day, her little room cum painting studio with a huge and elaborate altar for ancestor worship that belongs to her frequently absent Vietnamese landlord would naturally become a (surprising) source of inspiration, prompting her to reflect on ideas surrounding lineage and ancestry. But instead of diving deep (again) into the common topic of personal identity, Catherine follows her inner hunch that seeks to reconnect and hold on to a seemingly lost bond and invisible link with those who were gone, those whom she or anyone of us might have never met before in the entire universe and "this life" which has an "expiry date". They were there but are they still around, here?

Catherine Tomkins is an Irish born, Vietnam based artist. She graduated from Crawford School of Fine Art, Cork Ireland with a BA (hons) in Fine Art in 2010.

Hue City-Exhibitions featuring Hue's national heritage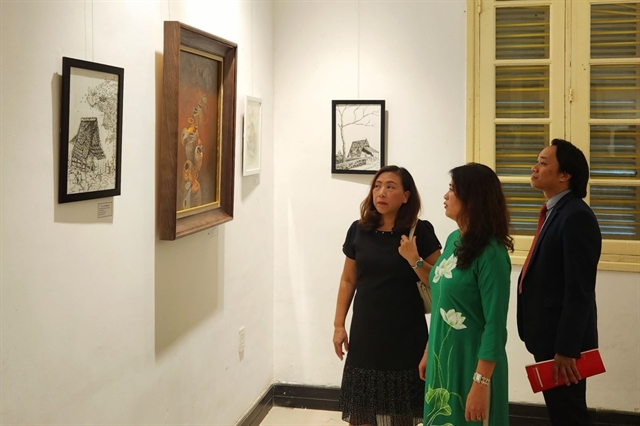 Until Dec 23,
Diem Phung Thi Art Centre, 17 Le Loi Street,
An art exhibition showcasing the charming beauty of Phuoc Tich ancient village in Hue.
The exhibition displays 38 artworks by lecturers and students of the College of Fine Arts and the College of Science, both under Hue University. Paintings created by school students of Phong Dien District, home to Phuoc Tich Village, also are on display.
All the paintings are the result of field trips to the village in October.
Hanoi-Don't Call It Art

19 Nov – 31 Dec 2022
Mơ Art Space
B3 Floor, no. 136 Hang Trong Street, Hoan Kiem District
From the organizer:
"I could not imagine then that some of these photos would become the only documentation, for example, of the first stirrings of a performance art scene in Vietnam. Now, 25 years later in Germany – as an observer or a temporary visitor at best, who gleans news about Vietnam's well-connected international art scene from daily social network chats with friends there – all these works and photos appear to me in quite a different light. They are no longer just gifts, pictures forgotten or discarded as worthless, but rather artworks that have written contemporary history. They had once been a provocative force in their time and place. Here today, this force may seem spent. But to me, now more than ever, it seems as if the artists presented in this book, with their radical stances, were far ahead of their time. Perhaps that is precisely why they fell by the wayside. They became legends before their work could become a permanent and officially recognized part of Vietnam's art."
Artists: Nguyễn Minh Thành, Nguyễn Quang Huy, Trương Tân
Featuring artwork from Veroninka Radulovic's archive
The exhibited pieces were created during the 1990s – a period of significance
Follow updates on event's page.


Hanoi-Documentary Exhibition: Repurposing Industrial Heritage

Opening: Nov 18, 03 pm
Exhibition: Nov 18 – Dec 11
282 Workshop, 156 Phu Vien, Bo De, Long Bien District

From the organizer:

Following the series of events "Repurposing Industrial Heritage 2022 – Innovation & Sustainability", as part of the EUNIC project "Repurposing Industrial Heritage", the "Repurposing Industrial Heritage" exhibition seeks to provide perspectives on the possibilities of transforming industrial facilities by presenting examples of industrial heritage transformation in countries such as France, Germany, the Netherlands, and the United Kingdom that are at the forefront of transformation trends in Europe. As a result, it raises the question of "what future is there for industrial production facilities in Hanoi in light of the city's official decision to relocate 09 old industrial facilities with significant cultural and historical values".

Through this exhibition, we hope the community will gain an objective understanding of industrial heritage value, as well as practical and theoretical evidence for urban reconstruction based on successful transformations of industrial heritage throughout the world.

Hanoi- Month of Arts Practice 2022
Until Dec 15,
From the organizer:
Month of Arts Practice (MAP) abbreviated as MAP, is an annual art project of Heritage Space. MAP was initiated and operated since 2015 with a view to creating a space for composing and developing contemporary art on the basis of cooperation and interaction among Vietnamese and international artists. Each year, MAP sets out a specific theme, inviting the participation of international acclaimed artists and curators come to Hanoi (Vietnam) to practice and exchange with talented young Vietnamese artists..
Month of Arts Practice 2022 – the 8th season of MAP continues with the WAR theme. Through discussion and art practice during their residency in Vietnam from October to December, artists together reflect, exchange, and present their premonitions about the wars from the past to present time by different perspectives and minor histories, about unknown entanglements, unnamed truths, and uncertain future in a volatile world. The work results will be presented to the public through Artist's talk, especially during the Final Exhibition 2022 at the end of November in Hanoi.
There are 10 artists from Germany, Japan, Korea, and Vietnam participating in this project: Oscar Lebeck, Miho Shimizu, Bae Byung Wook, Ryusuke Ito, Sodam Lim, Nguyễn Minh Hoàng, Mi Fa, Jo Ngô & Lê Minh Châu and Lê Tú Anh. The project also has contributions and mentoring through lectures and exchanges from experts: curator Haruka Iharada (居原田遥), Dr. Pamela Nguyen Corey, curator Gahee Park, Prof. Dr. Nora Annesley Taylor, and guest artist Lê Nguyễn Duy Phương.
Month of Arts Practice 2022 is organized by Heritage Space in close cooperation with Japan Foundation Center for Cultural Exchange in Vietnam, Korea Foundation, and with the support of the Vietnam Institutes for Cultural and Art Studies (VICAS), Á Space, Matca, APD Center for Art Patronage and Development, Nha San Collective, the Goethe-Institut, TÁCH Space, A sông, Hanoi Grapevine, Artplas and Art Republik Vietnam.
Programme:
30 Oct: The 1st Artist's talk – What do I say when I talk about the war?
05 Nov: The 2nd Artist's talk – What do I say when I talk about the war?
12 Nov: The 3rd Artist's talk – What do I say when I talk about the war?
19 Nov: The 4th Artist's talk – What do I say when I talk about the war?
27 Nov – 17 Dec (10 am – 07 pm everyday): WAITING ROOM, the MAP 2022 exhibition.
03 Dec – 17 Dec (10:30 am – 12 pm every weekend): WAITING ROOM Exhibition tour.

HCMC-Exhibition: Illuminated Curiosities

Until Dec 2022
EMASI Nam Long
147 Street No.8, Nam Long Residential area, District 7,
EMASI Van Phuc
2 Street No.5, Van Phuc Residential City, Thu Duc District,
From the organizer:
Nguyen Art Foundation (NAF) proudly invites you to the opening of 'Illuminated Curiosities', a group exhibition with 26 artists featuring 46 artworks from within and outside NAF's Collection. Curated by art researcher Ace Le, with the curatorial assistance from Duong Manh Hung and Tam Nguyen, the exhibition will take place simultaneously across the campuses of EMASI Nam Long and EMASI Van Phuc, over the course of six months from May to December of 2022. 'Illuminated Curiosities' is a collaborative effort between NAF and Lan Tinh Foundation.
_________________________________________________________________
CINEMA
International science film festival

Oct 8 – Dec 31
Hanoi, Thai Nguyen, Danang, and Ho Chi Minh City
The 12th international science film festival featuring a range of scientific topics which are both accessible and entertaining to a broad audience and demonstrates that science can be fun and educational.
Some 16 science films across different categories will be screened during the festival.
What's on December 5-11 /2022 have 1673 words, post on dtinews.vn at December 4, 2022. This is cached page on Talk Vietnam. If you want remove this page, please contact us.