Marc-Antoine Lucchini, Head of Foundation and General Medicines at Sanofi , recently had a business trip to several Asian countries. Among those countries, Viet Nam was highly evaluated for its potential market for healthcare development.
The effort of digital transformation and sustainability commitment from Sanofi
Like many countries, Viet Nam is facing heavy burdens of morbidity and mortality caused by non-communicable diseases. Being able to control risk factors, improve disease prevention, make early diagnoses and manage treatments of such illnesses are common targets of the health system and society.
Besides being the leading unit in treating some chronic diseases, Sanofi is also at the forefront of the investment trend in digital healthcare transformation. Many projects proved their effectiveness, especially in the recent COVID-19 pandemic.
One of the typical projects is the "Ask For Better" – Q&A with experts series, a cooperative program between Sanofi with University Medical Center of HCMC, Hanoi Medical University Hospital and Jio Health.
This program has been broadcasted periodically to answer audiences' questions and improve society's knowledge of common non-communicable diseases. It attracted over 570,873 views in 2021 specifically and continues to be a hot show thanks to its practical topics. This show has been presented on diverse digital platforms to increase the interaction between patients and doctors.
In terms of venous thromboembolism prevention (VTE), Sanofi has collaborated with the Vietnam National Heart Association to develop the KNOW VTE for many years. The program was integrated into the electronic health record (EHR) of nationwide hospitals as a measurement for VTE risks in surgical and internal medicine patients.
Sanofi also shared its long-term partnership with Medical Associations, hospitals, and universities to update the medical community with improvements in the development of treatment and clinical experiences. One of the outstanding projects is Zalo HCP Community – the first interactive social platform-based (Zalo) in Viet Nam for medical professionals to easily connect, learn, expand their network, and provide better treatment support for diabetic and cardiac patients.
On the constant demands of medical training, Sanofi and the leading Medical Associations have been cooperating in developing the MedExpress online training platform, providing multiple courses taught by top professionals in the field to update national healthcare workers on treatment for diabetes, seizures, VTE, stroke and pharmaceutical information.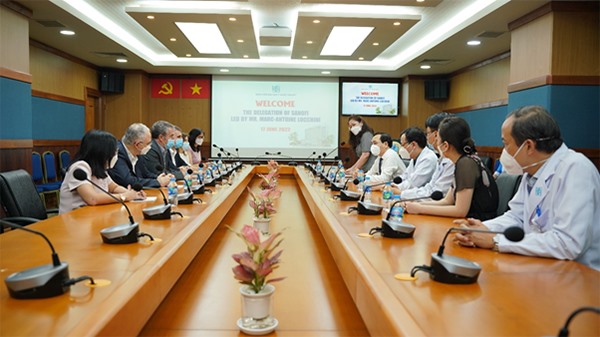 The visits and working sessions between Sanofi and partners provide multiple chances to cooperate and promote healthcare development in Vietnam
Viet Nam – A promising market for healthcare
During his business trip to Viet Nam, Marc-Antoine Lucchini met the leading partners in market research, pharmacy chain, clinic, and hospitals, and evaluated the development pace of healthcare in Viet Nam.
He said: "We chase the miracle of science to improve people's lives. In general, I am impressed with Sanofi's adaptability to the domestic market in Viet Nam and the rapid growth of the retail pharmacy chain thanks to the information technology system."
Marc-Antoine Lucchini at the Cooperation Agreement Signing Ceremony between Sanofi Vietnam and FPT Long Chau for the sustainable development project. Source: Sanofi
Not only leading in digital transformation, but the commitment of Sanofi to sustainable development with practical solutions is also firmly demonstrated in their strategy.
The most recent deployed project is the cooperation between Sanofi and the FPT Long Chau pharmacy chain in collecting and processing plastic waste from insulin pens. It is expected to collect and process 90,000 used insulin pens properly, an equivalent of 2.3 tons of plastic waste in the first year piloted at FPT Long Chau pharmacies in HCMC. This contributed to plastic waste reduction in one of the two largest cities in the country.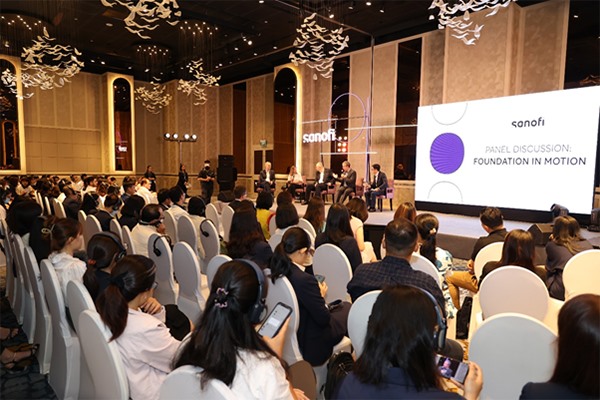 Marc-Antoine Lucchini shared the operation direction of the Corporation with Sanofi Vietnam employees.
Emin Turan, Foundation General Manager of Vietnam & Cambodia and Country lead of Sanofi Vietnam, said: "With the target of pushing back the progression of chronic diseases by 2030, Sanofi commits to research and provide effective treatments for the patients to be treated simply, conveniently, and continue to have a fulfilling life. We also commit to supporting Viet Nam's current and future sustainable and long-term development targets."
"Viet Nam is a promising market for healthcare," Senior global leader of Sanofi shared of his business travel to Asia. have 902 words, post on vietnamnews.vn at June 27, 2022. This is cached page on Talk Vietnam. If you want remove this page, please contact us.