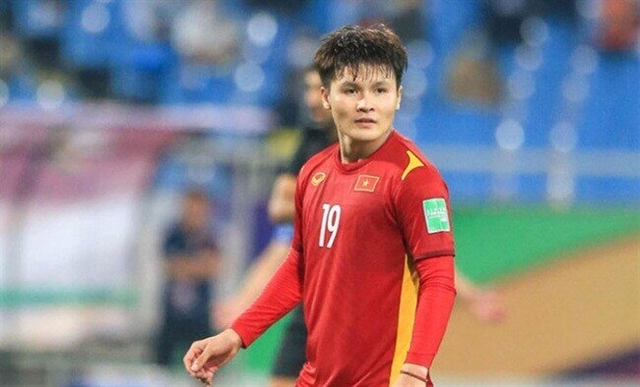 Nguyễn Quang Hải's next destination is still a mystery. Photo baogiaothong.vn
Peter Cowan
Who doesn't love a good transfer saga?
While it may feel like football is now a 24/7, 365 day a year sport, there are in fact lulls in the beautiful game's calendar.
Transfer intrigue can often be a great way to fill in the interminable gaps between real football matches but the saga centred around Vietnamese football at the minute is one I could do without.
Nguyễn Quang Hải left Hà Nội FC back in April, ostensibly to sign for a European club, and yet as June draws to a close, he still remains unsigned.
Over the past few months various outlets have reported that the pint-sized playmaker is close to signing with Austrian, Swiss and now French clubs.
Hải has been linked with no less than four clubs in the latter country's Ligue 2, with breathless reports noting that he has his visa and is only awaiting a medical checkup.
Again, transfer sagas can be great entertainment, but this has to be the strangest I've ever witnessed and frankly, the entertainment has long since been replaced by trepidation.
Normally, it becomes clear quite early on where a player is going to when they're involved in a transfer saga. For example in the summer of 2013 it was a nailed on certainty that Gareth Bale was swapping Tottenham for Madrid, the move just dragged out.
Whereas with Việt Nam's best player, his destination seems to change every two weeks and one is left with the impression that all the 'news' about his transfer is coming from Hải's camp, not from clubs falling over themselves to sign him.
I fear these are signs of an attempt to drum up more interest in the player from his representatives and such shenanigans rarely help a player, for a couple of reasons.
For one thing, the Ligue 2 season kicks off on July 30, just about a month from now. That's not an awful lot of time for Hải to get match fit, get acclimated to his new environment and win a starting position, so every day he delays lessens his chances of success.
In addition, delaying and creating headline after headline only ramps up the pressure on Hải, not that this was ever going to be a pressure-free move.
As the best player of this golden generation for Vietnamese football, the spotlight on Hải was always going to be turned up to 11 when he moved abroad. So I can't figure out why his representatives would do anything to increase that pressure.
Here's hoping I'm made to look a fool very quickly and Hải settles in comfortably and proves himself too good for France's second tier, but I fear this is one transfer saga few will look back upon fondly. VNS
The Local Game: Just what is going on with Nguyễn Quang Hải's transfer? have 749 words, post on vietnamnews.vn at June 28, 2022. This is cached page on Talk Vietnam. If you want remove this page, please contact us.