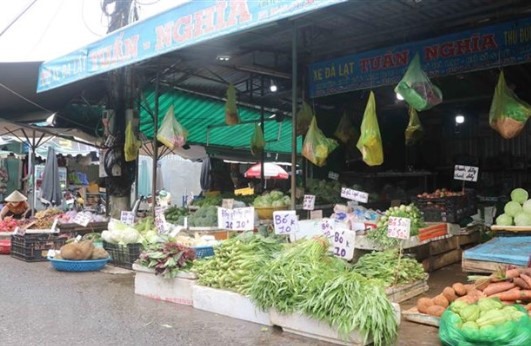 A traditional market in Việt Nam. — VNA/VNS Photo
HÀ NỘI — The Consultative Group for International Agricultural Research (CGIAR), a global partnership that unites international organisations engaged in research about food security, launched an initiative on sustainable healthy diets in Việt Nam on Friday.
The three-year initiative "Sustainable Healthy Diets Through Food Systems Transformation"(SHiFT) aims to identify effective policy options through research, strengthening capacity, and developing robust metrics and tools that support stakeholders' decisions when developing pathways to transform food systems toward sustainable healthy diets, improved livelihoods, gender equity and social inclusiveness.
The initiative focuses on understanding consumers and their food environments through characterising food consumption and dietary patterns among marginalised populations and identifying key drivers and inequalities. This will inform the co-design, testing and evaluation of scalable innovations in the food environment-consumer nexus.
It also aims to generate knowledge about micro, small and medium food-related enterprises and informal actors, and to identify and promote scalable, evidence-based innovations and policies to help increase the delivery of sustainable nutritious foods while promoting increased decent employment among all ages and genders.
For governance and the political economy of food system transformation, the initiative expects to identify the lock-ins and barriers that impede food system contributions to healthy diets, fair livelihoods and sustainable environments; and propose contextualised and evidence-informed governance and policy solutions.
According to the International Organisation for Biodiversity and the International Center for Tropical Agriculture, globally and in Việt Nam, poor diets are correlated with all different forms of malnutrition. In Việt Nam, 26.6 per cent of the population cannot afford a healthy diet. Conversely, over the past two decades, Việt Nam has been the country with the fastest increasing rate of obesity among women in the world. Among children aged 5-19 years old, obesity has increased from 8.5 per cent in 2010 to 19 per cent in 2020.
Policies on healthy diets have been established, but enforcement is limited. Significant investments in Việt Nam are expected to focus on improving food supply, productivity, and sustainability; improve incomes, jobs and livelihoods, and reduce inequality but still not enough to improve the diet. Therefore, it is necessary to address the supply side of the food system and food environment to achieve sustainable healthy diets for all.
Once the initiative is implemented in Việt Nam, it is expected to increase consumer demand for sustainable healthy diets and the supply of nutritious, safe, affordable, and sustainably produced food while improving livelihoods, gender equality and peace of social inclusion in all areas of the food system.
Speaking at the launch, Mark Lundy, Global Researcher of Food Environment and Consumer Behavior Research at the Alliance of Bioversity International and the International Center for Tropical Agriculture (CIAT), Deputy Director of the ShiFT Initiative, said that the core mission of SHiFT was to ensure stakeholder engagement and enhance capacity through co-creation and use of insights into potential innovations.
The opportunity costs and benefits of a food system transition would be identified and considered.
Đào Thế Anh, Vice President of the Việt Nam Academy of Agricultural Sciences (VAAS), said that food system transformation played an important role in Việt Nam.
"Priority should be given to the food system approach because it can solve three main issues, including maintaining food security – food and nutrition security, ensuring food safety, and adapting to climate change," he said, adding that the ShiFT initiative was in line with the national action strategy in transforming the food system towards sustainability, transparency, accountability and responsibility to achieve the Sustainable Development Goals by 2030.
"Not only eating enough and eating well but also eating healthy. Therefore, in addition to changing the mindset of production to consumption, it is necessary to change the thinking of the whole food system," said Trần Công Thắng, director of the Institute of Policy and Strategy for Agriculture and Rural Development. — VNS
Sustainable diet and food system transformation initiative launched have 825 words, post on vietnamnews.vn at June 25, 2022. This is cached page on Talk Vietnam. If you want remove this page, please contact us.