With Chef Đỗ Minh Hạnh from Pane e Vino Italian restaurant in Hà Nội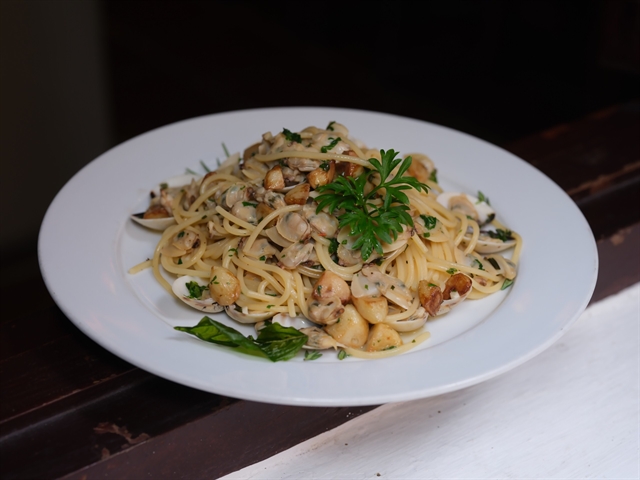 Spaghetti alle Vongole
Serves: 3
Time 25 minutes (after clams were soaked in salty water for 2 hours)
Ingredients:
– Fresh clams: 1 kg
– Spaghetti: 240 g
– Garlic: 6 cloves
– Olive oil: 30 ml
– Butter: 2 tsp
– Tarragon: a bunch
– White wine: 30 ml
– Martini: 20 ml
– Thyme & parsley leaves
– 1 red chilli
– Salt and pepper to taste
– Tomato sauce: 1 cup
– Spaghetti: 500 g
Chef Đỗ Minh Hạnh
Method:
– Soak the clams in water with a dash of salt, and slice a hot red chilli into the mixture, after two hours, drain the clams, wash clean.
– In a pot add a bowl of water, bring the clams to boil, drain, and keep five shells for decoration.
– In a pan on high medium heat, add olive oil, then add garlic cloves, lower to medium heat and cook the garlic until golden.
– Add the clams into the garlic oil, salt and pepper, and white wine for five minutes. Add thyme, parsley and butter, and add the shells on top.
– In a pot, boil the spaghetti with a dash of salt, leave for 8 minutes.
– Drain the pasta, add to the clam pan, and mix well for 3 minutes. If you like tomato sauce, add the sauce to the pan and mix well.
Serve hot with parmigiano. VNS
Spaghetti alle vongole have 544 words, post on vietnamnews.vn at June 26, 2022. This is cached page on Talk Vietnam. If you want remove this page, please contact us.