by Minh Phương & Bảo Ngọc
A photographer living in Hà Nội has amassed a collection of hundreds of cameras, books, and other photographic artefacts at a gallery he has established in his own home.
Phạm Công Thắng is well-known in the photographic field as an artist who has won several awards at home and abroad.
In 2021, he established the museum named Photographic Memories in his own house, inspired by the notion of a private area for photography enthusiasts and photojournalists to exchange and connect.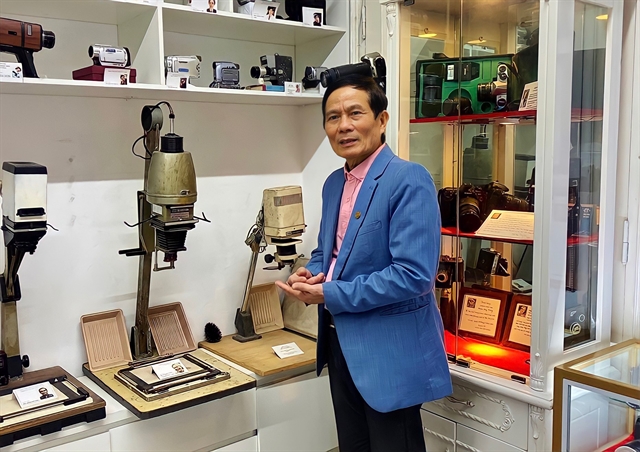 Photographer Phạm Công Thắng, owner of the Photographic Memories Museum.— VNA/VNS Photo
The photographer told Việt Nam News that he sees cameras as more than just a means to capture memories. But each one also tells a story about its owner.
"It seemed to me that photographers' children may be unable to preserve their cameras after their parents' death. Rather than just keeping cameras, I decided to create a place where I could also preserve the stories behind the people who used them," he said.
Thắng established this one-of-a-kind museum in the cosy space in his attic on the second floor. In addition, he erected several exhibit stands, lighting fixtures, and seating for guests.
"Honestly, it's not as easy as you may think. No task is simple. Because I value each and every one of these antiques, I make an effort to place them in the best possible light," he said.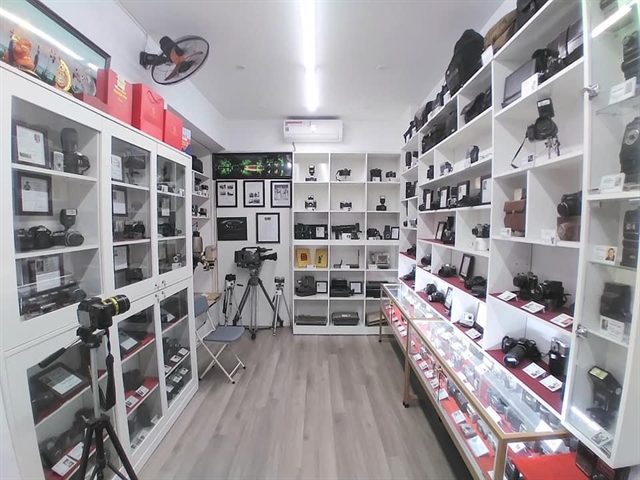 The gallery is filled with hundreds of cameras and photography accessories. — Photo courtesy of Phạm Công Thắng
The senior photographer's collection has been around for more than a year and has grown to include hundreds of cameras, antiques, and books. The majority of these are what he calls "surprise gifts", which were given by various photographers from both the local and international communities.
"At first, I shared on Facebook that I was going to build a little space to save photographic memories, just to inform friends and coworkers," he said.
"It came as quite a surprise to me when so many people showed their support for my memento space. There are even people I don't know, very far away, still contacting me with the urge to donate memorabilia that are precious to them and hold unforgettable memories."
Among the donated cameras are several rare artefacts. There is a Pentax camera used by photographer Hoàng Kim Đáng to capture General Võ Nguyên Giáp and notable figures such as Nguyễn Tuân, Tô Hoài, Đỗ Nhuận, and Nguyễn Đình Thi.
A D200 camera of Labour Hero, photographer Trần Lam, former Vice President of Kiên Giang Province, used to capture the iconic work The Shining Sun in the Mausoleum, is on display, as well as an ancient Zeiss Ikon camera, over 80 years of age, donated by businessman Bùi Việt Hưng.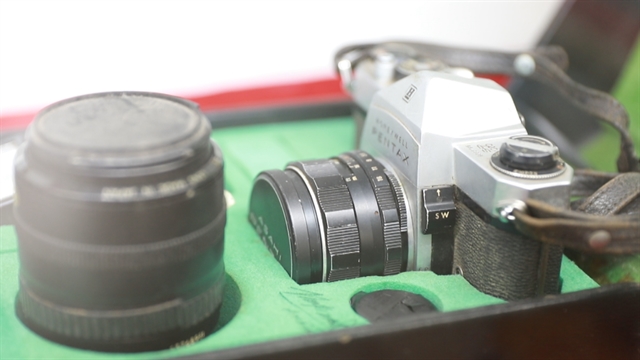 Many cameras are nearly a hundred years old. — Photo courtesy of Phạm Công Thắng
Thắng believes that each item at Photographic Memories has its own life and destiny. Stories about individuals and events from various historical periods are hidden underneath the memorabilia.
He said that despite the growing quantity of donated memorabilia, he had not yet been able to show all of them at the museum because there were too many items that were similar to one another, and there was not enough space to display them all.
The photographer added that this home museum helped him satisfy his passion but also needed a lot of effort and hard work.
"I created this space to contribute to the preservation of Vietnamese photography artefacts. However, it requires a significant amount of hard work, which not everyone understands," he said.
"Every day, I greet visitors and do cleaning and preservation tasks. At night, I am responsible for the artefacts that have been entrusted to me. In return, I received enthusiastic support from many friends, camera enthusiasts, and photography lovers both at home and abroad."
When asked about his plans, Thắng said he hoped to enlarge the gallery to accommodate more photography fans.
"Currently, I will just keep the space like this. But in the future, maybe in the next one or two years, I will expand the display space to my three-storey house. I will try to arrange cameras following different concepts and make it look more like a photography museum," he said. VNS
Photographer creates camera museum at home have 838 words, post on vietnamnews.vn at June 26, 2022. This is cached page on Talk Vietnam. If you want remove this page, please contact us.