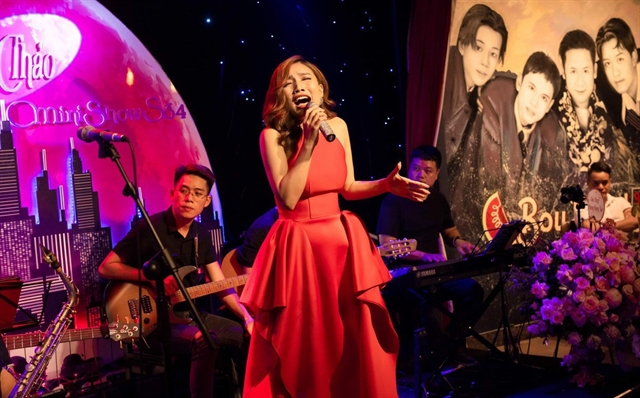 Phương Thảo, a graduate of the Hà Nội National University of Education, has also achieved fame and popularity through YouTube. Her latest album, 'Hãy Về Đây Bên Anh' (Come to Me), released in October, 2021, has attracted nearly 1 million YouTube views. Photo courtesy of the producer
By Thu Anh
HCM CITY  Restrictions on traditional entertainment channels by the Covid-19 pandemic have turned out to be a blessing in disguise for some young singers presenting their talents online.
Their presentation of personally chosen covers and their own music on YouTube and other music streaming platforms have garnered millions of views and conferred great popularity, not to mention commercial success.
Among this crop of young singers are: Hà Nhi, Phương Thảo, Trần Lâm, and Phan Mạnh Quỳnh.
These artistes have not had to make expensive music videos to win the hearts of millions of fans.
Hà Nhi began her professional career after entering the Top 4 of Vietnam Idol 2015 — a Vietnamese version of American Idol, the famous singing competition reality show.
In late 2020, Nhi decided to perform online covers of some Russian and Chinese songs. Her performances proved to be a phenomenon hit.
Từng Cho Nhau (We Were Together), a Chinese song with Vietnamese lyrics by Nhi, has attracted nearly 9.8 million views on YouTube since its release in July, 2020.
Nhi has since released seven albums and music videos, all well received. Her hits include Vietnamese songs like Trống Rỗng (Alone) and Lặng (Silent).
"I think music is the best way to connect with people and overcome all challenges posed by the pandemic," said 26-year-old Nhi.
"I have released a series of covers of songs on YouTube last year to get in touch with young fans, find some peace within and generate some hope in the fight against the virus. I was over the moon when my music attracted millions of views."
Nhi is working on a new online project to release new Vietnamese songs on YouTube and other music streaming platforms.
Young singer Hà Nhi has not made expensive music videos, but has gained great popularity on YouTube. (Photo courtesy of the producer)
YouTube sensation
Phương Thảo, 25, a graduate of the Hà Nội National University of Education, has found fame and developed her music career through YouTube.
Her hits are mainly covers of Vietnamese songs of life, love and youthfulness.
"I have received many congratulatory messages as well as encouragement from fans on my YouTube," said Thảo, who started her YouTube channel three years ago.
"I read fans' comments and I know what they want from music and what I should do to make them happy."
Thảo's first online album comprised covers of songs by Vietnamese-American male singer Jimmii Nguyễn, released in September, 2020. It has attracted more than 4.3 million views on YouTube.
Her latest album, Hãy Về Đây Bên Anh (Come to Me) released in October, 2021, has 12 songs by young and veteran Vietnamese composers from different periods. It has attracted nearly 1 million views on YouTube.
Thảo plans to release two online music projects in November.
According to music critic Minh Đức of Hồ Chí Minh City Television, the market saw the rise of music streaming, an online music service that became greatly popular during the social distancing period.
"Today, young people enjoy online music and this has encouraged music producers, artists, entertainment agencies and TV stations to constantly bring out new products.
"Vietnamese producers and artists should work together to influence the market on copyright related issues and form new business rules and standards." he said. VNS
Online exposure confers stardom on young singers have 830 words, post on vietnamnews.vn at June 25, 2022. This is cached page on Talk Vietnam. If you want remove this page, please contact us.