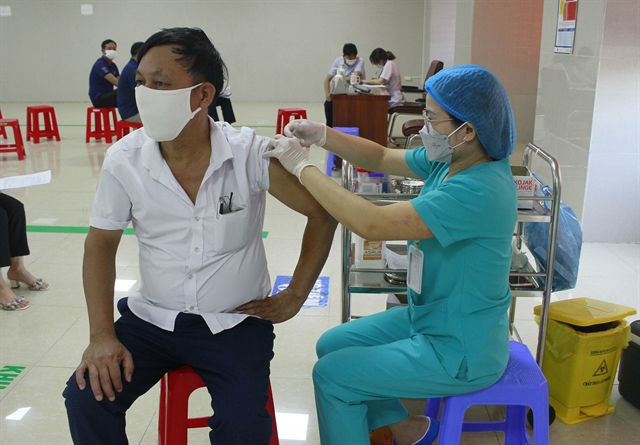 Administering the fourth dose of COVID-19 vaccination to residents in the northern province of Ninh Bình. — VNA/VNS Photo Hải Yến
HÀ NỘI — Third and fourth booster doses of vaccine against COVID-19 sustainably maintain the effectiveness of COVID-19 prevention and control, said the Ministry of Health (MoH).
In a press meeting about COVID-19 vaccination held in Hà Nội yesterday, the MoH said that the World Health Organisation (WHO) and the US Centres for Disease Control recommend booster vaccinations against COVID-19 to prevent and control the pandemic.
Studies around the world have proved that the protective effect of the COVID-19 vaccine primary dose decreases gradually within six months after vaccination and in the presence of new strains. Therefore, those who have received the basic injection, if they do not receive the booster dose, are still at risk of the disease.
People who have suffered from COVID-19 are still likely to be reinfected and have complications from the disease, including children and adults.
Furthermore, boosters increase the concentration of protective antibodies, protecting the body against the risk of COVID-19,and  reducing hospitalisations and the number of severe cases and deaths related to the pandemic.
Studies in France show that if given a booster dose, people are protected from re-infection by up to 81 per cent, said the MoH.
Therefore, booster shots of COVID-19 vaccine are necessary for protection, especially to avoid the risk of severe conditions and death from COVID-19 in the case of new future variants.
The MoH last Thursday issued an instruction on the third and fourth booster injections for people 18 years and older and the third dose for children aged 12-17 years.
Since then, provinces and cities have developed plans and prepared the necessary conditions to soon deploy the third dose of vaccine against COVID-19 for children aged 12 to 17 years old, whereas others have started their vaccination plans in recent days. All over the country, more than 160,000 children in this age group received the third dose safely.
The MoH said that although the number of cases and deaths from COVID-19 across the country has decreased markedly, localities still recorded cases being hospitalised due to their severe condition related to COVID-19, and still recorded deaths from the pandemic. Many people have to be treated for post-COVID-19 complications.
The health sector at all levels is making efforts to conduct booster doses following the Government's guidance. People can access vaccines from different places such as health stations, mobile vaccination stations held at schools and factories, and also at home. Some vaccination stations are open every day to create convenient conditions for people to get vaccines, especially as people have returned to work.
Vaccination safety is always a priority at all health facilities. Severe reactions after the third dose are very low, reported at about three cases in 10 million injections. — VNS
Ministry clarifies importance of booster COVID-19 vaccinations have 678 words, post on vietnamnews.vn at June 28, 2022. This is cached page on Talk Vietnam. If you want remove this page, please contact us.