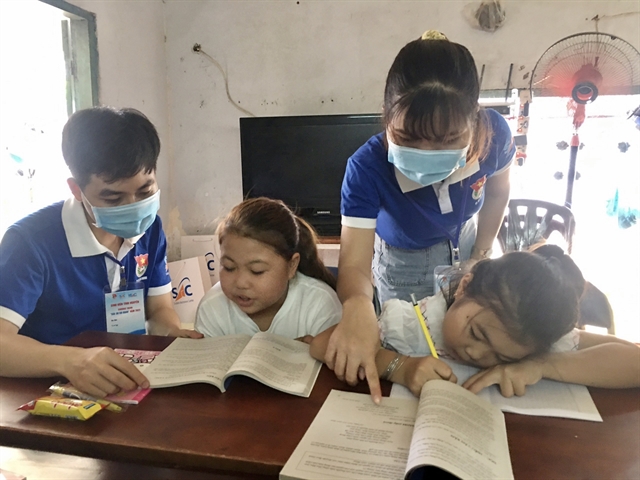 More than 360,000 young people and students from colleges and universities are working as volunteers in the 2022 Mùa Hè Xanh (Green Summer) Campaign, a community and charity programme launched by the Hồ Chí Minh Communist Youth Union this week. — VNA/VNS photo by Hồng Giang
HCM CITY — Nearly 800 university students and members of the Hồ Chí Minh Communist Youth Union opened the 2022 Mùa Hè Xanh (Green Summer) Campaign on Tuesday in HCM City.
The annual event is the year's biggest social and charity programme launched by the union.
The volunteers are working in remote areas of Tam Nông District in Đồng Tháp Province, and Phú Quý island in Bình Thuận Province. Some villages in Laos are also included.
They have worked to clean and upgrade canals, alleys, roads and irrigation systems. Free health check-ups and medicine for poor residents, children and women are also provided.
They have also participated in cultural and community activities to promote environmental protection, and offered illiteracy eradication and foreign language teaching.
"We will have more opportunities to help others through the campaign," said volunteer Trần Nguyễn Phương Nam, a student at the HCM City University of Technology.
Nam and her peers will provide training on advanced techniques in agriculture, forestry and fisheries for local farmers.
The construction or upgrade of charity houses, bridges and roads, and clean water systems will be included.
After working, volunteers will organise art and sports activities to entertain young locals and children.
The Mùa Hè Xanh Campaign in HCM City this year has attracted 360,000 young volunteers, who work in HCM City, Thủ Đức City, 15 southern provinces, Tây Nguyên (Central Highlands), and Phú Quý Island in Bình Thuận.
They will help build 50 charity houses for the poor, repair electrical wiring for several hundreds of households, and create 120 playgrounds for children.
They will also open training classes on social skills in self-defence for emergencies, sexual abuse prevention, and rescue, fighting and preventing fires for teenagers and children.
The campaign will end on August 7. — VNS
HCM City students join 2022 Green Summer Campaign have 586 words, post on vietnamnews.vn at June 28, 2022. This is cached page on Talk Vietnam. If you want remove this page, please contact us.