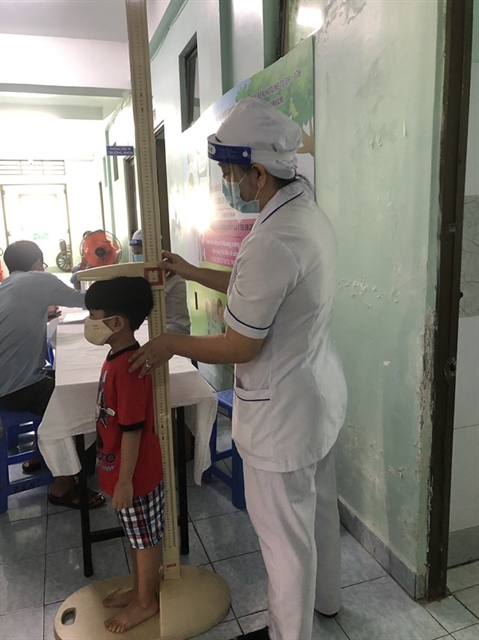 A child receives height screening in HCM City. — VNA/VNS Photo
HCM City — Nguyễn Tri Phương Hospital's Endocrinology department is offering free screening for delayed growth in children from June 25 to July 17.
To participate in the screening, parents need to provide their children's birth history, medical history, family history and growth rate. The children will have clinical examinations and also get hand X-rays if bone evaluation is needed.
Suspected cases of delayed growth will get blood tests to check growth hormones and several other related hormones in the body.
According to Dr. Duy, deputy director of the hospital in District 5, the average height of newborn babies is 48 – 52 centimetres, and in the first four years, their height grows on average about 46 – 54 centimetres. And from the age of four to 11, children grow on average by four to six centimetres a year.
Although a child's height development can be affected by hereditary factors, a lack of growth hormone (GH) is one of the most important and hard-to-identify reasons for slow growth, Duy said.
If GH-deficient children are left untreated, their average height might only be 135 – 145 centimetres, much lower than the maximum height that can be reached. This negatively affects their future life and work, especially their mental health.
Dr. Trần Thị Ngọc Anh from the hospital said, "if the child's growth is delayed due to a lack of GH, treatment should be carried out early, preferably between the ages of four and 13. If left through puberty, usually after the age of 13, then the treatment will no longer be effective because the bone cartilage closes."
"The treatment goal of GH-deficiency is to help children increase height to the standard level. If children receive treatment soon enough, they can reach their maximum height as adults based on their genetics."
Registration is required before visiting.
Nguyễn Tri Phương Hospital is treating more than 100 children with delayed growth due to lack of GH. — VNS
HCM City's Nguyễn Tri Phương Hospital offers screening for kids' growth have 490 words, post on vietnamnews.vn at June 28, 2022. This is cached page on Talk Vietnam. If you want remove this page, please contact us.