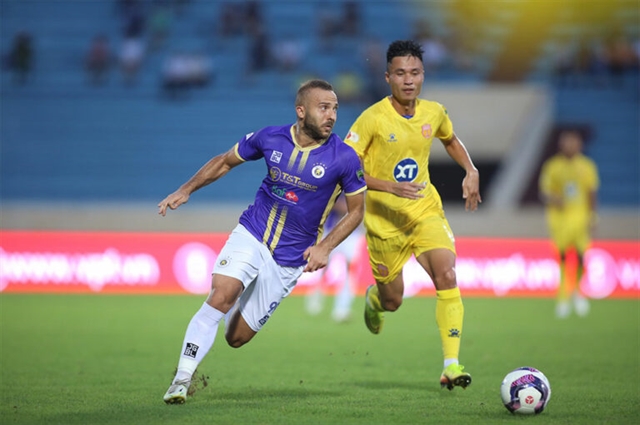 Vladimir Siladi of Hà Nội (left) opened the score for his team in a V.League 1 match against Nam Định on Sunday. The game ended 1-1. Photo of VPF
HÀ NỘI — Hà Nội FC coach Chun Jae-ho said his team would have to find a suitable playing style without midfielder Nguyễn Quang Hải who has left for international competition.
Hà Nội missed their chance to top the V.League 1 table on Sunday after a 1-1 draw against hosts Nam Định at the Thiên Trường Stadium.
Vladimir Siladi opened the scoring at the 68th, and Marcio Marques levelled for Nam Định 10 minutes later in the late round three match, which was delayed because of players' COVID problems.
"Having Quảng Hải in the team is great. He is a smart and creative player who can control the ball or open attacks. But he has gone, so we need to build a playing style based on our current players," said coach Chun Jae-ho.
Hải ended his contract with Hà Nội in April and left for France on June 27. He will have a medical check, and if things are ok, the 25-year-old will sign a contract with Pau FC in Ligue 2.
"We still have other players such as Hùng Dũng, Minh Tuấn, Hai Long and Văn Tùng. Our style will use them as a core," Chun said.
The South Korean believes that his midfield worked well together though supporters who expected an attacking style were disappointed with the match against Nam Định.
"Every coach wants to have players like Ronaldo or Messi. But things do not always follow what we want to. Taking a point at Nam Định's home ground has never been easy. I apologised for my subs when we were leading 1-0. It was a bit of a hasty decision," he said.
On the other side, coach Nguyễn Văn Sỹ said his team were lucky to grab a point as his players used their rare chances well.
"Initially, we expected three points. But one point was really lucky for us. Hà Nội were not weaker despite several players absent. They are powerful, and all areas are equally strong for them. They excelled against us in every aspect," Sỹ said.
The former national midfielder said he was not pleased with his striker Marques, who scored a goal but did not perform to his best and lost the ball several times during the match.
After four matches, Hải Phòng are top with eight points. Hà Nội are in second with the same points but a weaker goal difference. Nam Định are third from bottom with only two points but have a game in hand.
The next round of matches will be July 2 and 4.
Nam Định will entertain former champions Becamex Bình Dương while Hà Nội visit SHB Đà Nẵng. VNS
Hà Nội to change tactics without star Hải have 712 words, post on vietnamnews.vn at June 27, 2022. This is cached page on Talk Vietnam. If you want remove this page, please contact us.