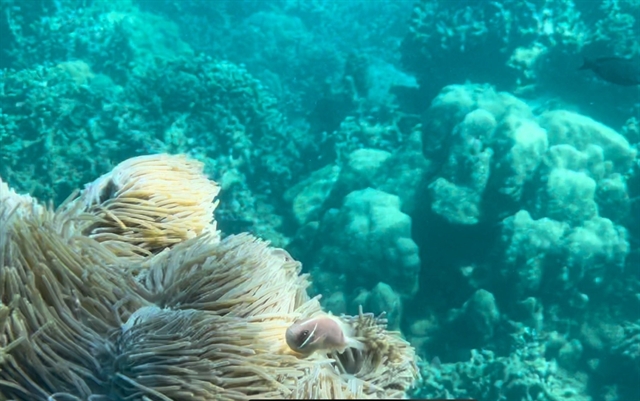 The coral reef in Nha Trang Bay is considered in medium condition. — VNA/VNS Photo
KHÁNH HÒA — Dive tourism in the Hòn Mun Marine Protected Area will be suspended from today to re-survey the coral reef and marine ecosystem for conservation, said Huỳnh Bình Thái, head of the Nha Trang Bay Management Board.
The suspension will last until a new announcement from the management board.
The decision came after a report in the media that the reef has been degraded. The provincial Party Committee held a meeting last week to investigate and found the report to be true.
During the dive tourism suspension, concerned organisations will conduct surveys and research in the area to assess the current situation of the damaged ecosystems.
"Then we will develop a suitable plan for the Nha Trang Bay Marine Protected Area's work," Thái said.
Other tourism activities on the bay can continue as normal.
According to the Nha Trang Bay Management Board, the coral coverage in the waters to the northeast and southwest of Hòn Mun Island declined to 32.62 per cent (medium condition) in 2022 from 53.7 per cent (good condition) in 2015. In the areas to the southeast and northwest, the coverage stands at 11.15 per cent (poor condition) this year, down worryingly from 52.2 per cent (good condition) in 2015.
The degradation occurred over many years due to both objective and subjective causes.
The objective cause is the impact of climate change and two strong storms, Damrey in 2017 and Rai in 2021 (no acidisation of the ocean water occurred). Meanwhile, the subjective cause is said to be the lax management and insufficient coordination among relevant departments, sectors, and localities, along with impacts of improper activities such as illegal fishing and dredging, as well as unregulated construction in the coastal areas and waste release from tourism activities.
The Standing Board of the provincial Party Committee requested the Khánh Hoà People's Committee suspend dive tourism activities in the vulnerable coral reef areas in the Nha Trang Bay, especially the area surrounding Hòn Mun Island, and take measures to protect those areas.
Nha Trang Bay covers an area of nearly 250sq.m and is one of 16 marine protected areas of Việt Nam. The bay attracts tourists and scuba divers as it has famous diving beaches, many corals and is the richest and most diverse ecosystem in the country. — VNS
Dive tourism suspended in Nha Trang's Hòn Mun from Monday to protect coral have 426 words, post on vietnamnews.vn at June 26, 2022. This is cached page on Talk Vietnam. If you want remove this page, please contact us.