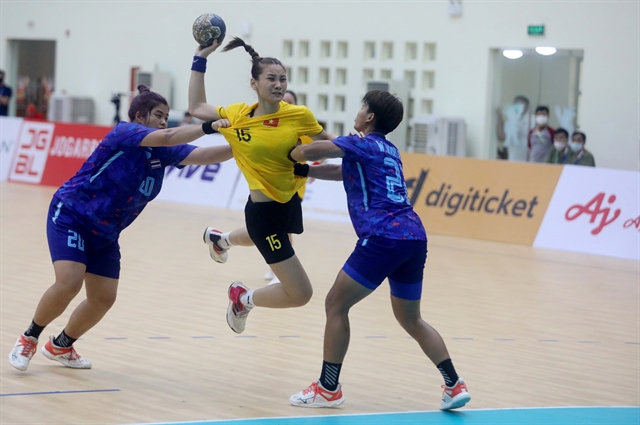 Nothing can stop Đỗ Thị Như Quỳnh (15) scoring for Việt Nam in the win against Thailand. — VNA/VNS Photo Thế Duyệt
HOÀNG HỒ
BẮC NINH — Việt Nam women's indoor handball team completed an incredible treble for the hosts defeating Thailand in the final match at Bắc Ninh University of Physical Education and Sports on May 21, following the men's successes in the indoor and beach handball.
Entering the match with fans on their side, Việt Nam dominated right from the off. In their very first attack, the hosts forced Thailand to foul in the box.
This was capitalised on by Đàm Thị Thanh Huyền who took the penalty to open the scoring.
However, the Thais didn't back down easily. The next minutes saw Thailand's fierce resistance, chasing Việt Nam for every point.
In such a tight game, a win can only be decided by the team making the most use of their opportunities, in this case, Việt Nam.
From the 23rd minute, decisive points from Đỗ Thị Như Quỳnh, Phùng Thị Linh Trang and Hoàng Thị Linh Trang separated the hosts from their opponent with a winning score of 20-17 in the first period.
With the momentum and a solid defence led by goalkeeper Nguyễn Thanh Huyền, the women in yellow kept attacking in the second set, scoring from clear chances assisted by Hà Thị Hạnh to take a huge advantage.
Despite the domination, there's no such thing as an easy win, especially when facing Thailand, and the effort to protect the lead caused Đỗ Thị Như Quỳnh and Đàm Thị Thanh Huyền serious injuries in the last minutes.
However, Quỳnh and Huyền's sacrifice was worth it, as Việt Nam sealed a 2-0 win with a score of 39-27 in the second half completing the country's treble in the handball competitions.
Việt Nam were crowned champions of the women's indoor handball, while Thailand brought home silver and Singapore finished third.
In the men's category, the hosts grabbed an early gold medal, Thailand completed their silver double, and Singapore won their second bronze in indoor handball.
In the SEA Games 31, men's and women's indoor handball sports compete in a round-robin format with two legs to decide the gold, silver and bronze medal.
All matches took place at the Bắc Ninh University of Physical Education and Sports. — VNS
Việt Nam win handball treble have 646 words, post on vietnamnews.vn at May 21, 2022. This is cached page on Talk Vietnam. If you want remove this page, please contact us.