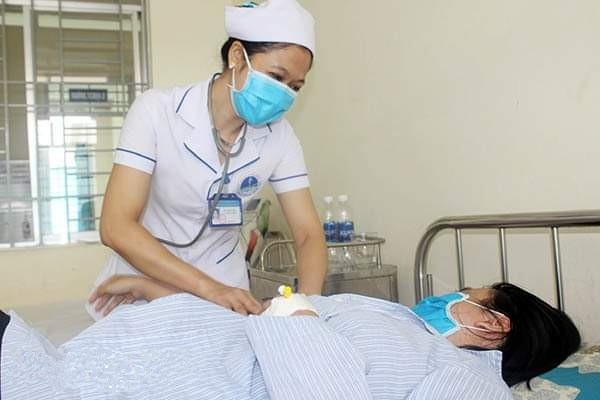 A nurse takes care of a patient at the Vĩnh Cửu District Medical Station in the southern province of Đồng Nai. The province faces doctor shortage due to low income. — Photo baodongnai.com.vn
ĐỒNG NAI — Doctor shortages have been growing across many provinces, despite efforts from the health sector to attract human resources.
In the southern province of Đồng Nai, both downgraded medical stations and new ones cannot find for doctors to work, mainly due to the low income offered, said the provincial Department of Health.
The province has 170 ward medical stations, but many of them do not have any doctors. The province must assign doctors from other upper-level medical stations to support, Vietnam News Agency reported.
The Hưng Lộc Commune Medical Station in Thống Nhất District was built 22 years ago and its infrastructure has been seriously downgraded. It has eight medical workers to serve more than 17,000 residents.
Before the COVID-19 pandemic, the station received about 10 patients per day. The only doctor at the station left in the middle of last year, so the station has not treated patients since.
Nguyễn Anh Trực, a resident in Hưng Lộc Commune, said that the medical station can not meet the demand for treating diseases. Local residents only come to vaccinate their children. If they have any diseases, they must go to upper-level healthcare stations.
Phạm Thị Điệp, head of the Hưng Lộc Medical Station, said that due to substandard infrastructure and low salary, the station could not enrol any medical station during the past four years.
She has worked for the station for the longest time, but her income was only VNĐ8 million (US$344) per month.
"I'm still here because I love the job, but with this income, it is only enough for daily life, if a problem occurs, it will not be enough," she said.
Even a new medical station with enough equipment cannot attract patients.
The Xuân Bình Commune Medical Station in Long Khánh City is a typical example. The newly-built and fully-equipped facility cannot attract patients because there has been no doctor working there since the beginning of this year. The reason is low income.
Nguyễn Thị Phương, who lives in Xuân Bình Commune, said that before her family used to go to the commune medical station whenever they were sick. Now the station was rebuilt but does not have a doctor, so her family must go to an upper-level medical station.
Nguyễn Thế Vinh, head of the Professional Planning Division under the Long Khánh City Medical Centre, said that doctor shortage is happening in many localities, especially those with degraded medical facilities, Vietnam News Agency reported.
The worrying thing is that in recent years, many medical stations have not been able to attract doctors to work due to low income. This creates many consequences, of which the most dangerous is that people no longer trust commune medical stations and end up overloading in higher-level hospitals.
In a meeting of the provincial COVID-19 Steering Committee, Đồng Nai Party committee secretary Nguyễn Hồng Lĩnh proposed local people's council, people's committee and health sector have more preferential policies to attract medical workers.
A similar situation happened in the southern province of Bình Dương.
Director of the provincial Department of Health Nguyễn Hồng Chương said that the demand for health examination and treatment was higher and higher whereas the medical system's capacity could not respond because of human shortage.
Training, attraction and recruitment faced many difficulties. Every year, the province does not recruit enough doctors and medical staff as required.
Chương said that to reach the norm of 10 doctors per 10,000 like the Ministry of Health's regulation, the province lacked 600 doctors. Every year 100 more doctors are needed to serve population growth, which is about 100,000-150,000 people per year.
To develop human resources for the health sector, the department has proposed the provincial People's Committee implement the project "Ensuring human resources for health in the period of 2021-25."
Under the project, the province strives to have 8-9 doctors per 10,000 residents by 2023. The province will have preferential policies for students of the medical schools and allowance policies for medical workers, excellent ones, leading experts and scientists.
Qualified medical workers can participate in training projects to improve professional qualifications.
In the Lai Châu northern mountainous province, although the province has implemented many policies to attract doctors, and assigned health workers to attend a training courses to improve professional qualifications, it still lacked qualified doctors, especially at the grassroots level.
This has greatly affected medical examination and treatment, especially for communes in remote and extremely difficult areas, the local Lai Châu newspaper reported.
The Internal Medicine Ward under the Phong Thổ District Medical Centre receives 10-15 patients per day but it only has one doctor, so he has a great deal of work.
Lê Đức Toán, head of the ward and also the only doctor, said due to doctor shortage, he must do everything including examinations, giving prescriptions and making health records.
The ward met a lot of difficulties, the largest being who will work the late shift. They must ask for support from other wards.
"With a lot of work, I always try my best in professional work to ensure that there are no errors when treating and taking care of patient's health," he said.
Bùi Tiến Thanh, director of the Lai Châu Department of Health and also director of the provincial general hospital, said that more preferential policies needed to call for doctors to work in poor remote areas.
The health sector should create good conditions for the medical workers to join training courses to improve their professional skills and assign doctors from the the provincial level to support district and commune levels in turn. — VNS
Provinces lack doctors due to low income have 1147 words, post on vietnamnews.vn at May 25, 2022. This is cached page on Talk Vietnam. If you want remove this page, please contact us.