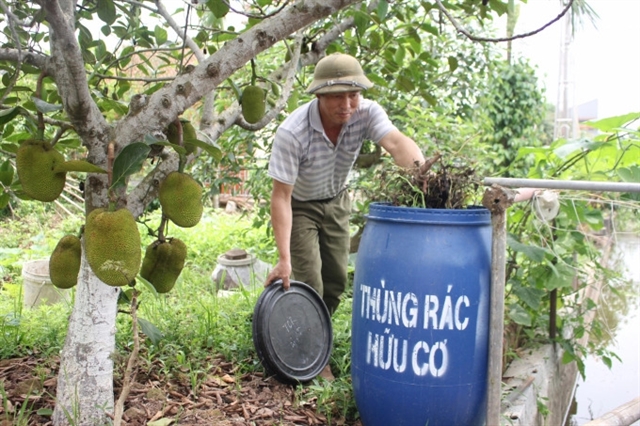 A farmer collects organic waste to make fertiliser on a farm in Hải Hậu District, Nam Định Province. Photo nongnghiep.vn
NAM ĐỊNH — Making fertiliser from organic waste has become more and more popular the northern province of Nam Định, as residents come to realise the great environmental, time and financial benefits.
Deputy Chairwoman of the district's Farmers' Association Nguyễn Thị Hoa said that, following a campaign launched by the provincial association in 2018 on collecting, sorting and treating organic waste, Hải Lý Commune in the district was selected to implement a pilot programme.
Households in the commune were given free plastic barrels, probiotics and instructions on composting organic fertiliser.
According to Hoa, the advantage of sorting waste at the source and treating it as organic fertiliser is its low investment cost and simplicity.
People collect compostable household waste, agricultural by-products, and industrial crops such as rice husks, peanuts, vegetables, spoiled fruits and leaves, putting them in a bin to brew with probiotics, covered with a tight lid for 30-40 days, to produce organic fertilisers, she said.
During the waste-to-fertiliser programme, people in Hải Lý Commune changed their mindset about organic waste and the amount of waste sent to concentrated treatment areas has decreased significantly. Village roads and alleys became cleaner as domestic and agricultural waste are collected to make fertiliser.
Hải Hậu District People's Committee and the district Farmers' Association decided to expand the programme. Up to now, the programme of collecting, classifying and treating waste into organic fertiliser in households has been deployed in all 34 communes and townships of the district with more than 38,400 bins and pits, with lids treated with probiotics.
Many communes have a large participation rate of 90-100 per cent of households such as Hải Thanh, Hải Phúc, Hải Quang, and Hải Bắc.
Phạm Thị Lụa in Quang Thanh Hamlet, Hải Quang Commune, said that when the commune Farmers' Union implemented a model of classifying and treating waste at the source to make fertiliser, her family and others were still hesitant to participate because they thought it was very troublesome and would take a lot of time.
"At that time, we hardly knew how to classify inorganic and organic waste. We also had no idea about mixing techniques for microbial fermentation," she said.
"With encouragement and guidance from the staff of the Farmers' Union, I soon mastered the technique of treating waste into fertiliser," she said.
"In the past, household waste, or by-products after harvesting agricultural products, people would put them in sacks and take them to the landfill, or burn them. When the commune Farmers' Union implemented the classification and treatment of garbage, we were still confused. However, the more I do it, the more I like it because I see that my house, pond, and garden are cleaner. I have more sources of quality fertiliser, safe for vegetables and fruit trees," Lụa happily said.
Vũ Thị Thanh Dáng, of Hải Lý Commune, who is the owner of an organic flower and ornamental plant farm, said that she had a special passion for green and safe agriculture.
She soon realised that the excessive use of pesticides and chemical fertilisers could damage soil and pollute water sources.
"The plants are green. Whether they are healthy or not depends mainly on the soil. When the soil is scientifically supplemented with organic nutrients, it will become porous, the plants will be healthy with fewer pests. So now, I am able to save the costs of buying fertilisers and pesticides," she said.
She decided to renovate the garden of more than one acre to grow flowers and ornamental plants organically. At first, she dug her own garbage pit in the garden and then planted trees on top. However, in the long run, this method faces the limitation that the garden area is narrow, while the amount of daily waste is very large. Besides, the quality of fertilisers made by this method is not high.
Since 2018, she has been equipped with more knowledge by Farmers' Associations on the classification and treatment of waste and agricultural by-products as fertiliser.
Dáng said that she bought chicken manure and mixed it with lime powder and probiotics. It incubated for three months to create quality organic fertiliser.
"The biggest benefit for gardeners like me is to reduce the amount of time spent on dumping garbage because a big amount of falling leaves every day. We also save a lot of money on buying chemical fertilisers," she said.
On average, each year, they have to spend only about VNĐ500,000 to buy one bag of NPK synthetic fertiliser and one or two bags of phosphate to compost with organic fertiliser.
"We can save 70-80 per cent of the cost every year compared to using all of the chemical fertilisers like before," Dáng said. — VNS
Organic waste fertiliser benefits in Nam Định have 1004 words, post on vietnamnews.vn at May 27, 2022. This is cached page on Talk Vietnam. If you want remove this page, please contact us.