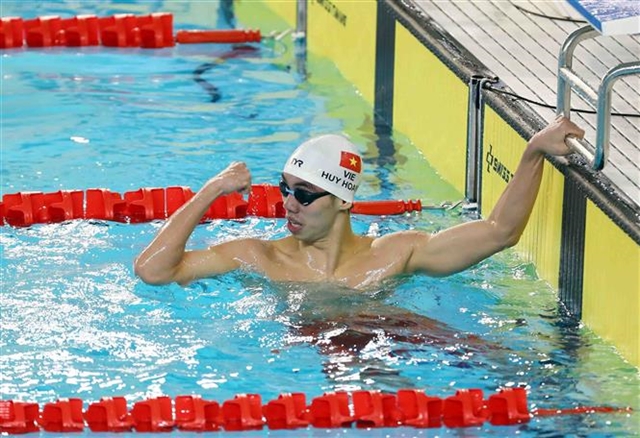 Swimming star Nguyễn Huy Hoàng wins and sets a Games record in the men's 400m freestyle on May 16. VNA/VNS Photo Phạm Kiên
Thanh Hà
Swimming star Nguyễn Huy Hoàng set a new record in the SEA Games 31 men's 400m freestyle on May 16 at the Mỹ Đình Water Sports Palace in Hà Nội.
The Tokyo Olympian finished first with a time of 3min 48.46sec after his solo performance in the last lap of the race.
Hoe Yean Khiew of Malaysia came second with 3:52.03, and Glen Lim Jun Wei of Singapore came third with 3:56.68.
The 400m freestyle was not Hoàng's favourite category, but he is the reigning champion and recorded holder (3:49.08).
The Quảng Bình Province-born man did an excellent job breaking his own record on May 16, setting a new bar for all regional competitors.
It was Hoàng's second gold at the SEA Games 31 after the first one in the men's 1,500m  freestyle on May 14.
"It is a result of a long preparation. I have to practise hard for years to achieve this," Hoàng said. "I am happy and proud."
Hoàng did not have a good start leaving him behind strong Khiew in the first 150m. But he sped up and gradually narrowed the gap before passing the Malaysian after 350m.
He said he knew Khiew, despite being younger, could create a lot of difficulty for him, but the host athlete was more experienced, and his strong fitness helped him win.
Hoàng's record was the third for Việt Nam in this Games.
The 21-year-old will next compete in the 800m freestyle and defend his title.
He hoped he would maintain a high peak to lure one more gold.
The hosts' second gold went to Trần Hưng Nguyên in the men's 200m backstroke event.
Nguyên was not a title favourite as it was not his strong point. Nguyên was left behind in most of the race, but his strong splash in the last 50m pushed him to reach the wall first with a time of 2:1.58.
Malaysian Hoe Yean Khiew (2:01.67) and Indonesian Farrel Armandio Tangkas (2:01.80) came second and third.
It was the 19-year-old's second title. On May 15, he won and set a record in the 400m individual medley.
On May 17, Nguyên will face powerhouses in his strong point of the 200m individual medley.
Three years ago, in the Philippines, Nguyên won gold and set a national record of 2:02.56.
In five other events on May 16, Singapore dominated with four victories.
The former Olympic champion Joseph Schooling of Singapore won in the men's 100m butterfly with 52.22sec.
His teammate Quah Zheng Wen (52.86) and Thai Navaphat Wongcharoen (52.98) were silver and bronze medallists, respectively.
Schooling then joined three other teammates to champion the 4×100 m medley relay later in the day. The team finished with a time of 3:37.69.
Việt Nam came second, a surprise to the whole team, with a time of 3:39.76. Thailand were third, clocking 3:43.67.
Letitia Sim of Singapore triumphed in the women's 50m breaststroke (31.43).
Gan Ching Hwee of Singapore secured the title in the women's 200m freestyle (2:02.06)
Chloe Isleta of the Philippines topped the women's 200m backstroke (2:18.60).
Hoàng dominates pool with new freestyle record have 698 words, post on vietnamnews.vn at May 17, 2022. This is cached page on Talk Vietnam. If you want remove this page, please contact us.