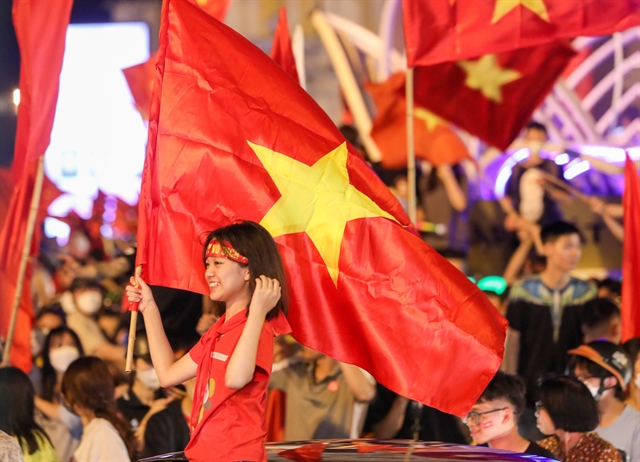 Crowd gone wild after the wins of Vietnamese football at the Games. — VNA/VNS Photo Khánh Hòa
Peter Cowan
Mission accomplished.
With a pair of 1-0 wins over Thailand, Việt Nam's men's and women's football teams took SEA Games 31 gold at home, to the joy of millions.
While the fans celebrated long into the night on the streets all across the nation after the men's team completed the double on Sunday night, the final whistle seemed to bring a different emotion to men's head coach Park Hang-seo.
The South Korean tactician looked relieved more than overjoyed to me and while he did get into the party mood shortly afterwards, the immediate reaction was telling.
I don't profess to follow U23 football across the world in too much depth, but I can't imagine there is an underage tournament anywhere on the planet that means more than a home SEA Games does in Việt Nam. Just look at the incredible scenes that played out on the streets on Sunday night as millions of people celebrated.
With that incredible passion also comes incredibly high expectations and therefore pressure for the likes of Park and his players, and women's team head coach Mai Đức Chung and his charges. Perhaps this is why Park breathed out at the final whistle for what must have felt like the first time in months.
That both sides managed to ride the wave of delirious home support to victory instead of allowing themselves to be submerged under it is a testament to their mental toughness.
For the women's team, winning this tournament continues their regional dominance. Three SEA Games titles in a row and a spot at the 2023 World Cup booked are testament to that dominance and ensure that Chung and his senior players have a place in Vietnamese football history.
For the men's side though, it's less clear what winning this tournament means in the long-term.
The fact is, coach Park and his players had several key advantages over their rivals. They had a great deal more preparation time, much more support from the domestic league in terms of squad selection and training, three of the most accomplished overage players at the tournament, and they had home support.
Despite all that, bar the opening game against Indonesia and patches in the final, the Vietnamese side failed to impress with their quality of play.
Coach Park's pragmatic style has delivered more silverware that anyone could have hoped for when he got the job back in 2017 but I don't see how it can set underage teams up for success in the long run. If they don't learn to play with the ball at their feet as youngsters, it's going to be that much harder to do it at senior level.
The AFC U23 Asian Cup next month in Uzbekistan will be an altogether tougher task for the young side, now led by Park's assistant Gong Oh-kyun.
Without the overage trio or home support to lean on, I fear they'll find it much harder to pick up points by sitting deep and relying on defensive strength at a higher level of competition.
I suppose that's a concern for another day though, as today is still for basking in the golden glow of a job well done. — VNS
Basking in the glow of a golden weekend have 813 words, post on vietnamnews.vn at May 24, 2022. This is cached page on Talk Vietnam. If you want remove this page, please contact us.