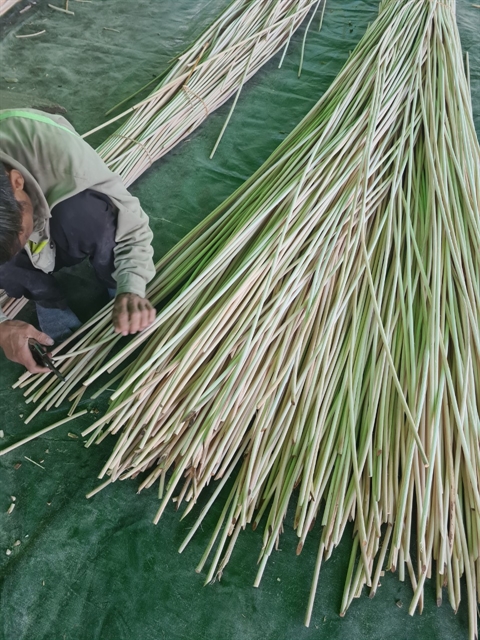 Local farmers process raw rattan furniture and craft businesses nationwide. Some bankable projects have been developing in Quảng Nam Province in creating sustainable development and value chain for rattan. Photo courtesy of Lục Đông company
Công Thành
Since starting a rattan and bamboo processing business in 2008, Trần Trung Hiếu has built a sustainable value chain for providing environment-friendly materials for crafts production by growing 152ha of rattan forest in the disadvantaged Nam Giang and Tây Giang districts in the central Quảng Nam Province in 2019-20.
Hiếu, who is deputy director of Lục Đông company which specialises in processing rattan for furniture and crafts enterprises nationwide, said he had been cooperating with local ethnic groups in the two districts in building a sustainable chain of rattan that improved income for local people and protected biodiversity from exploitation.
In 2019, Hiếu, with the technical assistance of WWF-Việt Nam, developed a sustainable rattan enrichment area in Nam Giang District with a grant worth more than US$150,000 from the United States Agency for International Development (USAID) programme.
About 325 households in the mountainous districts of Quảng Nam Province have benefited from the business-community cooperation on sustainable farming of rattan while protecting primary rattan from long-term exploitation.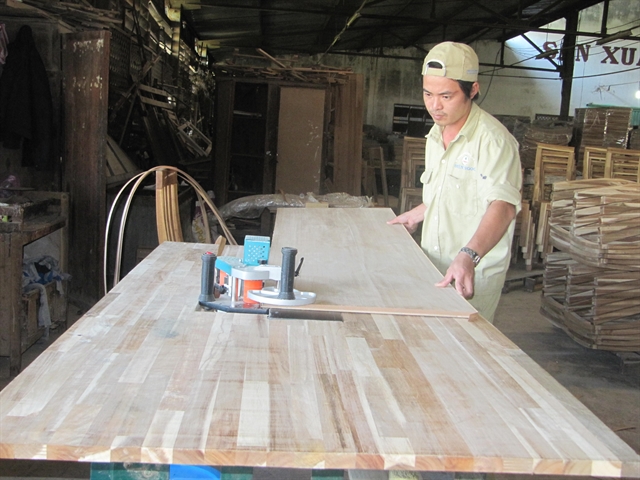 A worker makes furniture from acacia at a factory in Quảng Nam Province. Mountain communities in the province have been logging sustainably to increase value. VNS Photo Công Thành
"It's a shared risk solution for both local communities and businesses. We secured a full capacity of a material source providing to crafts businesses, while residents earned a stable and low-risk income from rattan exploitation," Hiếu said.
"We provide technical assistance and skills on harvesting rattan forest in nature and funds for an initial investment in growing and caring rattan from saplings. Each household was provided assistance of VNĐ21 million (US$914) per hectare for growing rattan, and they can earn good income from stable selling prices during harvest time after three years of farming," he explained.
He added that businesses offered a stable price from 15 per cent to 25 per cent higher than risky middlemen, as five or six years ago.
"It means that community and business will have a fixed contract that could help protect both parties from risk due to unstable market price or disasters."
The deputy director also said residents, 96 per cent of whom are ethnic Cơ Tu, used to exhaust rattan in nature by cutting rattan at the root.  However, they had been trained to chop at a two-third height for growing and exploitation now.
Hiếu said each household could earn VNĐ70 million per hectare from rattan material sale, but they also protect rattan forest for longer money-making and a 'green' dyke around residential quarters from floods and landslides.
He said a 2.6ha rattan processing factory of the company has been using power from a renewable roof-top solar power system.
Seeking fund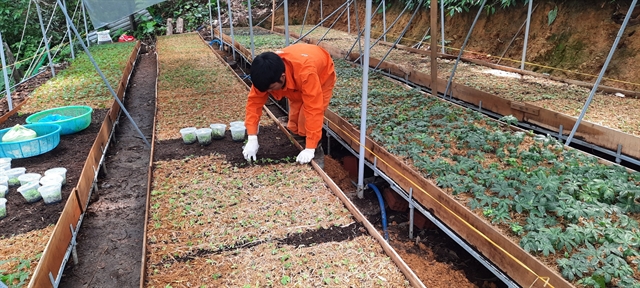 A ginseng farm in Nam Trà My District, Quảng Nam by Samsam. A sustainable and forest-protected zone is planned for ginseng development and forest protection in the area. Photo courtesy of Samsam company
Advised by the WWF to continue expanding this model led to an application to the Landscape Resilience Fund (LRF), and Lục Đông's project proposal is currently being considered for potential technical assistance and financing.
The LRF is a collaboration between WWF and South Pole, implemented in the Central Annamites by WWF-Vietnam, which supports climate-resilient agriculture and forestry businesses embedded within a sustainable landscape approach, WWF-Vietnam said.
The LRF is a public-private partnership that aims to mobilize US$100 million by 2026 for climate adaptation projects that support sustainable agricultural and forestry supply chains and that improve the resilience of smallholder farmers in developing countries.
The Landscape Resilience Fund (LRF) is an independent Swiss foundation, co-developed by the South Pole as a fund manager, and the World Wide Fund for Nature (WWF) as an advisor and service provider, a report from WWF-Vietnam detailed.
In 2021, Lục Đông company was honoured to join a side event at the UN Climate Change Conference (COP26), the most important meeting on Climate Change on Earth, with global partners to share its successful business model in climate adaptation as a small local enterprise
Hiếu said he planned to expand the sustainable rattan area to 1,000ha in the Central Annamites with an investment of $2.5 million in providing 3,000 tonnes of rattan for furniture businesses per year, and a 1MW solar power in reducing the electricity bill by 80 per cent as well as cutting 1,700 tonnes of carbon emission from production.
He expected that the company would approach a $1 million fund from LRD for soon commencing the expanded sustainable rattan growing and production project.
Lê Ngọc Duy, from Samsam company, said the sustainable Ngoc Linh ginseng (Vietnamese ginseng farming and production) had been developing in mountainous Nam Trà My District from 2015-20.
He said the project also involved local ethnic groups, while creating sustainable livelihoods by growing the profitable ginseng.
"At least 80 per cent of natural forests were well protected by local ethnic farmers, who joined growing and caring for the Ngọc Linh ginseng farm. The ginseng could only develop well under the green shadow of primary forest," Duy said.
"Our initial invested ginseng project, which covers 4.4ha, was fertilised from 1,300 tonnes of organic waste, collected and processed from 200 cows per year. We plan to expand to 300ha for growing one million samplings of ginseng in 2023. It would help harvest five million ginseng roots for production in 2028," he said.
Nguyễn Đông, deputy director of Quảng Nam joint-stock wood processing company, said the business had been cooperating with 600 households in Hiệp Đức District of Quảng Nam on the development of 3,400ha of Forest Stewardship Council (FSC), standard acacia for exportable furniture production.
He said the company had applied procedures in seeking an investment of $10 million, of which 30 per cent would be funded by the Dutch Fund for Climate Change Development (DFCD) to develop its supply-production chain in timber production.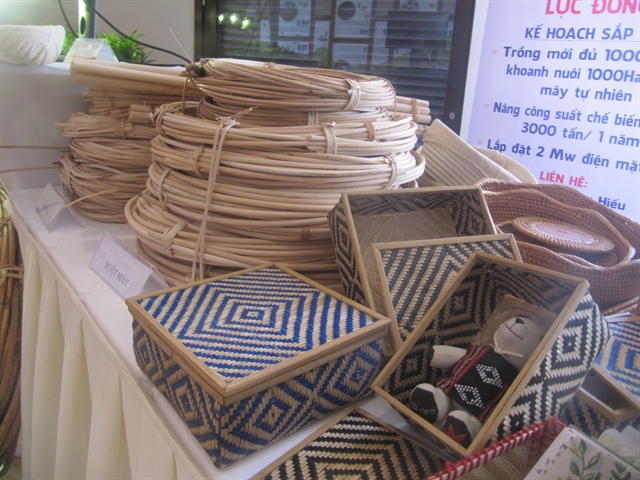 Rattan-made products on display at an event. Vietnamese rattan products exported to the European market generated US$40 million in 2020. VNS Photo Công Thành
Đông said the project aimed to create 10,000 jobs, of which 2,000 would be for ethnic people and 5,000 households in growing wood, for local people in seven poverty rural mountainous districts of Quảng Nam in six years.
According to the Ministry of Industry and Trade, the export value of rattan amounted to $40 million in 2020 and the country has great potential in exporting handicrafts to the European market.
Việt Nam committed at the COP 26 to reduce 30 per cent of carbon emissions in 2030 and a 'zero' carbon target in 2050.
Bankable projects in central Việt Nam will contribute to the 'zero' carbon target, while the protection of 500,000ha of the forest will help the country earn $51 million from carbon credit. — VNS
Bankable projects offer sustainable development for local people have 1349 words, post on vietnamnews.vn at May 24, 2022. This is cached page on Talk Vietnam. If you want remove this page, please contact us.