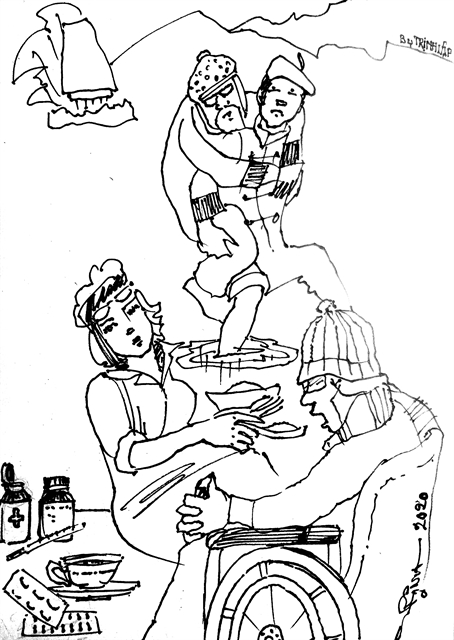 Illustation by Trịnh Lập
by Nguyễn Mỹ Hà
It all started with rapper Đen Vâu's Lunar New Year music video "Mang Tiền Về Cho Mẹ" (Bring Money Home to Your Mother). The video, which has had 40 million views since it was released at the end of last month had made everyone at least consider for a minute or more what he or she is going to give to their mother.
You could bring home money to your mother so that she could prepare goodies for the family with Lunar New Year festival (or Tết in Vietnamese) just around the corner; bring money so that she could buy herself a handbag; or bring money for her so that she could keep it safe.
Many people welcomed the song and its call to filial piety, a top virtue in men or women, to respect and take care of ageing parents.
A popular saying goes, "Trẻ cậy cha, già cậy con" (roughly translated as "Rely on your father when you are young, but rely on your children when you are old"). This saying has been around for many generations, but it reflects people's longing, not necessarily the truth. It may even be contrary to the truth.
Ageing parents often complain of being neglected by their children, or as the common joke goes: "They say they haven't eaten or their children have not given them anything to eat, when in fact they have just finished a meal."
This is meant to be a joke among the elderly themselves, but it's also a warning to their children: to be aware of unexpected changes in parents physical and mental health.
So I was shocked to receive a phone call from my cousin last week as he was taking his family to start a new life in Australia, and calling me to bid farewell.
"Whom have you entrusted your parents to?" I, naturally, asked.
I asked out of politeness and understanding, as I know I'm not able to take care of my parents day in day out, so I do not have the right to blame him for anything, or their decision to take their family elsewhere.
But the episode has been weighing heavily on my mind, and it's not going away any time soon.
I've had many friends, who went abroad to study in their 20s and settled there, or successful friends who migrated in the 30s as skilled workers. But why now, when we are on the wrong side of our 50s, would we still decide to move? Adventure? Running away? Seeking a new paradise? Or simply avoiding the air pollution in Hà Nội?
Maybe it is one of these reasons, maybe it is all.
What will they bring home to their mothers for Tết? From the bottom of my heart, I would only want to see my child, but other mothers would say, go far away, chase your dream, get a career, live your life, I can take care of myself. Don't worry about me! And other self-sacrificing words.
Again, I cannot be polite as I get old. I want to see familiar faces!
As a matter of fact, visual familiarity can wake up silent memories in your brain, and delay the ageing process. Daily conversation with your loved ones can release stress; a hug from your loved one can boost dopamine, serotonin and oxytocin, the principal chemicals making you feel motivated, rewarded and happy.
Dopamine is a brain neurotransmitter, i.e. a chemical messenger between the neurons. Bringing money home or anything else can be seen as a 'reward' for your mother, and as a result makes her feel better. But scientists have also warned that too much dopamine can lead to illusions and even difficult mental states.
"Bring Money Home to Your Mother" can be seen as meaning many things. After a year where millions of people lost jobs and incomes, it might be hard to bring money home to your parents if you cannot even afford to live your own life.
So, bring some poems to your mother, bring her some laughs, bring her your own body, bring her joy; it doesn't have to be materialistic. Bring love and gratitude and your resilience to hang on. Your mother will be happy. That's all we need for Tết . VNS
What to bring your mother for Tết have 1174 words, post on vietnamnews.vn at January 23, 2022. This is cached page on Talk Vietnam. If you want remove this page, please contact us.