Cashless payments account for over 70 percent of retail transactions in 2021
The COVID-19 pandemic, with its complicated developments, has given a boost to e-commerce, with non-cash payments accounting for 70 percent of total retail transactions in Vietnam last year.
According to a survey of 15,000 retailers by tech firm Sapo, cashless payments in 2021 made up 72.8 percent of total transactions, up 9 percent year-on-year.
Payments through bank accounts became the most popular method, accounting for 36.5 percent of total transactions at retail shops, restaurants and cafés followed by cash (29.8 percent), e-wallets (14.8 percent), QR code (9.9 percent), bank cards (8.5 percent) and payment gateways (0.5 percent).
Notably, 89.3 percent of retailers have positive assessments on non-cash payments, considering them a trend at present and in future.
New cashless payment tools are expected to be launched in the time to come to reduce difficulties currently facing some retailers.
Reference exchange rate down 14 VND on January 14
The State Bank of Vietnam set the daily reference exchange rate for the US dollar at 23,082 VND/USD, down 14 VND from the previous day.
With the current trading band of +/-3 percent, the ceiling rate applicable to commercial banks during the day is 23,774 VND/USD and the floor rate 22,389 VND/USD.
Bac Giang to develop VND2.7-trillion industrial park
The Bac Giang government has issued a decision establishing the Yen Lu Industrial Park in Yen Dung District, with a total investment of nearly VND2.7 trillion.
Of the total capital, VND403.8 billion will be sourced from the investor's capital contribution, while the remainder will be mobilized from other sources.
The industrial park project, whose investor is Capella Land JSC, is set to cover 377 hectares of land in Yen Lu Commune and operate for 50 years.
The establishment of the Yen Lu Industrial Park will raise the total number of industrial zones in the northern province of Bac Giang to eight.
In December 2021, the provincial government issued a decision on development of the Tan Hung Industrial Park covering 105.3 hectares of land in the Tan Hung and Xuong Lam communes, at a total cost of some VND1.2 trillion.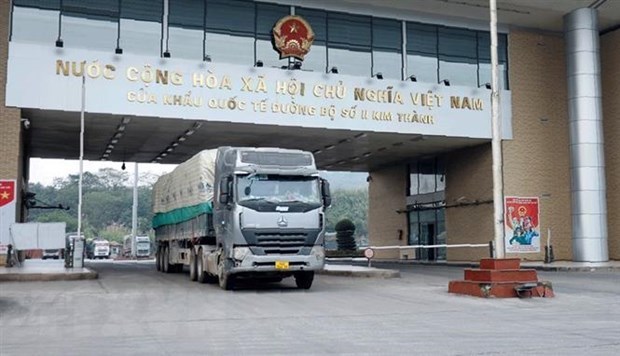 A truck carries goods through the international border gate No II Kim Thanh in Lao Cai (Photo: VNA)
PM orders establishment of working group to tackle goods congestion at border gates with China
Prime Minister Pham Minh Chinh has asked the Ministry of Industry and Trade to work with relevant ministries, agencies and seven provinces bordering China to quickly set up a working group to address the congestion of goods at border gates.
PM Chinh made the request right after his phone talks with Chinese Premier Li Keqiang on January 13 morning.
According to the PM, the working group, headed by a Deputy Minister of Industry and Trade, will coordinate with the Chinese side to deal with the congestion of goods at border gates between the two nations, improve the efficiency of customs clearance and goods circulation, and maintain smooth bilateral trade, especially during the Lunar New Year, while ensuring pandemic control in an effective, scientific and safe manner.
The PM's Office conveyed the direction to related ministries and the People's Committees of Dien Bien, Lai Chau, Lao Cai, Ha Giang, Cao Bang, Lang Son and Quang Ninh provinces.
CAAV suggests increasing flights as Tet approaches
The Civil Aviation Authority of Vietnam (CAAV) has suggested the Ministry of Transport allow it to take the initiative in increasing flights, starting from January 14, to meet growing demand as the Lunar New Year (Tet) – the longest and biggest traditional festival of Vietnam – is approaching.
The CAAV's statistics showed that from December 29, 2021 to January 10, 2022, Vietnamese airlines operated 4,480 flights carrying over 547,000 passengers, achieving an average seat occupancy of 64 percent.
Demand for flights on the Ho Chi Minh City – Hanoi route and between Ho Chi Minh City and Central Highlands, central and northern provinces during the period rebounded with a seat occupancy of over 70 percent.
Airlines reported that flight reservations have reached over 50 percent, and sometimes even more than 90 percent.
ADB, TPB sign 25 million USD loan to finance women-led SMEs in Vietnam
The Asian Development Bank (ADB) signed a 25 million USD loan with Tien Phong Commercial Joint Stock Bank (TPB) to expand access to finance of women-owned and -led small and medium-sized enterprises (WSMEs) in Vietnam.
The project is also co-financed by DEG – Deutsche Investitions- und Entwicklungsgesellschaft mbH (DEG) for 25 million USD.
The loan is accompanied by a 750,000 USD technical assistance grant to help TPB better meet the needs of WSMEs. The grant will be used to build TPB's capacity to lend to WSMEs, hire staff, and promote its services to female borrowers. It will also enable TPB to use digital systems to analyse the underserved WSME market. The grant is funded by the Women Entrepreneurs Finance Initiative (We-Fi).
As of 2018, the majority of businesses in Vietnam are classified as small and medium-sized enterprises, supporting 38 percent of the country's employment and generating 40 percent of gross domestic product. But their access to finance is still a challenge, with only 37 percent of WSMEs able to obtain loans from banks, according to a 2017 study.
Standard Chartered forecasts Vietnam's GDP growth at 6.7%
Standard Chartered Bank forecasts Vietnam's recovery will accelerate markedly in 2022, with GDP growing by 6.7 percent.
The forecast is highlighted in the bank's recently published global research report titled "Still battling headwinds" and Vietnam-focused macro-economic research report titled "Vietnam – Moving back to high growth".
According to Standard Chartered's economists, exports should be supported in 2022 by a continued improvement in the global trade environment, although import growth is likely to remain high.
The State Bank of Vietnam is expected to keep its policy rate on hold at 4 percent in 2022 to support credit growth and manage inflation risks.
Standard Chartered Bank maintains its medium-term constructive view on the Vietnamese dong amid expectations of a strong balance of payments.
The rapid pace of appreciation since July reflects more flexible exchange rate management by the central bank. The Vietnamese dong is among the best-performing emerging market currencies in 2021.
Hai Phong works to maintain top position in FDI attraction
The northern port city of Hai Phong is working to continue to improve its business and investment environment to attract large investors and maintain its leading position in investment attraction.
According to the Ministry of Planning and Investment, in 2021, Hai Phong drew over 5.1 billion USD in foreign direct investment (FDI), the highest among localities nationwide, up nearly 3.4 times compared to that in the same period last year.
Le Trung Kien, head of the Hai Phong Economic Zone Management Board said that the bright spot in FDI attraction of Hai Phong is the success in luring big investors with high technologies, including LG. By the end of 2021, local industrial parks attracted 420 FDI projects worth nearly 19.1 billion USD.
In 2022, the city aims to lure 2.5-3 billion USD. Right in January, the board accepted a 35-million USD project from a Chinese investor.
Ministry of Industry and Trade makes effective use of FTAs
According to Nguyen Cam Trang, Deputy Director of the ministry's Import-Export Department, in the first five months implementing the European Union-Vietnam Free Trade Agreement (EVFTA) from August-December 2020, Vietnam's export to the union recorded a positive growth of 3.8 percent, instead of the contraction in the previous period. Notably, in the subsequent seven months, the figure reached 17.8 percent.
Thanks to the UK-Vietnam Free Trade Agreement (UKVFTA) and the Comprehensive and Progressive Agreement for Trans-Pacific Partnership (CPTPP), Vietnam's export turnovers to the UK, and Mexico and Canada have also seen significant increases.
The Regional Comprehensive Economic Partnership (RCEP), which becomes effective from January 1, 2022, is expected to create a long-term and stable export market for ASEAN countries in general and Vietnam in particular.
In order to help businesses make effective use of FTAs, the ministry has continuously stepped up dissemination about opportunities, regulations and rules of export to help them enjoy incentives and meet requirements. It has also launched its own portal on FTA (FTAP) and is considered a useful tool for exports to seek necessary information.
Vietnam Airlines to resume in-flight catering services
National flag carrier Vietnam Airlines will resume its in-flight meals starting January 15 after a long halt triggered by COVID-19 concerns, the carrier said on January 13.
It will resume catering services in business class on all domestic flights.
A representative of the airline said that the resumption of in-flight meals is to improve passenger experience so as to maintain its 4-star rating, in line with the COVID-19 situation in Vietnam.
Vietnam Airlines will resume and expand other services in the coming time, together with promoting technology application and digital transformation.
Ships, goods through Cai Mep-Thi Vai cluster up 2 pct in 2021
Due to the adverse impact of the COVID-19 pandemic, the total number of ships passing through seaports in Ba Ria-Vung Tau province in 2021 decreased, but that through its Cai Mep-Thi Vai port cluster alone still increased in both the number of vessels and the volume of goods compared to those in 2020, according to the Vung Tau Maritime Administration.
Specifically, the total number of ships passing through seaports in the province was more than 90,100, down 5 percent year-on-year, but that through Cai Mep-Thi Vai only reached about 11,300, up 2 percent.
The total volume of goods through local seaports was more than 113 million tonnes, up 0.37 percent, in which that through Cai Mep-Thi Vai hit nearly 105 million tonnes, up 2 percent year-on-year. In particular, the total volume of container cargo through this cluster reached about 8.35 million TEU, up 11 percent against the previous year.
Notably, in 2021, Cai Mep-Thi Vai port cluster received more than 1,320 large container ships, from over 80,000 DWT to 214,000 DWT, a year-on-year rise of 1 percent.
Group chairwoman named on Forbes 50 Over 50 Asia 2022
Forbes Magazine has named Vietnamese chairperson of TH Group Thai Huong among its top 50 Over 50 Asia 2022.
Most notably, the female executive boosted the country's dairy industry following her group's investment in cow breeding and farming in 2008 which made use of technology from Israel. The initiative helped to lower the ratio of milk products using milk powder to 60% from 92% as of 2020.
"She made more bold moves in the last few years by investing in milk product manufacturing in Russia and Australia. The investment project in Russia, planned at a total US$2,7 billion capital, is near completion of phase one, with a milk factory expected to open in May 2022", the magazine added.
In 2015 Forbes Magazine also named Huong among its list of the 50 most powerful businesswomen in Asia.
Businesses advised to select suitable farm produce for export to US
Vietnamese businesses have been advised to choose suitable products for each customer group to penetrate the US market in the future.
The US became the largest importer of Vietnamese agricultural products last year with turnover reaching US$11.9 billion, accounting for 27.5% of the country's market share of farm produce, reported the General Statistics Office (GSO).
A representative from the Vietnam Trade Office in San Francisco explained that Vietnamese agricultural exports to the demanding market mainly consist of dried products and were primarily being sold to people of Vietnamese and Asian descent.
Although the US has permitted the export of seven types of fresh Vietnamese fruit, namely dragon fruit, rambutan, mangoes, longans, star apples, lychees, and pomeloes, the export turnover of these fruit remains modest.
The trade official therefore recommended that local firms strive to fully exploit the Latin American market, especially California, which is home to 39% of Latino people.
Cashew nut exports to EU likely to inch up 15% this year
Vietnamese businesses are expected to export 155,000 tonnes of cashew nuts worth US$900 million to the European Union in 2022, representing a rise of 15% in volume and 10% in value compared to 2021, according to forecasts set out by the Ministry of Industry and Trade.
There have been significant changes occurring in the export structure of cashew nuts to the market, with a specific focus on the types of W320 and W240, especially high-added value products such as W180.
At present, the EU makes up the country's second largest cashew nut export market, accounting for 23% of the entire sector's total volume and 22% of its total value.
Local cashew nut exports to the bloc have enjoyed a zero tax rate since the enforcement of the EU-Vietnam Free Trade Agreement (EVFTA) back in August 1, 2020.
Australia helps Vietnam with digital transformation in disaster response
The Australian government has announced a AUD440,000 (US$321,700) sponsorship for a digital transformation project in Vietnam to help the latter cope with incidents and disasters.
Under the Aus4Innovation program, Australia will sponsor AUD1.4 million for four hi-tech digital transformation projects in Vietnam through cooperation with the Vietnamese Ministry of Planning and Investment, Thanh Nien newspaper reported.
Of them, the project on digital transformation in dealing with natural disasters and rescue will be implemented by Australia's University of Technology Sydney and Vietnam's Le Quy Don Technical University.
Australia will also transfer technology in building scenarios in a three-dimensional space to train forces participating in the search and rescue work.
Starbucks continues to scale up in Vietnam
Starbucks opened six additional stores in Vietnam between last December and January 2022, with three each in Hanoi and Ho Chi Minh City.
The coffeehouse chain now has nine stores in Vietnam.
On the occasion of the upcoming celebration of the Lunar New Year, Starbucks has launched products inspired by the Year of the Tiger and its holiday beverages.
The world's largest coffeehouse chain first arrived in Vietnam in February 2013 after launching a coffee shop in HCM City.
HCM City plans to start construction of Metro Line No. 2 this year
Ho Chi Minh City will begin construction of Metro Line No. 2 in 2022, according to the municipal Department of Transport.
Metro Line No. 2 will connect Ben Thanh Market in District 1 and Tham Luong Depot in District 12.
The line, which runs across districts 1, 3, 10, 12, Tan Binh and Tan Phu, has a total length of 11.3 km, including a 2km elevated section and a 9.3km underground section. It has 11 stations, including nine underground, one elevated and one depot.
The project is estimated to cost 47.9 trillion VND (2.1 billion USD), sourced from Official Development Assistance (ODA) funds and reciprocal capital from the city.
The line is scheduled to be completed in 2026 and will connect with Metro Line No.1.
Ha Nam province seeks ways to support FDI firms
Leaders of the northern province of Ha Nam on January 13 held a meeting with foreign investors to listen to their feedback, aiming to seek measures to remove obstacles and difficulties in their production and business activities.
Ha Nam is currently home to 341 foreign direct investment (FDI) projects worth nearly 4.87 billion USD in total. Of which, 285 are operating.
In 2021, industrial production value of the FDI firms accounted for 70.7 percent of the province's total. They contributed 36.4 percent to the locality's State budget collection and 80.8 percent to export revenue.
The majority of the FDI businesses acknowledged Ha Nam's efforts to create optimal conditions for them during their operations, especially by promptly injecting COVID-19 vaccines to workers, enabling them to maintain normal production.
They suggested Ha Nam to further shorten time for processing administrative procedures and give them more support in recruitment, power supply, security and order protection in industrial parks (IP), and IP infrastructure upgrading.
Air passenger numbers on the rise as Tet nears
The number of domestic air passengers has been on the rise as the Lunar New Year or Tet Holiday  approaches.
According to the Civil Aviation Authority of Vietnam (CAAV), from December 29 to January 10, Vietnamese airlines operated 4,480 flights with a total 547,000 passengers. This represented an average flight occupancy rate of 64 percent.
Twenty-five return flights are operated on HCM City-Hanoi route per day with an occupancy rate of 73 percent, while nine daily HCM City to Dak Lak flights recorded 85 percent.
Flights from HCM City to Lam Dong, Haiphong, Hue, Gia Lai, Thanh Hoa, Binh Dinh, Quang Binh and Nghe An have nine return flights per day, with 70 occupancy compared to 50-60 percent in December.
The reservation rate on VietJet Air's HCM City-Vinh flights on January 18 was 91 percent while Vietnam Airlines have a 92 percent rate for the same route on January 22. Bamboo Airways' HCM City-Thanh Hoa flights had an 87 percent rate on February 6.
Between January 19 and February 16, airlines in Vietnam are scheduled to operate around 14,000 flights with a total of 2.7 million seats.
Binh Dinh ready to receive foreign visitors in 2022
Major tourist destinations in the south-central province of Binh Dinh are ready to welcome back foreign visitors after a hiatus caused by the COVID-19 pandemic, a local conference heard on January 13.
The provincial tourism sector has prepared about 2,000 5-star standard rooms on the Phuong Mai peninsula to serve international travelers on a trial basis. The health sector has also fully vaccinated 100% of local people against COVID-19.
It is expected that from now till April, Binh Dinh will receive two charter flights per week with about 2,000 guests from the Republic of Korea and Japan. If the pandemic is under control, international tourists can enter the inner city on a package tour.
Source: VNA/VOV/SGT/SGGP/VNS/ND/VGP/VIR
VIETNAM BUSINESS NEWS JANUARY 14 have 3117 words, post on vietnamnet.vn at January 14, 2022. This is cached page on Talk Vietnam. If you want remove this page, please contact us.