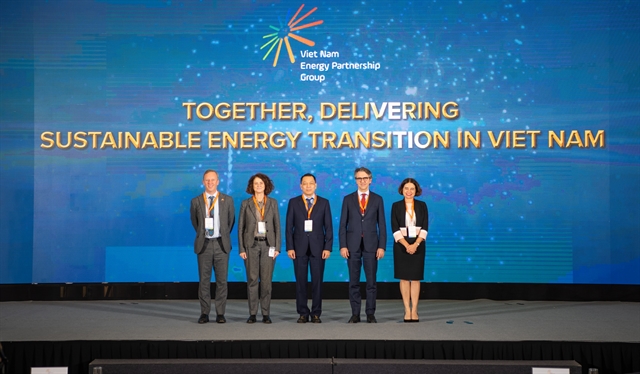 The 4th High-Level meeting is chaired by the Ministry of Industry and Trade (MOIT),  the European Union and the World Bank in Việt Nam in a hybrid format in Hà Nội yesterday. — Photo courtesy of MoIT
HÀ NỘI — With the pandemic still complicated and natural disasters becoming more frequent and devastating, Việt Nam needs to focus on driving sustainable energy transition, according to the 4th High-Level Meeting of the Việt Nam Energy Partnership Group (VEPG)
More than 150 members from the energy sector and energy experts gathered at the 4th High-Level meeting chaired by the Ministry of Industry and Trade (MOIT),  the European Union and the World Bank in Việt Nam in a hybrid format in Hà Nội yesterday.
The meeting overviewed the achievements of the VEPG over the last four years as a high-level policy dialogue platform connecting the Government with development partners and stakeholders in Việt Nam's energy sector.
It also introduced five new technical working groups comprising Power Sector Strategic Planning, Renewable Energy, Grid Integration and Grid Infrastructure, Energy Efficiency, and Energy Market.
The meeting adopted the new slogan of the VEPG: "Together, delivering the sustainable energy transition in Việt Nam!" affirming VEPG's goal and ensuring cooperation between energy sector stakeholders, to provide effective and efficient sector support and contribute to key policy-making processes in Việt Nam's energy transition.
In a high-level thematic panel discussion, delegates from renowned organisations actively exchanged ideas around the Power Development Plan VIII under the Government's direction on sustainable energy transition, as well as the results and impacts of the 26th United Nations Climate Change Conference (COP26) of Việt Nam's energy sector.
International experience and recommendations were shared to remove technical and investment bottlenecks for the sustainable energy transition in Việt Nam.
Deputy minister Đặng Hoàng An said that MOIT was assigned by the Government to develop the Power Development Plan VIII, closely following principal set out in Resolution No. 55 of the Politburo, paying special attention to the structure of the power sector, power sources, and synchronisation with the development of the power system and infrastructure.
"Over the years, the VEPG has fulfilled its role as a high-level policy dialogue forum between the Government of Việt Nam and international partners, connecting international support to promote the development of the renewable energy market in Việt Nam," An said.
"In 2021, VEPG has restructured its technical working groups, identified key topics tailored to the country's urgent needs, as well as leveraged supporting resources, both domestically and internationally. By cooperating with ministries, departments, sectors and local and foreign partners, the VEPG will support the Government in developing even stronger measures to reduce greenhouse gas emissions to achieve net-zero emissions by 2050."
Giorgio Aliberti, ambassador of the European Union to Việt Nam, said: "Việt Nam's commitment to embarking on an energy transition towards a cleaner, greener energy mix and more efficient use of energy is an important contribution, not only to the sustainable development of its economy but also to the global fight against climate change."
"The EU – like many other development partners that have gathered today – is here to provide support and expertise to make this energy transition happen while ensuring access to affordable energy for all and protecting Việt Nam's competitiveness at local as well as international level.
"We will continue to provide financial support for the operation of the VEPG and will work with MOIT on a roadmap for the long-term financial sustainability of the partnership, including strategies to raise additional, public, private and development partners funds to sustain its operations. I am confident that the new structure of the VEPG will continue to provide a useful and unique platform to coordinate dialogue, concrete actions and inputs to fulfil Việt Nam's vision of its energy transition."
Carolyn Turk, country director of the World Bank in Việt Nam, said: "Over the past few decades, the energy sector has played a fundamental role in driving Việt Nam's rapid and inclusive economic growth. In the coming decade, the energy sector needs to use less carbon; and fossil fuel consumption that generates the largest amounts of greenhouse gas emissions need to be drastically reduced. "
"This must be implemented in a way that ensures that both energy demands are met and that the economic stability of industries is maintained. To achieve these goals, the World Bank looks forward to continuing our support for the Government of Việt Nam seeking to expand the energy sector, but in a greener way, through the VEPG cooperation framework."
Last year, during COP 26, Prime Minister Phạm Minh Chính confirmed Việt Nam's willingness to develop and implement stronger measures to reduce greenhouse gas emissions with its resources, together with the cooperation and support of the international community, both in terms of finance and technology transfer, including the implementation of mechanisms under the Paris Agreement to reach net-zero emissions by 2050. — VNS
Việt Nam and partners develop sustainable energy transition in Việt Nam have 1036 words, post on vietnamnews.vn at January 25, 2022. This is cached page on Talk Vietnam. If you want remove this page, please contact us.