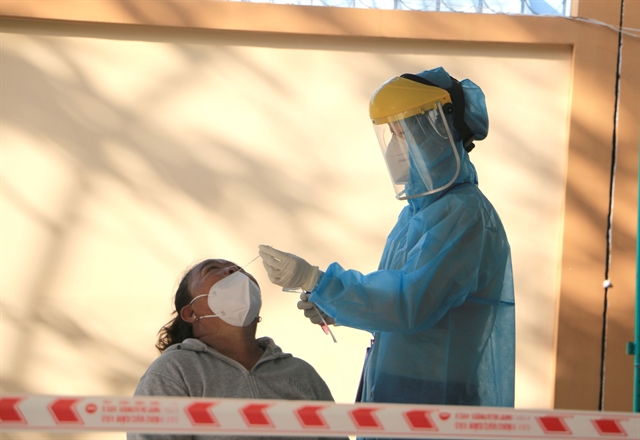 A medical worker taking a COVID-19 test sample from a resident in the southern province of Vĩnh Long. — VNA/VNS Photo Lê Thúy Hằng
HÀ NỘI – In the two years since Việt Nam's first confirmed COVID-19 patient the country has recorded more than 2.1 million infections, as the Ministry of Health announced another 14,978 new cases on Sunday.
The very first case was a visitor from Wuhan, China, who tested positive for COVID-19 on January 23, 2020.
The number of transmissions in the country crossed the one-million mark on November 11, 2021, before quickly hitting two million on January 15, 2022.
On Sunday, the health ministry also announced a further 123 COVID-19 related deaths.
Among the new cases, 44 were imported and the rest were local transmissions. A total of 10,324 new infections were detected in the community.
The capital city Hà Nội recorded the highest daily case count with 2,967, followed by Đà Nẵng at 984 and Hải Phòng at 764.
Other transmissions were found in Hưng Yên (629), Thanh Hóa (489), Quảng Nam (435), Quảng Ninh (427), Thái Nguyên (399), Bắc Ninh (377), Nghệ An (372), Bình Phước (361), Bình Định (358), Hải Dương (351), Bến Tre (347), Quảng Ngãi (326), Phú Thọ (308), Hòa Bình (284), Thừa Thiên Huế (282), Khánh Hòa (279), Vĩnh Phúc (276), Nam Định (266), Bắc Giang (254), Lâm Đồng (216), Cà Mau (190), Tây Ninh (167), Thái Bình (157), Lạng Sơn (153), Ninh Bình (143), HCM City (138), Vĩnh Long (137), Hà Nam (129), Bạc Liêu (128), Đắk Nông (126), Lào Cai (119), Trà Vinh (100), Hà Giang (96), Điện Biên (95), Phú Yên (92), Yên Bái (91), Gia Lai (87), Quảng Bình (86), Sơn La (82), Bà Rịa – Vũng Tàu (73), Hậu Giang (72), Tuyên Quang (67), Kiên Giang (66), Quảng Trị (60), Hà Tĩnh (56), Đồng Tháp (50), Kon Tum (45), Bình Dương (40), Long An (40), Bình Thuận (40), An Giang (38), Cần Thơ (36), Sóc Trăng (35), Cao Bằng (35), Ninh Thuận (27), Đồng Nai (26), Lai Châu (26), Bắc Kạn (19), and Tiền Giang (16).
The number of Omicron infections in Việt Nam remains the same as yesterday, at 135.
The national caseload since the start of the pandemic now stands at 2,141,422. In the past seven days, the country had an average of 16,022 new infections daily.
The 123 fatalities were in Hà Nội (16), Đồng Tháp (10), Sóc Trăng (9), Cần Thơ (8), Tiền Giang (7), Vĩnh Long (7), HCM City (6), Bình Phước (6), Cà Mau (6), Hải Phòng (5), Tây Ninh (5), Bến Tre (5), Bình Dương (4), Bạc Liêu (4), Ninh Bình (3), Trà Vinh (3), Đà Nẵng (3), Bình Thuận (3), Kiên Giang (3), Khánh Hoà (2), Lâm Đồng (2), Hải Dương (1), Lạng Sơn (1), Thái Nguyên (1), Hoà Bình (1), Quảng Nam (1), and Gia Lai (1).
The total number of COVID-related fatalities in Việt Nam is now 36,719, or 1.7 per cent of total infections.
According to the Ministry of Health, 4,707 patients nationwide are in serious condition with 606 requiring invasive ventilation and 21 on life support.
A further 4,157 patients were given the all-clear on Sunday, taking the total number of recoveries to 1,804,849.
More than 78.8 million doses of COVID-19 vaccines have been administered in the country so far, with over 73.8 million people receiving full two doses.
A total of 15,733,239 doses of COVID-19 vaccines have been given to children aged 12 to 17, with nearly 8.4 children having received at least one shot. — VNS
Two years since the first case, Việt Nam's caseload exceeds 2.1 million have 742 words, post on vietnamnews.vn at January 23, 2022. This is cached page on Talk Vietnam. If you want remove this page, please contact us.