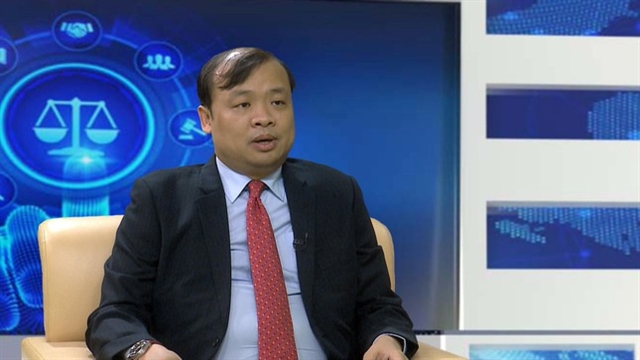 Nguyễn Hoa Cương, deputy head of Central Institute for Economic Management. Photo tienphong.vn
Nguyễn Hoa Cương, deputy head of the Central Institute for Economic Management and former director of the National Innovation Centre under the Ministry of Planning and Investment, speaks to Vietnam Television about innovative start-ups in the context of the COVID-19 pandemic.
Despite COVID-19, innovative start-ups in Việt Nam recorded bright spots. What are the favourable conditions allowing start-ups to gain these achievements?
Firstly, a lot of businesses have promptly transformed their business models from traditional to non-traditional and applied technology in all fields including production and delivery.
They have changed the way and culture of work through thorough digital transformation.
Businesses also pay more attention to cooperation with different elements in the innovation start-up ecosystem to promote their overall strength. At the same time, start-ups are always flexible and ready to change in the 'new normal'.
The core factor is the value of people, including customers, employees, managers and owners.
Second, the pandemic changed the market and customer needs. Many innovative businesses seized this opportunity and sought new ways to adapt by introducing new products to meet customers' needs such as remote healthcare applications (medical start-ups) and online teaching applications.
In addition, competitors in the market keep making changes, forcing start-ups to work a lot harder than usual to achieve success.
Third, investors and investment funds themselves face pressure to change to identify and catch up with new trends in the market.
They also desire to change in order to seek new opportunities during the crisis. In addition to various businesses going bankrupt, we also see many new businesses models.
Fourth, in the difficult context, despite a limited State budget, the National Assembly and the Government have issued a lot of policies to support businesses affected by COVID-19.
Ministries, localities and many domestic and foreign organisations have launched programmes to support businesses during digital transformation, to nurture creative start-up talents, and offer direct or indirect financial support to enterprises and create an innovation ecosystem.
Besides the efforts of start-ups themselves, the support of the Government has helped start-ups become more confident. In fact, a lot of businesses have been provided with capital, technology and received legal assistance but still fail. In your opinion, why is this?
Although many start-ups have been funded, this is only the first step. We see that capital is an obstacle for many start-ups, but we also see investment banks, investment funds and angel investors with abundant investment capital also face difficulties in finding quality projects and start-ups to invest in.
Việt Nam is promoting digital transformation, applying science and technology in production and business.
Many start-ups have caught up with the pioneering trend of technology applications.
In fact, owning only good technology or products is not enough. The important thing is that whether the technology has been applied well enough to touch the emotions of users and the market.
For many products, customers focus on user experience rather than receiving information about numerous technologies.
In addition, one of the weaknesses of Vietnamese start-ups is that they are not sensitive enough to market trends, and many projects do not have a clear orientation.
The language barrier also makes it easy for start-ups to lose confidence while persuading foreign investors to make investments. Business culture and personal efforts are also important factors.
Legal aid activities and programmes provide only basic legal foundations. In each different business operating in a different field with different target markets and customers, various legal issues arise. Therefore, there is no general formula in legal support for businesses.
In fact, Vietnamese start-ups not only need a suitable business plan but also have to balance benefits – costs, be flexible in strategy, and save operating costs to maintain operation and develop.
What support do Vietnamese innovative start-ups need to adapt to, survive and expand in the new normal?
First and foremost, businesses themselves need to be aware that COVID-19 brings difficulties to their production and business activities, but the pandemic can also be seen as a strong catalyst for business models to make breakthroughs.
Support for innovative start-ups in Việt Nam includes supporting the business environment and general legal framework; supporting access to finance; non-financial support (technology support, market expansion and promoting value chains).
Other documents detailing the support are Decision 999/QĐ-TTg dated August 12, 2019 approving the scheme to promote the sharing economy model and Decision 2289/QĐ-TTg dated December 31, 2020 approving the National Strategy on the Fouth Industrial Revolution. VNS
Promoting innovative start-ups in the context of COVID-19 have 867 words, post on vietnamnews.vn at January 14, 2022. This is cached page on Talk Vietnam. If you want remove this page, please contact us.