The regulations on defining a localization ratio for automobile products are out of date, according to experts.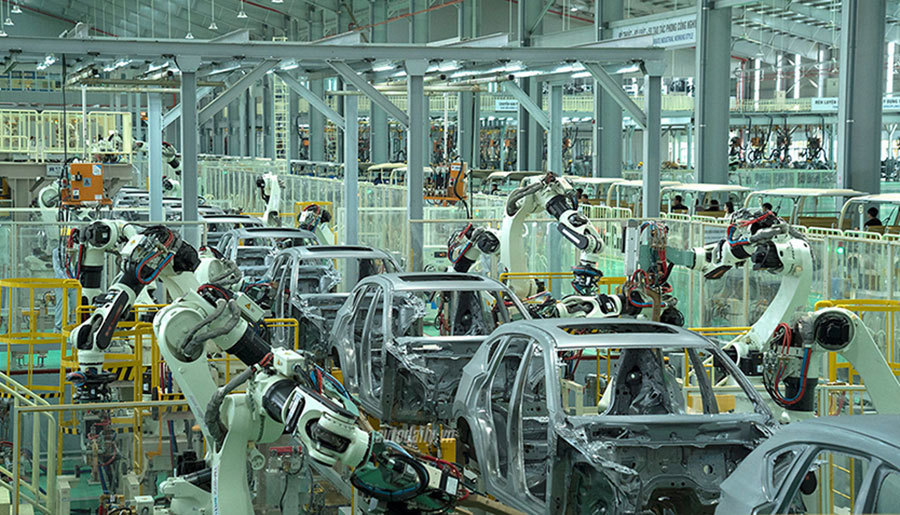 The Ministry of Science and Technology (MST) has submitted to the Government a plan on abrogating some legal documents related to the methods of calculating automobile localization ratios and imported car parts.
To implement the strategy on developing Vietnam's auto industry by 2010, with a vision towards 2020, MST set regulations related to the localization ratio and the level of car part imports, including Decision 28/2004, Decision 05/2005 and Circular 05/2012.
However, the regulations are no longer suitable to the new conditions. The ministry is considering changing the regulation.
Dao Phan Long, Chair of Viet Nam Association of Mechanical Industry (VAMI), commented that the circular is suitable to the automobile industry development strategy.
Arguments
The CEO of an automobile manufacturing company said there are two issues in the MST's draft of the new regulation that need thorough discussions as they will affect the development of the industry.
First, the method of calculating localization ratio. The method was detailed in Decision 28 in 2004, but it is no longer reasonable.
He said that Vietnam has signed many FTAs (free trade agreements) in recent years, including ATIGA (ASEAN Trade in Goods Agreement ). This means that Vietnam has to 'play' in accordance with international rules.
Decision 28, for example, set a target of 30 percent localization ratio for popular cars by 2005 and 50 percent by 2006. The required localization ratios will increase gradually.
"The decision aims step by step to increase the locally made content in automobiles, and it is necessary to improve the local industry and automobile supporting industry," he explained, adding that Vietnam is the only ASEAN country which still applies a regulation on localization ratio.
"However, Vietnam is integrating with the world, which means that It needs to follow international practice. Changing the method is necessary," he continued.
Second, the regulation related to car part imports. State management agencies and automobile manufacturers are still arguing about whether to annul the regulation. Opinions among manufacturers also vary.
Under the old regulation, imported car parts have to come in clusters with many different components. For example, a car seat comprises three parts and all three parts must be imported from the same source.
However, in the context of integration, enterprises can enjoy big benefits from tariff removals. They tend to import individual car parts to optimize costs.
Regarding car seats, some automobile manufacturers now prefer importing separate components to assemble in Vietnam as a solution to optimize production costs. They may choose to use some components from partners in Vietnam, and other components from foreign partners.
Meanwhile, some manufacturers don't want to import discrete car parts. They prefer importing whole clusters of car parts to easily control the localization ratio.
As such, automobile manufacturers themselves disagree. However, it's the right of enterprises to choose which partners they import car parts from and what they will import. Experts believe that it is not necessary for MST to continue to have the car part rule.
A high ranking official of the Ministry of Industry and Trade (MOIT) said that domestic automobile manufacturers not only manufacture cars for domestic consumption, but also make products for export as per the assignment of global groups.
The global automobile manufacturers designate their factories in different countries to make different car parts, based on the advantages of each country so as to ensure the localization ratios meeting requirements to enjoy preferential tariffs, depending on the FTA.
Tran Thuy
Localization-ratio rules in auto manufacturing remains controversial have 795 words, post on vietnamnet.vn at January 18, 2022. This is cached page on Talk Vietnam. If you want remove this page, please contact us.