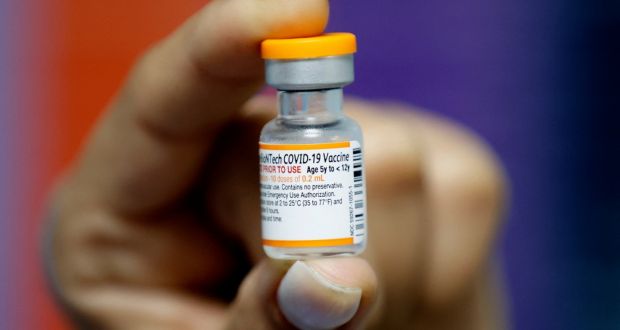 Vials of Pfizer/BioNTech COVID-19 vaccines for children aged 5 years to below 12 years. — AFP/VNA Photo
HÀ NỘI — The Ministry of Health is planning to purchase 21.9 million doses of Pfizer/BioNTech COVID-19 vaccines to give to children aged 5-11 years, with scenarios of surplus vaccines likely accepted.
Health minister Nguyễn Thanh Long disclosed its plan at a recent meeting, adding that the inoculation plan is still pending Government approval.
Further details on the delivery contract or roadmap of the campaign are not yet available.
Long said the World Health Organization has issued recommendations for vaccination against COVID-19 for children aged 12-17 but has not yet released guidance on the vaccination for children aged 5-11, so the Ministry of Health will undertake this matter very carefully, scientifically, and objectively, accounting for the experience and lessons from all countries that have already begun the inoculation programme.
In addition, the Ministry of Health also regularly and continuously has discussions with the World Health Organization about the science of vaccinating children at this age to guarantee the protection of children against the disease, but safety is still the overriding concern.
"This is an important matter. We can't be reckless, and need to take gradual but firm steps, to ensure the safety of children," Long stressed.
By early 2022, according to reports from localities, there are about 11.5 million children between the age of 5 and 11 in Việt Nam.
During Thursday's national conference on the implementation of healthcare tasks in 2022, Prime Minister Phạm Minh Chính again reiterated the order for the health ministry to conduct a survey on pediatric inoculation, as giving shots to these children will be much more challenging than for adults.
Experts are still divided on the necessity of vaccinating children this young as data shows most infected youngsters very rarely suffer from serious conditions, while many parents/guardians are concerned over the side effects of the vaccines.
Việt Nam commenced vaccinating children aged 12-17 years in November last year, with Pfizer and Moderna cleared for emergency use (but only Pfizer has been used due to shortages of Moderna shots).
The inoculation is mostly done at schools.
So far, 15.3 million shots in total have been administered for this age group, including 7.06 million second doses.
41 out of 63 localities in the country have achieved the necessary coverage rate in this age group: Hà Nội, Hải Phòng, Hà Nam, Ninh Bình, Bắc Giang, Bắc Ninh, Hải Dương, Hưng Yên, Thái Nguyên, Quảng Ninh, Hòa Bình, Nghệ An, Hà Tĩnh, Lai Châu, Lạng Sơn, Cao Bằng, Yên Bái, Lào Cai, Thừa Thiên-Huế, Đà Nẵng, Quảng Ngãi, Phú Yên, Khánh Hòa, Ninh Thuận, Đắk Nông, HCM City, Bà Rịa-Vũng Tàu, Tiền Giang, Long An, Lâm Đồng, Tây Ninh, Sóc Trăng, An Giang, Bến Tre, Trà Vinh, Vĩnh Long, Bình Phước, Kiên Giang, Cà Mau, Bạc Liêu, and Hậu Giang. — VNS
Health ministry plans to buy 21.9m Pfizer COVID vaccine doses for children aged 5-11 have 753 words, post on vietnamnews.vn at January 21, 2022. This is cached page on Talk Vietnam. If you want remove this page, please contact us.