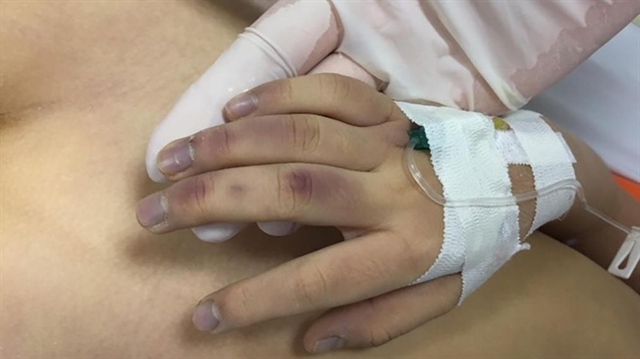 The injuries of the victim. — Photo provided by the hospital
HÀ NỘI — Hà Nội Police will start legal proceedings against Lê Thành Công relating to his six-year-old daughter's death.
According to an investigation, around noon on September 16, Công was tutoring his daughter at home and felt frustrated for her inadequate attention to the lesson, and beat the girl with a wooden chopstick on her hands and legs. He then continued with a 50cm bamboo stick to beat the girl.
While his wife was talking about their child's recent behaviour – she tended to watch television instead of studying – Công lost his temper and used a wooden broomstick to beat her.
At 3pm on the same day, the child woke up to eat and had a stomach ache and fever, alongside a bout of vomiting. The child was rushed to Việt Nam National Children's Hospital, but the doctors concluded she had died before she got to the hospital.
The hospital found the bruises and injuries on her body suspicious and had reported to the authorities.
The police said that the injuries were caused by the impact of an object, and the child suffocated while regurgitating food.
Công confessed his actions to the police.
The father will be prosecuted for "intentionally causing injury" to a child.
Bắc Từ Liêm District police said the father was once handed 15-year imprisonment sentence for kidnapping for extortion.
The incident came just a few weeks after the national outrage over the death of a eight-year-old girl in HCM City following repeated violent abuse by the fiance of her father. — VNS
Father to face prosecution for fatally abusing six-year-old daughter have 352 words, post on vietnamnews.vn at January 14, 2022. This is cached page on Talk Vietnam. If you want remove this page, please contact us.