An Axie Infinity gamer sold his virtual land plot for 550 Ethereum, or $2.5 million, several days ago. This was one of the most expensive land plots ever sold in the cryptocurrency market.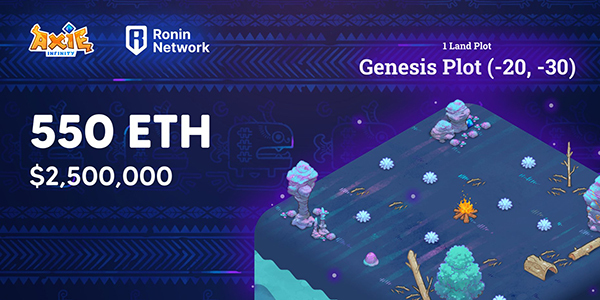 The land plot, located in Genesis, the area described by the developer of Axie Infinity, is a rare one.
Axie Infinity builds a universe of pets called 'axies'. Players regulate their army of axis to struggle with other players and receive awards. They also can breed axies to create new portraits, or own land areas in the game.
Genesis is an area located in the center of Luciana, the homeland of axies. There are 90,601 land plots in the area belonging to 17,000 owners. Genesis, where there is the land plot which has been successfully sold, is considered the 'golden land' area with 220 land plots in total.
The land plots all can be offered for sale because they are designed under the NFT form. In addition to entertainment value, the owners of the virtual land plots can also receive economic and social values under the form of resources in the future. That is why virtual land plots in Axie Infinity are so expensive.
Prior to that, in February 2021, nine land plots in Axie Infinity were offered at 888 Ethereum, or $1.5 million at that moment, or $4 million now.
Axie Infinity is a blockchain-based game developed by Sky Mavis, a studio game where the majority of staff members are Vietnamese. Axie Infinity is a global phenomenon as people can play games and earn money when playing. Analysts believe that the phenomenon opens a new movement to 'game play to earn' in the cryptocurrency market.
Axie Infinity has good graphics and attractive gameplay. Acie Infinity players can exchange and buy/sell characters with each other. Bonus points in the game can be converted into money for buying or selling to other players thanks to Blockchain technology. Moreover, players can also make money by speculating in virtual land, or buying these land plots to enjoy long term benefits from owning resources.
Axie Infinity now has 2 million daily active players. The total transaction value of characters in the game has reached $3.4 billion.
The players of Axie Infinity are diverse, including not only cryptocurrency investors but also office workers, housewives and those who have lost jobs because of Covid-19.
Sky Mavis, with five founders, in early October confirmed that it had successfully called for $150 million worth of capital in series-B round that saw participation from Andreessen Horowitz (A16Z). The firm was valued at $3 billion.
A16Z mostly invests in technology firms in the growth stage, focusing on the mobile phone industry, e-commerce, education and IT.
Trong Dat
Virtual land plot in Vietnamese game sells for $2.5 million have 659 words, post on vietnamnet.vn at December 1, 2021. This is cached page on Talk Vietnam. If you want remove this page, please contact us.