Vietnamese-Russian ministries sign cooperation agreement
On December 1, Deputy Minister of Justice Nguyen Khanh Ngoc and State Secretary and Deputy Minister of Justice of the Russian Federation, Andrey Viktorovich Loginov signed a cooperation programme for 2022-2023 between the two ministries.
Accordingly, they committed to promoting activities of the Vietnam-Russia Joint Working Group on Legislative Affairs in order to share experience and practices in law building and enforcement. The Russian Ministry of Justice will provide training for 10 Vietnamese judicial officials at the Russian State University of Justice, while the Vietnamese Ministry of Justice will participate in the St. Petersburg International Legal Forum held annually.
The agreement was signed during President Nguyen Xuan Phuc's visit to Russia.
President Nguyen Xuan Phuc wraps up visit to Russia
President Nguyen Xuan Phuc and his wife met with representatives of the Vietnamese community in Russia on Thursday (local time) as part of his official visit.
There are about 80,000 Vietnamese people living, studying and working in Russia. They have stable lives with increasing legal and social status. In the last two years, despite many difficulties and losses due to COVID-19, the community has made great efforts to overcome difficulties and donated to help flood victims and those affected by COVID-19 in the homeland.
Later the same day, he left the Vnukovo International Airport in Moscow for home, successfully ending his four-day official visit to Russia at the invitation of Russian President Vladimir Putin.
Vietnamese-Chinese Foreign Ministers meet in China
Vietnamese Foreign Minister Bui Thanh Son held talks with Chinese Chinese State Councillor and Foreign Minister Wang Yi on December 2 in Hu Zhou city of China's Zhejiang province.
The two sides agreed to increase high-level exchanges, optimising exchange and cooperation mechanisms through the channels of Party and steering committee on bilateral collaboration, and strengthening comprehensive and effective coordination among ministries, sectors, localities and people, and beefing up partnership in economy, trade and other promising areas.
Mr. Son said he hopes the two sides will strengthen cooperation in the pandemic fight, especially in vaccine and treatment. He proposed China open its door more widely to Vietnamese fruits.
Mr. Wang Yi announced a 20 million CNY (3.13 million USD) assistance for Vietnam to purchase medical equipment and 500,000 doses of COVID-19 vaccines for Vietnamese localities. He pledged that China will increase the import of Vietnamese products.
Vietnam, China hold talks on maritime issues
Vietnam and China held the 15th round of negotiations of the working group on the sea area beyond the mouth of the Gulf of Tonkin and the 12th round of talks of the working group for consultation on cooperation for mutual development at sea, both in the form of videoconference, on December 1.
The two sides agreed to hold new rounds of negotiations next year.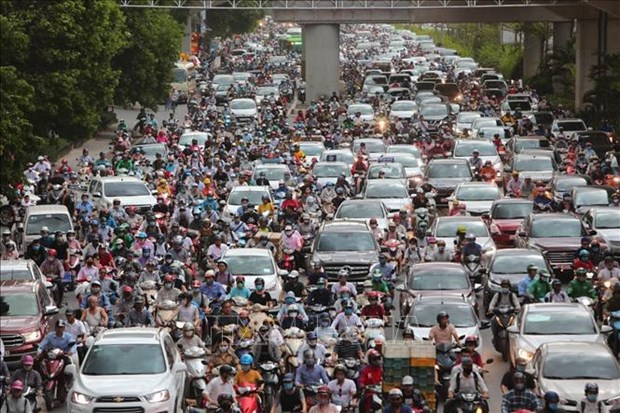 A road in Hanoi during peak hours.
17 tourism services operators in Da Nang meet requirements to serve foreign tourists
Seventeen tourism services operators in the central city of Da Nang have fulfilled requirements to join a pilot programme welcoming foreign visitors back to the beach city.
63 outstanding Vietnamese farmers honoured
Sixty-three individuals were honoured with the title "Outstanding Vietnamese Farmer 2021" at a ceremony held in Hanoi on December 2. The winners include nine males and nine ethnic minority people.
This was the ninth time the ceremony had been held by the Central Committee of the Vietnam Farmers' Union to honour Vietnamese farmers.
VN women's futsal squad prepares for SEA Games
The national women's futsal team will begin training on December 5 in preparation for the 31st Southeast Asian Games in Hanoi next May.
Coach Truong Quoc Tuan has announced a list of 22 players who will meet in HCM City for the tournament. Most of them are from HCM City teams while the rest are from Hanoi, Ha Nam and Thai Nguyen.
Vietnam steps up digitalisation of cultural heritage
Deputy Prime Minister Vu Duc Dam has signed a decision approving a programme on the digitalisation of Vietnam's cultural heritage in the 2021-30 period.
The programme aims to build a national database system on cultural heritage on a consistent digital platform, which serves the archive, management, research, conservation and introduction of heritage, thereby fostering sustainable tourism development.
Street arts festival held in HCM City
A street art festival, Saigon Urban Arts: Street Mural Painting (SUA 2021), will be held in HCM City from December 4-18.
During the event, Vietnamese and international street artists will paint five murals at apartment buildings at 1A Nguyen Dinh Chieu and the walls at Mai Thi Luu Street in District 1. All five art works will reflect the United Nations' sustainable development goals.
Visitors can see the artists work at the venue from 9am – 12pm and 2pm – 5pm on December 11.
The organisers will continue to host the festival in March featuring artists from France and Germany, workshops at local schools, seminars on street arts, performances of music and hip hop, and a street ar festival.
WHO and UNICEF call on Vietnam to enforce food fortification regulations
WHO and UNICEF have called on the Vietnamese Government and State agencies to implement the Government Decree 09/2016/ND-CP that mandates the fortification of salt, wheat flour and vegetable oil and the use of fortified salt and wheat flour by the food industry.
In their joint statement released on Thursday, they noted that the decree had not been implemented after more than five years since its adoption. The decree is in line with global recommendations to prevent and control micronutrient deficiency and highlights the Government's commitment to improving the health of its population.
According to 2021 Iodine Global Network report, Vietnam is among a group of 26 countries remaining in the world with iodine deficiency.
Songs against child labor honored
Fifteen outstanding entries in a song composing competition against child labour were honoured at a ceremony held on December 2.
Marking the UN International Year for the Elimination of Child Labour, the competition aims to raise public awareness of child labour, which affects nearly 1 in 10 children worldwide and 5.3 percent of Vietnamese 5-17 year-olds, or more than 1 million children in the country.
Two first prizes, four second prizes, five third prizes and four consolation prizes were awarded.
Futsal National Cup 2021 cancelled
The Vietnam Football Federation (VFF) has decided to officially cancel the Futsal National Cup 2021 as a result of the complicated developments relating to the COVID-19 pandemic locally. The tournament had previously been scheduled to take place from December 7 to December 22 at Thai Son Nam Arena in District 8 of HCM City.
However, the ongoing second leg of the National Futsal Championship 2021 saw roughly 11 people, including head coach of Sahako club Nguyen Tuan Anh, nine futsal players, and one staff member, found to be infected with COVID-19.
The futsal players will only play the remaining rounds of the second leg of the National Futsal HDBank Championship 2021, with the event being concluded on December 5.
Vietnam records 13,698 new COVID-19 cases on December 2
Vietnam logged 13,698 new COVID-19 cases in the past 24 hours to 4pm on December 2, according to the Ministry of Health.
The new infections, including 21 imported ones, raised the total number in the country since the start of the pandemic to 1,266,288.
Ho Chi Minh City topped the list with 1,738, followed by Can Tho (985), Tay Ninh (768), Soc Trang (747), Ba Ria-Vung Tau (637), Dong Thap (606), Binh Thuan (502), Ca Mau (496), Bac Lieu (492), Dong Nai (475) and Binh Phuoc (472). Hanoi registered a further 499 transmissions, marking a record total for the city for the second consecutive day.
The ministry also announced 210 fatalities, bringing the COVID death toll in Vietnam to 25,658.
Vietnam receives 500,000 AstraZeneca vaccine doses donated by Argentina
The Ministry of Health received 500,000 doses of Astra Zeneca COVID-19 vaccine, worth over 2 million USD presented by the Government of Argentina, at a ceremony held in Hanoi on December 2.
This is the first time that the Argentinean Government has donated COVID-19 vaccine to another country and Vietnam is the country that has received the most vaccine support from Argentina.
Vietnam's Mui Ne among top 10 best beach vacations worldwide
Mui Ne in Binh Thuan province is listed among top 10 best beach vacations worldwide by Bounce.
According to Bounce, researchers began by choosing 250 of the world's "most popular, most beautiful and best beaches" from a variety of travel sources, before narrowing the selection down to 100. Each beach was given a score out of 10, with Mui Ne being ranked ninth in the list with 5.58 points.
Mui Ne beach is popular among surfers from the UK, France, Russia, Germany, and Australia. It also consists of massive sand dunes which makes it suitable for activities such as sand-boarding. Mui Ne boasts many attractive landscapes such as Hon Rom, Hon Lao Cau, and Bai Rang.
Emergency relief provided for flood-hit people in Binh Dinh, Phu Yen
The Vietnam Red Cross Society Central Committee has decided to provide emergency relief worth VND540 million (nearly $23,800) in cash and goods for people severely affected by floods in the south central provinces of Binh Dinh and Phu Yen.
As scheduled, the relief will be delivered directly to households affected by floods on December 2. Each locality will receive 200 boxes of goods and VND150 million in cash.
Ha Giang promotes virtual tourism
Ha Giang province has taken the advantage of digital platforms to promote tourism as part of efforts to maintain its position as an attractive tourist destination amid COVID-19.
This year, the Ha Giang Buckwheat Flower Festival has been held online last for the first time ever. This province has held virtual tours, including a tour featuring buckwheat flower on the Dong Van Karst Plateau UNESCO Global Geopark.
In December, the province will continue to organise similar ones introducing agro-tourism products, cuisine and traditional brocade weaving villages, among others.
Vietnam issues new guidelines on COVID-19 exposure risks, handling and treatment
The Ministry of Health on Wednesday issued guidelines to help localities and agencies get consistency in classifying COVID-19 exposure risks, infection handling and treatment.
According to the new guidelines, people infected with COVID-19 in Vietnam are divided into four groups – low risk, medium risk, high risk and very high risk.
Also in the new guidelines, the Ministry of Health mentions seven principles of COVID-19 treatment, including monitoring and caring for asymptomatic COVID-19 patients and mild cases at home (if all conditions are met).
The second principle is to focus on good treatment for first and second tiers patients, strengthening capacity of emergencies and active resuscitation of severe cases on the upper tiers.
Five Vietnamese universities named in Best Global Universities Rankings
The local education establishments featured in the list include Duy Tan University, Ton Duc Thang University, Vietnam National University-Hanoi (the VNU-Hanoi), Vietnam National University-Ho Chi Minh City (VNU-Ho Chi Minh City), and Hanoi University of Science and Technology.
Ton Duc Thang University came in first in terms of Vietnamese institutions, and 387th in the world overall, a total of 236 places higher than last year. Duy Tan University made it onto the list for the first time, coming in as the second top institution in Vietnam and 577th in the world as a whole. VNU-Hanoi jumped 11 places from last year to 938th, while the VNU-Ho Chi Minh City climbed 84 places to 1,187th. Hanoi University of Science and Technology fell 93 places to 1,449th.
Year of tiger stamp collection released
The stamp block consists of four stamps that feature two designs which are used twice and arranged symmetrically in a square. They portray peach and apricot blossoms with best wishes for the coming year, promoting reunions and prosperity for all families.
The new stamps largely draw inspiration from Dong Ho folk paintings and are sized 37 x 37 (mm) and have been designed by local artist Nguyen Quang Vinh.
The collection will be made available on the public postal network nationwide from December 1 to June 30, 2023.
HCM City's schools to reopen from December 13
The HCM City People's Committee will begin a pilot school reopening period on December 13. Under the plan, students from the first, ninth and 12th grade can return to school on December 13, while five-year-old children can go to kindergarten on December 20.
Schools must discuss pandemic safety measures with parents and submit plans to city districts' and Thủ Đức City's pandemic prevention and control steering committees by December 5. They must also offer training on pandemic prevention and control to all teachers and staff.
The Department of Education and Training and  Department of Health have been asked to submit an evaluation of the school reopening to the city People's Committee after the two-week pilot period. This is being done to prepare for all-level students to return to school on January 3.
Da Nang's official takes PEMSEA president role
Da Nang's Vice chairman Le Quang Nam has been elected as the new president of the Partnerships in Environmental Management for the Seas of East Asia (PEMSEA) for the 2022-2025 term.
The forum had representatives of 52 local government members from 10 countries — Cambodia, Indonesia, Japan, Malaysia, the Philippines, South Korea, Thailand, Timor-Leste and Vietnam — along with associate members, NGOs and development agencies.
HCM City asks Defence Ministry to maintain mobile medical stations
In August, the military allocated personnel, including thousands of doctors and military medical students, to help the city deal with the fourth COVID wave. The military has been gradually withdrawing its personnel from the city as the pandemic has become more stable. It had originally planned to complete the withdrawal by the end of November.
The city's health department and district-level steering committees for pandemic prevention and control are working on plans to ensure sufficient manpower for local mobile medical stations when the military medical staff leave HCM City.
However, several districts are still seeing high numbers of COVID patients treating themselves at home. The city is expected to ask the defence ministry to maintain the operation of 85 mobile medical stations in the city with 153 staff until the end of December.
FIDE ties up with Vietnamese bank for 10 years
The International Chess Federation (FIDE) will organise international tournaments in Vietnam for 10 years starting in 2022 together with the Vietnam Chess Federation and HDBank.
The three signed a memorandum of understanding for the purpose in Moscow on Tuesday in the presence of President Nguyen Xuan Phuc, who was on an official visit to Russia.
The parties also agreed to organise workshops for referees, coaches, and organisers and chess classes for teenagers and younger children by grandmasters.
They will undertake a programme called 'Chess in schools' and organise events in 2022, a year that has been designated by FIDE as The Year of Women in Chess.
Compiled by Thanh Van
VIETNAM NEWS HEADLINES DECEMBER 3 have 2578 words, post on vietnamnet.vn at December 3, 2021. This is cached page on Talk Vietnam. If you want remove this page, please contact us.