Vietcombank waives all money transfer fees from January 1
The Joint Stock Commercial Bank for Foreign Trade of Viet Nam (Vietcombank) announced that it will waive fees for maintaining services and money transfer transactions on VCB Digibank application from January 1.
Accordingly, Vietcombank will offer completely free money transfers on VCB Digibank digital banking channel, as well as maintaining VCB Digibank service and one default account registered for VCB Digibank.
Currently, the bank is applying a fee of VND2,000 per month for the default account management, VND10,000 per monthly maintenance for VCB Digibank service, and from VND2,000 per transaction for money transfer services inside and outside its system.
In addition, Vietcombank also adjusted the maintenance fee for the active SMS service. The current fee is VND10,000 per month per phone number. The active SMS service maintenance fee will be calculated according to the number of messages in the month from January 1.
Specifically, users will be charged VND10,000 per month per phone number with less than 20 messages; VND25,000 per month per phone number for 20 to less than 50 messages; VND50,000 for 50 to less than 100 messages; and VND70,000 for 100 messages or more.
Pledged foreign investment in Viet Nam surpasses US$31 billion in 2021
Despite the prolonged pandemic, foreign investors registered to pump US$31.15 billion into Viet Nam in 2021, up 9.2 per cent year-on-year, the Foreign Investment Agency (FIA) has said.
Foreign investors had 1,738 new projects licensed, with total registered capital of over US$15.2 billion, down 31.1 per cent in the number of projects but up 4.1 per cent in the level of capital.
The firms also added more than US$9 billion of capital to 985 operating projects, up 40.5 per cent in value and down 13.6 per cent in volume.
A remainder of nearly US$6.9 billion was used by foreign businesses for capital contribution and share purchases in a total of 3,797 transactions, marking yearly decreases of 7.7 per cent in value and 38.2 per cent in volume.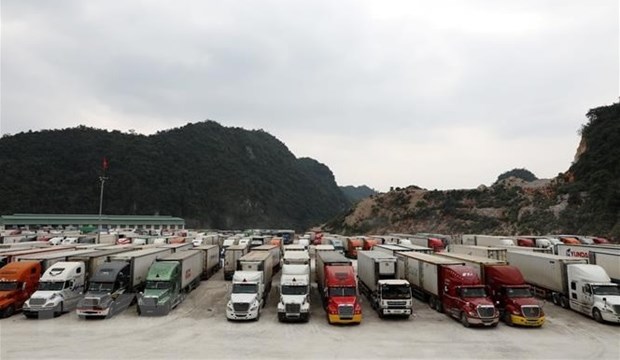 Cargo congestion at Tan Thanh border gate in Lang Son province. (Photo: VNA)
Vietnam, Chia seek solutions to cargo congestion at border gates
Vietnamese Deputy Minister of Foreign Affairs Nguyen Minh Vu has held phone talks with Chinese Assistant Foreign Minister Wu Jianghao to discuss measures to accelerate the circulation of goods through border gates between the two countries.
The talks took place amid the worsening cargo congestion at Vietnam-China land border gates. Both sides agreed that the problem is causing great losses to people and businesses of both countries and affecting the bilateral trade partnership as well as the regional supply and production chains.
They shared difficulties in implementing COVID-19 prevention and control measures and promoting economic-trade recovery at the same time.
Vietnam and China agreed to maintain close communication and actively urge relevant ministries, sectors and localities of both sides to seek solutions to the current cargo congestion at border gates, while continuing to strengthen cooperation in pandemic prevention and control in the border gate areas.
Reference exchange rate up VND 12 on December 29
The State Bank of Vietnam set the daily reference exchange rate at 23,154 VND/USD on December 29, up 12 VND from the previous day.
With the current trading band of +/-3 percent, the ceiling rate applicable to commercial banks during the day is 23,849 VND/USD and the floor rate 22,459 VND/USD.
Automobile sales enjoy growth at year's end
Automobile sales in Vietnam posted a month-on-month increase of 30 percent and a year-on-year increase of 6 percent in November, announced the Vietnam Automobile Manufacturers' Association (VAMA). The figure is expected to grow in late 2021 and early next year.
The VAMA has announced that the total market sales of its member units reached 38,656 vehicles in the month. The sales of passenger, commercial and special-purpose vehicles all expanded by 40 percent, 8 percent and 39 percent, respectively, compared the previous month.
VAMA's member units had total sales of 257,390 vehicles in the first 11 months of this year, up 3 percent over the same period last year.
Bac Ninh sees trade surplus exceeding 6.4 billion USD
With import and export values hitting nearly 39 billion USD and over 45 billion USD in 2021 respectively, the northern province of Bac Ninh posted a trade surplus of more than 6.4 billion USD, said the provincial statistics department at its meeting on December 28.
Accordingly, the province's gross regional domestic product (GRDP) increased by 6.9 percent from 2020, surpassing the yearly goal of 4 – 5 percent. Notably, its industrial production index grew by 9.67 percent on-year.
In 2021, Bac Ninh recorded 2,344 new firms which registered more than 28 trillion VND (1.23 billion USD) in capital, decreasing 1.9 percent in the number of enterprises but increasing 18.7 percent in the total capital from the previous year.
The province also attracted 131 foreign direct investment (FDI) projects valued at over 1.2 billion USD.
Construction on onsen resort complex begins in Thanh Hoa
The People's Committee of central Thanh Hoa province and Sun Group held a groundbreaking ceremony for a hot mineral spring resort complex in the central province of Thanh Hoa on December 28.
Sprawling nearly 100ha, the Sun Beauty Onsen Thanh Hoa complex features entertainment, cultural and health care areas at a total investment of roughly 7 trillion VND (304 million USD) in order to tap the potential of Quang Yen hot spring. It is scheduled to be completed by 2023.
It is also a key project in Thanh Hoa's roadmap to becoming a quality tourism hub in the region.
Vietnam an important market of Japanese retail groups
Nikkei Asia recently analysed foreign investment policies of Japanese retail groups, including retail giant AEON, noting that numerous groups plan to expand operations in the Vietnamese market.
These vendors are now seeing shoppers stay away after a rash of COVID-19 outbreaks in big Vietnamese cities this year.
Vietnam-Japan joint venture develops Binh Duong New City
Becamex Tokyu Co. Ltd, a joint venture between Vietnam's Becamex IDC Corp and Japan's Tokyu Corporation, began construction of the first shopping centre named Sora Gardens SC in Binh Duong New City in the southern province of Binh Duong on December 28.
The shopping centre sprawls over 5,000 sq.m in Hoa Phu ward, Thu Dau Mot city at the gateway to Binh Duong New City. Apart from facilities such as retail space, restaurants and a cinema, the centre is also chosen by Japan's supermarket chain AEON to launch the first Compact General Merchandise Store model in Vietnam.
The same day, the joint venture also inaugurated an apartment building called Sora Gardens 2, which it developed in partnership with Mitsubishi Group. The Sora Gardens 2 covers a total area of 84,000 sq.m with 557 hi-end apartments on 24 floors, meeting Japanese quality standards with green living space and quality facilities.
In the near future, Becamex Tokyu will embark on other projects in Binh Duong New City such as Sora Gardens park, expansion of the Hikari Food Court, Midori Park commercial housing area, Viet Hoa International School and a bus rapid transit linking Binh Duong New City with Ho Chi Minh City's Suoi Tien.
Credit growth likely to hit 14 percent in 2021: SBV Deputy Governor
Credit growth has reached 12.97 percent so far and is likely to hit 14 percent this year, Standing Deputy Governor of the State Bank of Vietnam (SBV) Dao Minh Tu said in a press conference on the SBV's governance of monetary policies and banking operation on December 28.
The credit growth is likely to reach 14 percent in 2021 though there are only a few days left, as credit expands very strongly towards the end of the year, he emphasized.
He went on to voice concerns over an increase in non-performing loans this year, saying it is one of the big challenges to the banking system in 2022 and the following years.
This year, the bad debt ratio has to date edged up to 3.79 percent, he said, adding that the rate would even reach 8.2 percent if taking into account restructured debts.
Vietnam's forestry export up 20 percent in 2021
Vietnam's forestry export value this year is estimated at 15.87 billion USD, a year-on-year rise of 20 percent, an official has said.
Of the number, the export revenue of wood and wood products reached 14.72 billion USD, and that of non-timber forestry products was 1.15 billion USD, said Bui Chinh Nghia, deputy head of the Vietnam Administration of Forestry under the Ministry of Agriculture and Rural Development.
The sector accounted for over 30 percent of the country's total agro-forestry-fishery export revenue, 4.7 percent of the country's accumulative export value and was among the seven items with export revenue exceeding 10 billion USD.
Notably, it significantly contributed to the trade surplus of the agro-foresry-fishery sector.
US firm to carry out cross-border e-commerce project in Binh Duong
The US's Warburg Pincus plans to implement a cross-border e-commerce project in Binh Duong province – a magnet for FDI in the south of Vietnam, according to the provincial People's Committee.
The project has an area of 75 hectares in Thu Dau Mot city, including high-tech factories, extended air warehouses, cross-border e-commerce warehouses, a data centre, three-storey showrooms, and offices.
Vietnam Airlines Group to resume 10 more domestic routes in January
Member carriers of Vietnam Airlines Group are planning to resume 10 more domestic air routes from January 2022, raising the number of such routes to nearly 50.
The group, comprising Vietnam Airlines, Pacific Airlines, and VASCO, will reopen the routes connecting Ho Chi Minh City with Quang Ninh province; Hai Phong city with Da Lat, Buon Ma Thuot, and Nha Trang cities; Thanh Hoa province with Buon Ma Thuot and Da Lat; Vinh city with Buon Ma Thuot, Nha Trang, and Da Lat; and Hue city with Da Lat.
The routes are scheduled to resume from January 16, with three to four flights per week each.
The carriers will also increase the flight frequency on many routes to an average of about 300 one-way flights per day in total.
Meanwhile, the number of seats will also be raised by 120 percent from the current level to nearly 2 million to serve the Lunar New Year peak, which falls on late January and early February.
Vietnam's retail market attractive to foreign investors
Foreign investors poured 9 billion USD into Vietnamese retail and wholesale markets between January and November, accounting for 2.2 percent of the country's total capital, the Ministry of Planning and Investment said.
The retail sector has been seen as the brightest aspect of the national economy, the General Statistics Office (GSO) said, noting that in the 11-month period, the total retail sales of consumer goods and services reached over 4 quadrillion VND.
If the growth pace is maintained, the domestic retail market would hit 200 billion USD in the next two years, experts have forecast.
The Vietnamese retail market, therefore, has become a magnet to foreign investors.
Vietnamese firms sell 7.2 million products on Amazon
Vietnamese small and medium-sized enterprises (SMEs) sold nearly 7.2 million products to Amazon customers around the world, average 14 products every minute, from September 1, 2020 to August 31, 2021, according to Amazon Global Selling.
The number of products sold by Vietnamese businesses on Amazon's stores increased by 34 percent year-over-year.
Meanwhile, the number of Vietnamese traders surpassing the sales milestone of 100,000 USD on Amazon increased by nearly 18 percent over the same period last year. The number of businesses with revenue exceeding 500,000 USD rose by more than 53 percent and it was more than 40 percent for those surpassing 1 million USD.
Japan increases banana imports from Vietnamese market
Vietnam is currently the fifth largest banana supplier to Japan, with the volume and value of Japanese imports from the Southeast Asian nation seeing a sharp increase over the past 10 months of the year.
According to statistics compiled by Japan Customs, reviewed period saw Japanese imports of bananas (HS code 0803) reach 939.8 thousand tonnes, worth JPY93.6 billion, equivalent to US$ 822.8 million, representing an increase of 4.7% in volume and 3.5% in value over the same period from last year.
The amount of bananas consumed per household during the course of a single month stands at between nine and 15 bananas. However, the Far East nation primarily imports bananas from other countries due to its low output.
In the supply structure of bananas to the Japanese market, the Philippines makes up the largest supplier, accounting for 75.8% of the total amount of imported Japanese bananas throughout the reviewed period.
It is then followed by Ecuador, Mexico, Guatemala, and Vietnam, which is the fifth largest supplier of bananas to this market despite the average import price enduring a sharp decline.
Pepper exports recover but price unstable
Viet Nam's pepper export turnover in 2021 is estimated to reach the highest level since 2018 thanks to higher export prices, but the global pepper market development looks set to be unpredictable in 2022.
In 2021, Viet Nam's pepper export volume is estimated to reach 260,000 tonnes, earning US$950 million. The export decreased 9 per cent in volume but jumped 44 per cent in value year-on-year, according to the Viet Nam Pepper Association (VPA).
This year has marked a strong recovery of Viet Nam's pepper industry after four years of struggling with difficulties due to over supply and a strong reduction in prices.
The purchasing prices of the commodity rose by 40-44 per cent from VND51,000-53,000 per kilo in the mid-February to VND76,000-79,500 on March 19.
The price surged to a record of VND90,000 per kilo at the end of October, the highest level since late 2017.
The existing purchasing prices are 53-54 per cent higher than at the beginning of this year and much higher than in recent years, signaling a new bullish cycle for the domestic industry.
The average export price of Vietnamese pepper is US$4,000 per tonne, according to the association.
KOCHAM, NovaGroup sign deal for collaboration in multiple spheres of business
The construction of the Tan Phu-Bao Loc expressway section, which links Dong Nai Province with the neighboring province of Lam Dong, is slated to begin in October 2022.
The 66-kilometer Tan Phu-Bao Loc section is one of the three components of the Dau Giay-Lien Khuong Expressway project, whose total length exceeds 200 kilometers and will be executed in three phases.
The Government tasked the provincial government of Lam Dong with implementing the Tan Phu-Bao Loc and the Bao Loc-Lien Khuong sections. The Ministry of Transport will be in charge of the Dau Giay-Tan Phu section.
The Tan Phu-Bao Loc expressway subproject will start from Tan Phu District in Dong Nai to Bao Loc City in Lam Dong. The four-lane section will be developed under the public-private partnership (PPP) format, with over VND16.2 trillion in investment.
Can Tho airport operates over 180 domestic flights since reopening
The Can Tho International Airport in Can Tho city operated 181 domestic flights between October 23 and December 27, after the city resumed domestic flights as suggested by the national aviation authority.
The flights were operated by local carriers including Vietnam Airlines, Bamboo Airways, Vietjet and Vasco.
Earlier, this Mekong Delta city had suspended flights due to the impact of the fourth coronavirus wave.
When the Covid situation was brought under control several months later, Can Tho decided to resume air services on seven domestic routes connecting the city with Ba Ria-Vung Tau, Lam Dong, Haiphong, Thanh Hoa, Nghe An, Danang and Hanoi.
Besides this, Can Tho resumed road, waterway, and sea transport services.
Plan allowing provinces to build North-South expressway project scrapped
The Government has withdrawn a plan that assigns cities and provinces to develop the North-South expressway project in the 2021-2025 period. The Ministry of Transport is now the only executing agency of the project.
In a document on the prefeasibility study for the project sent to the National Assembly (NA), the Government suggested the NA decide the investment plan for the project, which will include 12 subprojects totaling 729 kilometers. The 12 subprojects will be funded by the State, the local media reported.
After being completed, the rights to collect toll fees will be transferred to recover the State capital.
The project will need some 5,500 hectares of land. In the first phase, all 12 subprojects will have four lanes and allow for a designed speed of 80-120 kilometers an hour.
The investment for the project was estimated at nearly VND147 trillion, including VND95.8 trillion for the construction and equipment, VND19 trillion for site clearance and resettlement, VND12 trillion for the project management, consulting and other expenditures and VND20 trillion for backup.
Thaigroup wants to develop tourism spaceport in Phu Quoc
Thaigroup is seeking to invest VND30 trillion into a tourism spaceport project in Phu Quoc City in Kien Giang Province.
The group on December 27 wrote to the Kien Giang government proposing allowing it to conduct a location study to develop a tourism spaceport in Phu Quoc City, the local media reported.
The spaceport project, which will be carried out in the 2022-2026 period, is aimed at developing Phu Quoc into an international tourism service hub, according to Thaigroup.
The establishment of a spaceport for tourism will be a historic breakthrough, bringing massive benefits for the tourism industry and boosting the country's socio-economic growth in the future, Thaigroup said in its dispatch sent to the Kien Giang government.
Many countries are realizing the economic benefits of investing in the space tourism industry.
Backlogs at northern border seen soaring as another border gate closes
The Tra Linh Border Gate in the northern mountainous province of Cao Bang suspended customs clearance from today, December 28, worsening the huge backlogs of exports to China and goods in transit at the border gate.
According to members of the Vietnam Logistics Business Association, the Tra Linh Border Gate is connected with the Longbang Border Gate in Baise City of China's Guangxi Province.
As the border gates in Lang Son have seen an increasingly big backlog of container trucks, many have shifted to the border gates in Cao Bang but have also got stranded there.
Pham Thi Ngoc Thuy, head of the office of the prime minister's Private Sector Development Committee, said solutions for the backlogs had yet to be worked out.
As for goods in transit in Vietnam, including bananas from Laos and jackfruits, durians and longans from Thailand, if enterprises want their vehicles to return to their countries and destroy their goods in Vietnam, they must seek permission from the Vietnamese Ministry of Industry and Trade.
The volume and value of transit goods at border gates in Vietnam have yet to be announced. However, they will be harder to address than Vietnamese exports to China.
VIETNAM BUSINESS NEWS DECEMBER 29 have 3097 words, post on vietnamnet.vn at December 29, 2021. This is cached page on Talk Vietnam. If you want remove this page, please contact us.