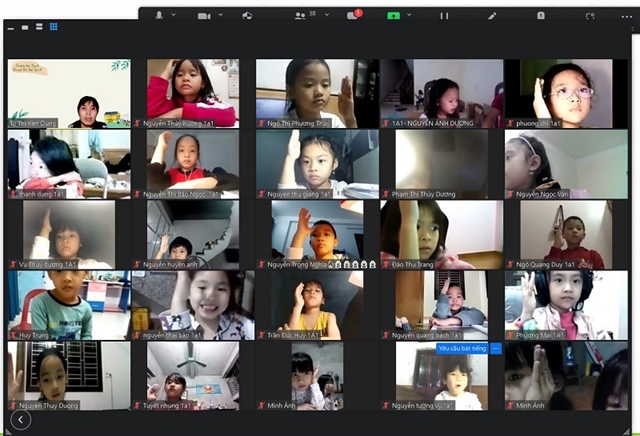 First-grade students of class 1A1, Xuân Nộn Primary School, Đông Anh District during an online class with teacher Tô Thị Kim Dzung.— Photo giaoducthoidai.vn
HÀ NỘI — Many teachers have made efforts every day to create a happy learning environment for their first-grade students in online classes during the pandemic in Hà Nội.
Phan Thiên Hương, the teacher in charge of class 1A8, of Đông Thái Primary School, Tây Hồ District, said teaching primary school students online, especially first-grade students, was very difficult.
Therefore, teachers often divided the class into two groups, one would learn in the morning and the other in the evening, she said.
"It aims to help teachers talk more with students and reduces pressure," she said.
Hương also often makes short video clips to guide her students to plant trees or bean sprouts in order to create a happy atmosphere before the lesson, she said.
Hương added that: "The secret to keeping students engaged is composing e-lessons with vivid images and videos to stimulate their attention."
In the lessons to teach new Vietnamese words, Hương encouraged the students to ask their classmates for words they did not know to increase interaction, she said.
For maths, she used quizzes to help the students learn and remember numbers, the Giáo dục & Thời đại (Education & Times) online newspaper reported.
"I also make certificates and awards for students to encourage them to interact with the teacher and classmates during the lessons," she said.
Tô Thị Kim Dzung, a teacher of class 1A1, Xuân Nộn Primary School in Đông Anh District, said she spent the first week of the school year talking with the students in her class.
When the students were acquainted with the teacher and classmates, she started the lessons, she said.
"My motto is that teacher has to create the most comfortable atmosphere to encourage the students to enjoy the lessons," she said.
The lesson must be lively and attractive through images, stories and quizzes, she said.
Dzung divided the students into small groups in each lesson to help them interact with their classmates, she said.
"At first, I was also quite nervous when I divided the students into groups," she said.
But the students were excited after some lessons, they not only gained knowledge but also learned how to discuss with classmates in their group, then I decided to keep this way of teaching, she said.
Between lessons, Dzung also allowed students to drink water or go to the toilet.
"This helps reduce strain on the children's eyes when they have to learn online," she said.
"The break time between the lessons will also reduce fatigue and makes children more interested in the next lesson," she said.
Parents' supports
Dzung said from the beginning of the new school year, she spoke with the parents of every student to gain support.
This also helped improve companionship of parents, she added.
"The first graders need their parents' help so they can learn online," she said.
"Therefore, the companionship of parents is one of the key factors in the success of online lessons," she said.
According to Hương the parents' co-operation is very important to support teachers of first-grade students. First-grade students are very young, thus, their concentration and self-discipline are not high.
Her online lessons have been successful so far thanks to the companionship of parents.
Associate Professor Trần Thành Nam, head of the Faculty of Educational Sciences under the Việt Nam National University in Hà Nội, said the most important thing was that parents should provide their children with an eager mind for online learning as an interesting thing to explore.
Parents needed to define their role as a teacher or a coach at home to navigate technology, direct their child's attention as well as provide support for their child to learn online, he said. — VNS
Teachers help create happy online classes for first-grade students have 915 words, post on vietnamnews.vn at December 1, 2021. This is cached page on Talk Vietnam. If you want remove this page, please contact us.