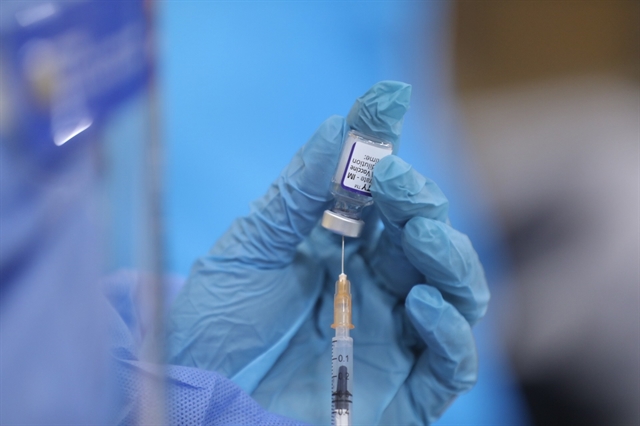 A Pfizer COVID-19 vaccine shot is being prepared to be administered to high school students in Hà Nội on November 24, 2021. — VNA/VNS Photo Minh Quyết
HÀ NỘI — The Vietnamese health ministry has reassured the public over the quality of two Pfizer/BioNTech COVID-19 vaccine batches that have been greenlit for use three months beyond the expiry date on the packaging.
The National Institute of Hygiene and Epidemiology (in Hà Nội) previously issued Decision No. 1595 to allocate the 2.96 million doses of Pfizer vaccine in two batches numbered 124001 and 123002, part of Việt Nam's purchase order with the pharmaceutical company, to be used in the vaccination of children aged 12-17 years old in Việt Nam.
The vaccine batch release certificate said they have an expiry date of November 30, 2021, however, the original six-month expiry date has been extended to nine months, or three months after the expiry date printed on the label, based on a decision (effective October 22, 2021) from Việt Nam's drug management administration after consideration of Pfizer Việt Nam's confirmation of the new expiry date to be February 28, 2022 instead.
NIHE suggests that the CDCs of provinces and cities notify the vaccination units to apply the new February 28 expiry date of the two vaccine batches of 12401 and 123002, and at the same time direct the staff to provide sufficient information to parents and guardians of the children to avoid misunderstanding over the issue.
NIHE also urged full use of the vaccines as early as possible, and avoid having to destroy the doses that go unused.
The shelf life extension of the vaccine batch was met with confusion and concern from many, especially given that the vaccines are going to be used for children and there have been at least four children who died after receiving Pfizer jabs across the country in the last seven days.
Hà Nội's health authorities on Wednesday however said they would suspend the use of shots from these two batches in question pending further instructions from the health ministry, while other batches of Pfizer will continue to be administered as normal.
Phan Trọng Lân, the new head of the Việt Nam General Department of Preventive Medicine, told the media that the decision was made after the shelf life extension approval made by the US Food and Drug Administration (FDA) on August 22 and European Medicine Agency (EMA) on September 10.
All Pfizer vaccine batches with expirations of six months are automatically prolonged to nine months after FDA and EMA approval.
The new nine-month expiry date of the Pfizer vaccine is applied globally and the vaccines can still be used in all eligible people, including children aged 12-17, Lân said.
Pfizer Việt Nam on Wednesday also issued its official statement on the matter, pointing towards FDA approval for the extension decision based on the company's available data as long as ultra-low storage conditions are upheld.
"When the Pfizer-BioNTech COVID-19 vaccine was authorised in USA in December 2020, sufficient data were available to confirm vaccine quality for six months. Since then, Pfizer has gathered stability data on multiple batches of the COVID-19 vaccine made across its manufacturing network globally and has determined that sufficient data are now available to extend the expiration time to nine months. This provides pharmacies, doctors' offices, and mass vaccination centres greater flexibility in managing and maintaining vaccine distribution and supply."
"In August, based on the information and data provided by Pfizer, the US FDA approved to extend the shelf-life of the Comirnaty (Pfizer BioNTech COVID-19 vaccine) for an additional three months – from six months to nine months when the vaccine is stored at a temperature of -90 to -60 degrees Celsius. In September, the European Medicines Agency also approved to apply practice to calculate actual shelf life by adding three months to six months printed shelf life."
"No changes have been made to the vaccine itself to enable the extension of expiry date. Therefore, the safety and efficacy remains unchanged," the statement reads.
The company also reassured that each batch of Pfizer vaccine is tested in quality control laboratories to guarantee the "safety, quality, and potency prior to being distributed to a point of use facility globally".
It should be noted that NIHE has refrigerators capable of keeping the mRNA vaccines at ultra-low temperatures before distribution to localities.
Việt Nam has only approved Pfizer and Moderna for children aged 12-17.
As of November 30, 37 localities out of 63 in the country are carrying out children inoculation drive: Hà Nội, Hà Nam, Ninh Bình, Bắc Giang, Bắc Ninh, Phú Thọ, Quảng Ninh, Lai Châu, Lạng Sơn, Hà Giang, Cao Bằng, Lào Cai, Điện Biên, Quảng Bình, Thừa Thiên Huế, Đà Nẵng, Khánh Hòa, Ninh Thuận, Bình Thuận, HCM City, Bà Rịa Vũng Tàu, Đồng Nai, Tiền Giang, Long An, Lâm Đồng, Tây Ninh, Sóc Trăng, An Giang, Bến Tre, Vĩnh Long, Đồng Tháp, Bình Dương, Bình Phước, Kiên Giang, Cà Mau, Bạc Liêu, and Hậu Giang.
As many as 3,939,823 doses of vaccine have been administered, including 3,193,502 first doses and 746,321 second doses. 35 per cent of the population in this age group has received at least one dose of vaccine. — VNS
Pfizer vaccine batches usable three months after imprinted expiry date: Health ministry, Pfizer have 956 words, post on vietnamnews.vn at December 1, 2021. This is cached page on Talk Vietnam. If you want remove this page, please contact us.