The automobile market has become bustling again after the Government cut by 50 percent the vehicle registration tax.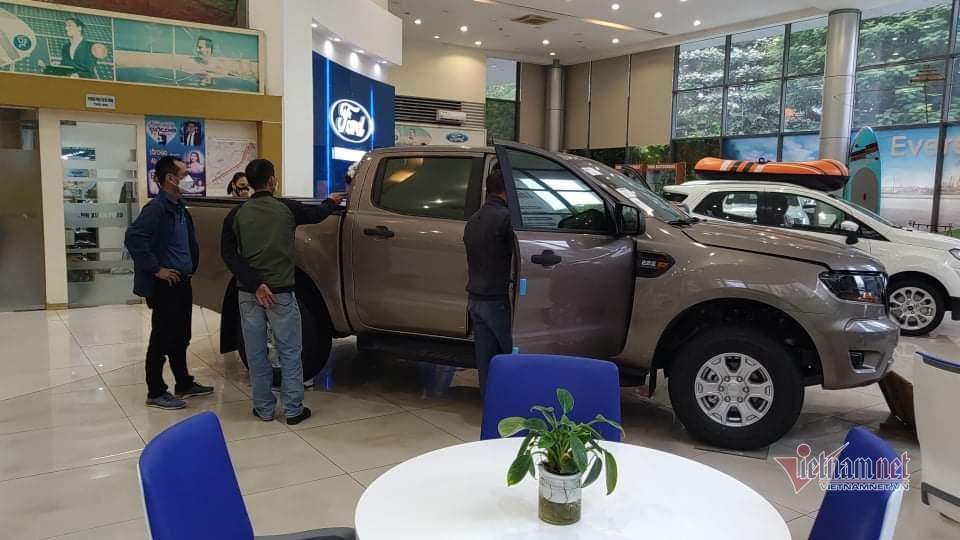 Car sales in the first three quarters of the year witnessed a sharp fall of 46 percent compared with the same period last year. However, the market has warmed up since the second month of the fourth quarter, when pandemic developments became less complicated and the vehicle registration tax was reduced by 50 percent.
More than 40 domestically assembled car models, from low-cost to luxury ones, are getting benefits from the Government's tax cut policy. With the tax cut, people can save from tens to VND100 million when buying cars.
Nguyen Van Truong in Dong Anh district in Hanoi decided to buy a Hyundai Tucson shortly after the release of the new policy.
"If you buy cars right now, you will get benefits from both the price discount policies applied by sale agents and the registration tax cut. If you are hesitant, you may miss the golden opportunity as car dealers may raise selling prices," he said.
The number of orders has increased so sharply that overloading has been reported at some sale agents over the last two days.
Thai, a worker at a sale agent selling Hyundai cars, told VietNamNet that he was so busy that morning that he could only have lunch at 2pm.
"The number of orders is soaring. I had to deliver cars to four clients this morning," he said.
According to Thai, his agent still has enough cars to deliver in December. However, the sales agent is having difficulties as most clients demand prompt deliveries.
Thuy Hanh, a Toyota saleswoman, said many of her co-workers had given up jobs as no cars were sold for several months. However, things began getting better in mid-November, when there was information about tax registration cuts.
"Many clients now demand deliveries just 2-3 days after they sign contracts. There are numerous buyers," she said.
The General Department of Taxation (GDT) reported that the owners of 11,826 cars registered to pay tax on the first day the 50 percent tax cut took effect. This was a sharp increase from late November, when there were only 1,200 registrations each day.
The 12,000 cars registering one day is equal to 70 percent of the monthly registrations in the third quarter of the year, much higher than the 8,800 cars in the whole August.
As car demand is increasing, car dealers have removed price discounts they offered during the gloomy sale season. Many sales agents are selling cars at prices officially quoted by manufacturers.
At some Toyota sale seasons, price discounts of VND10-20 million applied to some models have been lifted. Buyers of Toyota Vios could enjoy a price discount of VND60 million in early November, but now it is VND40 million only, while buyers of Fortuners now enjoy a price discount of VND40-50 million instead of VND50-60 million.
Hyundai cars, which were among the products with biggest price discounts in early November, are selling at the officially quoted prices. Prior to that, the price discounts of VND15-35 million were offered to most of the South Korean manufacturer's models, while the biggest discount of VND80 million was applied to Tucson.
Meanwhile, Santa Fe diesel, one of the best sellers, is in short supply and clients need to buy car accessories as well to be able to get delivery soon.
At a sales agent in Hanoi, Ford Ranger XLS is selling at the officially quoted price and the price discount policy has been removed. This is because the supply is no longer plentiful as it was earlier this month.
Most Kia models are also selling at officially quoted prices. Only Mazda, Peugeot and VinFast are still offering preferential prices.
Vinh Nam, an automobile expert, said the number of orders doubled in mid-November. Customers placed orders so as to both enjoy price discounts from sale agents and the 50 percent tax cut when they receive delivery in early December.
However, many don't have enough cars now for prompt deliveries. Meanwhile, manufacturers are having difficulties because of the limited supply of car parts during the pandemic.
VAMA's (Vietnam Automobile Manufacturers' Association) October report found that purchasing power increased again after social distancing was lifted in many localities. Its 27 member companies sold 27,149 cars, up by 121 percent over September (13,537).
Tran Thuy
People queue to buy cars as Government halves registration tax have 883 words, post on vietnamnet.vn at December 7, 2021. This is cached page on Talk Vietnam. If you want remove this page, please contact us.