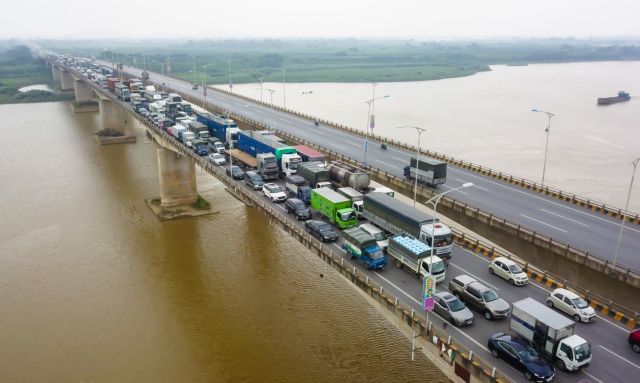 Traffic congestion on Phù Đổng Bridge, Gia Lâm District, Hà Nội. VNA/VNS Photo Thành Đạt
HÀ NỘI — Việt Nam's mounting traffic problems have been put under the spotlight as transport experts and government officials thrashed out ways to reduce the number of road deaths and ease congestion.
Already this year, more than 5,100 people have lost their lives in traffic accidents, and although that is 25 per cent less than in 2020, the authorities say more needs to be done to make the country's roads a safer place to travel.
In Hà Nội yesterday, experts from around the world gathered virtually for an online traffic safety conference discussing ways to improve current traffic conditions.
The conference heard how a number of safety initiatives have already produced positive results, including more surveillance cameras, increases in fines for road violations and use of artificial intelligence systems.
New urban rail systems that are being built will also lead to a drop in vehicles on the road.
But Deputy Minister of Transport Lê Đình Thọ, who is also Vice Chairman of the National Traffic Safety Committee, said more must be done to improve traffic safety.
The deputy minister pointed out that as the economy grows, and more businesses open, traffic will increase on the road, congestion will worsen, and more damage will be done to the environment.
And while he said cooperation from the entire political system, and motorists, have helped to bring down the numbers of accidents and fatalities, the situation remains complex.
"The Government, the Prime Minister and the National Traffic Safety Committee acknowledge and highly appreciate the contributions of experts and scientists from universities, academies, research institutes and organisations at home and abroad," said the deputy minister.
"The task of finding scientific, practical and effective solutions suitable to the economic, cultural, political and social conditions in Việt Nam is a key issue and requires the active participation of all scientists and experts."
Other measures discussed at the conference, which was organised by the National Traffic Safety Committee, were the need to improve not only roads, but the behaviour of motorists.
In the first 11 months of 2021, more than 10,000 traffic accidents occurred nationwide, killing more than 5,100 people and injuring more than 7,000 others.
Compared to the first 11 months of 2020, the number of cases decreased by 25 per cent, deaths decreased by more than 1,100 people, and injured people decreased by more than 29 per cent.
The committee reported 2020 saw the biggest reduction in traffic accidents in terms of the number of cases, deaths and injuries in the past ten years and the first time the number of deaths due to traffic accidents fell below 7,000 people.
But the year was also blighted by numerous lockdowns due to the COVID-19 pandemic, which caused a reduction in vehicles on the road.
Each year, traffic accidents cost the lives of nearly 1.35 million people and leave more than 50 million others permanently disabled, according to a report by the World Health Organisation.
Every year, the global economy suffers a 2.5 per cent hit to total GDP, equivalent to over US$1.5 trillion, due to traffic accidents. VNS
Conference highlights road safety concerns have 663 words, post on vietnamnews.vn at December 4, 2021. This is cached page on Talk Vietnam. If you want remove this page, please contact us.