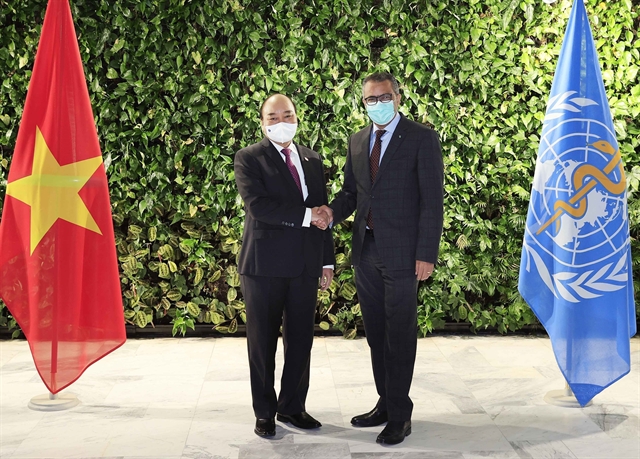 Vietnamese President Nguyễn Xuân Phúc (left) and WHO Director-General Tedros Adhanom Ghebreyesus held talks on Sunday in Geneva, Switzerland. — VNA/VNS Photo: Thống Nhất
GENEVA — World Health Organisation (WHO) Director-General Tedros Adhanom Ghegreyesus said WHO backs Việt Nam's proposal of turning itself into a regional hub of vaccine manufacturing.
The WHO chief made the statement in response to an initiative raised by Vietnamese President Nguyễn Xuân Phúc as he visited WHO Headquarters in Geneva, Switzerland, on Sunday (local time) as part of his official trip to the European country.
The meeting also saw the presence of Seth Berkley, CEO of the Vaccine Alliance (GAVI), and Aurélia Nguyen, Managing Director of the COVAX Facility.
President Phúc highly appreciated the coordinating role of WHO in global health issues, especially in setting healthcare standards and guidelines and providing technical support for countries in responding to public health emergencies and building capacity in coping with pandemics.
The Vietnamese President voiced his support for the COVAX Facility and its operators, including WHO and GAVI, in promoting equitable and timely access to COVID-19 vaccines globally. He also took the occasion to announce that Việt Nam will contribute an additional US$500,000 to the COVAX Facility, raising its total voluntary donation to the vaccine-sharing scheme to $1 million.
He proposed WHO, GAVI and COVAX Facility to help Việt Nam enhance the capacity of its healthcare system and immunisation while seeking their support for Việt Nam to become a hub for m-RNA vaccine technology transfer and a vaccine production base for the Western Pacific region.
He requested COVAX to continue to allocate more COVID-19 vaccines to Việt Nam as much as possible and as early as possible, especially vaccines for children, along with support in medical supplies to facilitate vaccination progress in Việt Nam, helping the country keep up its pandemic control efforts now that Việt Nam has switched to the strategy of safe, flexible adaptation to COVID-19.
The Vietnamese leader also expected WHO to offer technical assistance for Việt Nam's home-grown COVID-19 vaccine Nano Covax to join its global clinical trial programme, to which the WHO chief said he would have discussions with technical departments on the possibility of these trials.
Head of WHO said he is impressed with the efforts and successes of Việt Nam in the COVID-19 fight and socio-economic recovery, and that Việt Nam's experience could offer valuable lessons for the international community.
Tedros also agreed with the proposal of the Vietnamese President, and is willing to issue a message on the occasion of the International Day of Epidemic Preparedness on December 27 this year at the initiative of Việt Nam.
At the same time, he said that a special WHO meeting is about to take place as a way for countries to discuss the possibility of building a global pandemic control treaty to prevent similar disasters in the future, and hopes Việt Nam would support the idea.
The WHO Director-General thanked Việt Nam for its financial contribution to COVAX and said that it is always ready to work closely and effectively with relevant partners and Việt Nam in ensuring the country's equitable access to vaccines as well as mRNA vaccine technology transfer. — VNS
WHO backs Việt Nam's proposal to become regional hub for vaccine manufacturing have 574 words, post on vietnamnews.vn at November 29, 2021. This is cached page on Talk Vietnam. If you want remove this page, please contact us.