Vietnam is strong in infrastructure but weak in policies, according to the World Bank (WB).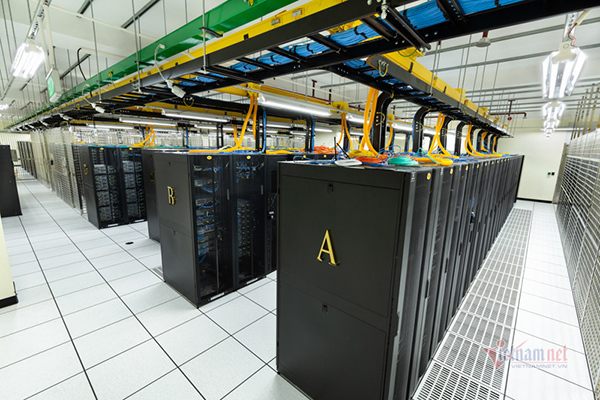 The largest data center in the North
In 2020 Open Data Watch's ranking, Singapore ranks first in the world, followed by several European countries, including Poland, Finland, Denmark and Sweden.
Most countries' open data are about budget, while the least published data relate to land ownership.
Vietnam is in the first half of the ranking in terms of data coverage (ranked 86th out of 187 countries) but in the second half in terms of openness both regionally and globally (122nd).
In Southeast Asia, Vietnam is at a higher position than Thailand, Laos, East Timor and Cambodia in open data ranking.
In 2019, WB conducted an assessment of Vietnam's readiness for digital government and open data. Its report showed that Vietnam has strong capability in infrastructure and open data technology, but lags behind in terms of legal framework for data management.
According to Tran Thi Lan Huong of WB, open data are resources which bring very high value to global GDP, from $2.8 trillion in 2019 to $10 trillion by 2025.
A WB 2021 report showed that the economic value of open data at macro level is 0.4-1.4 percent of global GDP, with an annual growth rate of 15.7 percent.
Vietnam, in the draft strategy on socio-economic development, set ambitious goals for digital economy and open data development. Digital economy is expected to make up 25 percent of GDP by 2025, and 100 percent of state agencies would provide open data.
Vietnam issued Decree 47/2020 on the definition of open data in public sector and set a regulation that government agencies have to share data with the private sector and other agencies to use.
Vietnam also has initiatives on open data. At the national level, Vietnam has a national data portal (data.gov.vn), while at the provincial level, HCM City, Da Nang and some other localities provide open datasets.
Nguyen Quang Dong, Heaf of IPS (Institute for Policy Studies and Media Development), said Vietnam still doesn't have a data market, and the connection between supply sources and data demand is not good, so Vietnam needs to solve that now.
Vietnam is still lacking standards and data classification when providing open data, and the quality cannot satisfy the requirements of the private sector.
For most countries, including Vietnam, the Government lacks resources for data development. The resources from the private sector, therefore, play a very important role in data collection, use and sharing.
According to Huong, Vietnam can improve its data coverage and openness, and privacy and security to protect individuals and businesses when sharing open data.
Vietnam can also join the international open data network, including the Open Data Charter and Open Government Partnership.
Trong Dat
Vietnam's Open Data ranks higher than Thailand, Laos, East Timor, Cambodia have 581 words, post on vietnamnet.vn at November 20, 2021. This is cached page on Talk Vietnam. If you want remove this page, please contact us.