Only when Vietnam can bring its farm produce to official distribution systems in countries will Vietnam's national brand be well known by consumers around the world, Minister of Agriculture and Rural Development Le Minh Hoan said.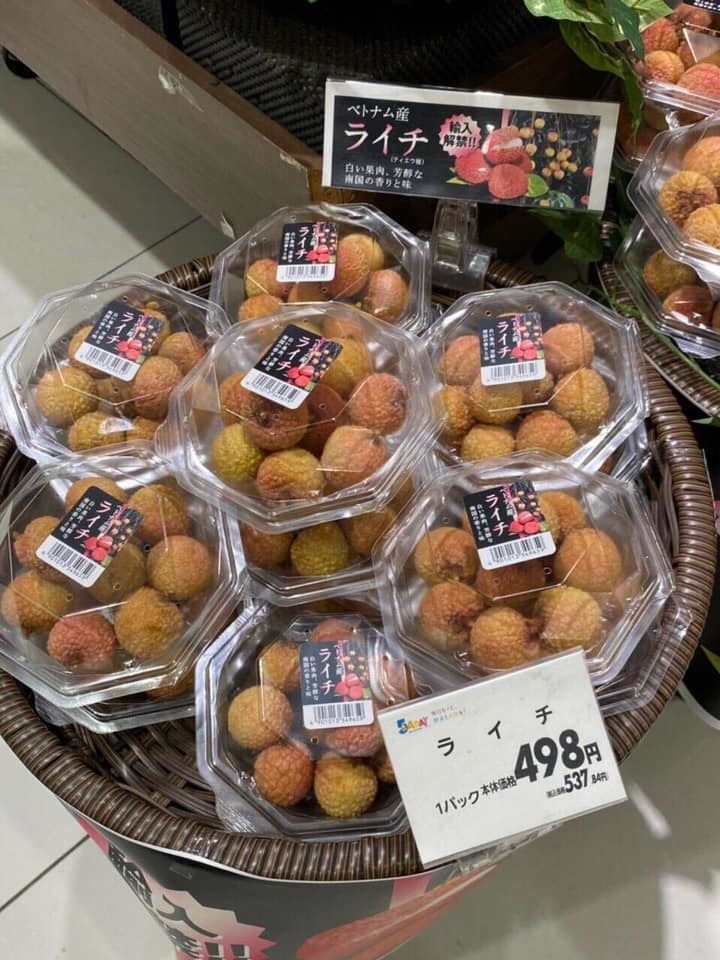 Litchis are sold in Japan
More information about the sale of Vietnam's farm produce in foreign markets at high prices has been reported recently.
Longan, a specialty of Vietnam, for example, is selling at supermarkets in Germany and the Netherlands at VND430,000-490,000 per kilogram, or 15-20 times higher than the domestic price.
In July 2021, a 1 kilogram box of Vietnam's fresh litchis was bought at 3,000 AUD, or VND52 million at a litchi auction in Australia. In Japan and France, litchis were sold at VND350,000-500,000 per kilogram. In Australia, mango was sold at VND300,000 per kilogram and frozen ginger VND850,000.
Most recently, local newspapers reported that the consignment of 45 tons of durian to Australia sold out though the consignment was still on the way. The lowest price is 20-25 AUD, or VND340,000-425,000 per kilogram for ready peeled products.
Hoan said when he was the leader of DongThap, the province exported the first container of mango to the US at high prices.
"Overseas Vietnamese take pictures of DongThap's mango available at foreign supermarkets. We see other fruits such as longan, litchis and dragon fruit sell at very high prices. This is good news, but I'm still feel unhappy," Hoan said.
During the online meeting with 27 Vietnamese ambassadors to the EU on October 27, he realized only several deals from time to time occur abroad and most products sell at Asian (Vietnamese, Thai) shops.
Hoang said during his official visit to Europe with NA Chair Vuong Dinh Hue he heard from Vietnamese ambassadors that Vietnam's dragon fruit is mostly sold at Thai owned shops, or sold among the Vietnamese community.
He said Vietnam needs to bring its farm produce to official distribution networks in the countries.
"We are excited (about the high prices) and we forget there are problems and risks. We need to implement reasonable strategies which will take many more years to conquer international markets, not just several export consignments of some businesses," he said.
One ambassador said that Vietnam's farm produce just accounted for 1 percent of the market's farm imports and the produce mostly sells at Asian owned shops.
Vu Tien Loc, Chair of the Vietnam International Arbitration Center (VIAC), noted that Vietnam is doing well with communication campaigns, but there should be no illusions about conquering the world market as the country has only exported some products to the world market.
Tam An
Vietnam's litchis, longan sell at high prices overseas, but minister still unhappy have 535 words, post on vietnamnet.vn at November 2, 2021. This is cached page on Talk Vietnam. If you want remove this page, please contact us.