Nitazoxanide has been successfully synthesized by the Institute of Chemistry, under the Vietnam Academy of Science and Technology, to produce drugs to treat COVID-19 patients with mild and medium symptoms.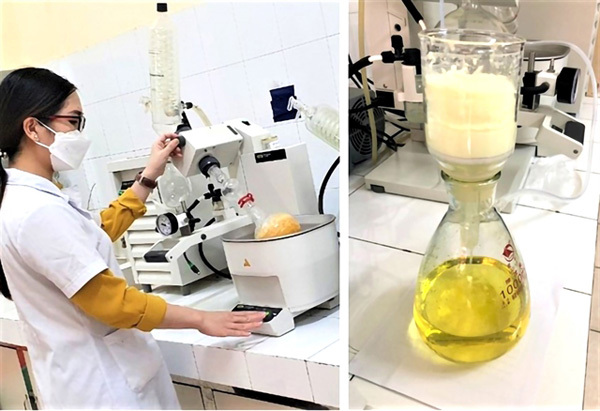 Nitazoxanide compound synthesized at the Hanoi-based Institute of Chemistry under the Vietnam Academy of Science and Technology. Photo Courtesy of the institute
The compound was synthesized on a pilot scale, which is larger than on a laboratory scale but smaller than the production scale.
Professor and PhD Nguyen Van Tuyen, Director of the Institute of Chemistry, said that the institute's scientists studied and succeeded in perfecting the process of synthesizing Nitazoxanide during the pilot phase.
The institute previously announced its success in synthesizing Favipiravir, while the Institute of Marine Biochemistry successfully synthesized Molnupiravir – an antiviral medication that inhibits the replication of certain RNA viruses, and is used to treat those infected with COVID-19.
"The nitazoxanide synthesis process achieves high efficiency through only two reaction steps, from low-cost raw materials. This is a generic drug with a very cheap price that can be used orally and is safe and suitable for use in Vietnamese conditions," Tuyen said.
Nitazoxanide has a broad spectrum of antiviral activity against many different viruses. Particularly, Nitazoxanide is active against COVID-19 cultured on Vero cell6 with IC50 2 µM.
Nitazoxanide can enhance the immune response and improve the lungs and other organs of the body, meaning the drug can be used effectively in the treatment of COVID-19 patients with underlying health conditions, especially those suffering from cytokine storm – a syndrome in which the body's own immune system goes into overdrive in response to the infection, mistakenly destroying other cells of the body in the process, which leads to organ failure and other severe damage.
The Institute of Chemistry signed a contract in principle to transfer technology and proposed a clinical trial of the low-cost drug Nitazoxanide to treat mild and moderate COVID-19 patients at home, Tuyen said.
Currently, 29 such clinical trials have been conducted around the world; eight trials have ended and proved that Nitazoxanide can be used safely for the early treatment of COVID-19 in mild and moderate forms through reducing the viral load, which reduces the number of hospitalised patients, Tuyen said.
"Nitazoxanide has also been shown to be effective for the treatment of pregnant patients and for preventive use by healthcare professionals," he added.

Vietnam produces antiviral Molnupiravir for COVID-19 treatment
Five Vietnamese pharmaceutical companies have submitted procedures for producing Molnupiravir, an antiviral drug for COVID-19 treatment, to the Ministry of Health.
As Molnupiravir is yet to be granted a circulation registration number in Vietnam, the Ministry is requesting the Government approve the medication for emergency use. If approved by the Government, five circular registration numbers for Molnupiravir will be granted to the five local pharmaceutical companies.
Since late August, the Ministry has implemented a pilot scheme to use Molnupiravir for mild and asymptomatic cases at home. The scheme was first deployed in HCM City and has so far been replicated in 34 cities and provinces.
Molnupiravir has been used globally to treat mild and asymptomatic COVID-19 patients. The medication has proved to be safe and effective at reducing the risk of hospitalisation and death among mild to moderate patients who are at increased risk of developing severe symptoms.
In early October, under the latest COVID-19 treatment guidelines from Vietnam's Ministry of Health, 400 mg of Molnupiravir was approved for use on COVID-19 patients with light or medium illness, particularly those undertaking at-home treatment.
Regarding drugs to treat COVID-19, Minister of Health Nguyen Thanh Long said that there are currently about 46-50 active ingredients used for COVID-19 treatment. Vietnam has produced and ensured about 70 per cent of the needed ingredients on its own and is importing the rest as they are only produced by one or two firms in the world.
The Ministry of Health licensed 39 enterprises to import raw materials, Long said, adding that Vietnam faces no shortage of drugs to treat COVID-19 for any situation.
Source: Vietnam News
Vietnam successfully synthesises compounds to produce COVID-19 drugs have 846 words, post on vietnamnet.vn at November 26, 2021. This is cached page on Talk Vietnam. If you want remove this page, please contact us.