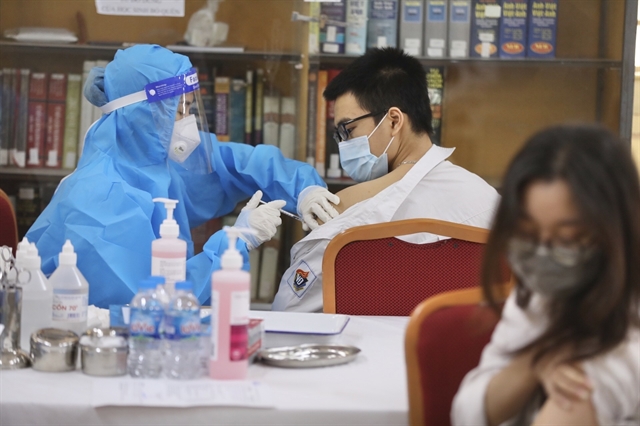 Students in Việt Đức High School, Hoàn Kiếm District, Hà Nội received COVID-19 vaccine shots on Wednesday. Việt Nam cleared only two types of shots, Pfizer and Moderna, for children aged 12-17.  — VNA/VNS Photo Minh Quyết
Trọng Kiên
HÀ NỘI — On the heels of its high vaccination rate, Việt Nam might be ready to graduate to the next step of 'living with COVID-19' – switching the almost obsessive focus from raw case count over the past two years to other more relevant metrics like hospitalisations, seriously ill cases and deaths.
Deputy health minister Nguyễn Trường Sơn, who has led the health ministry's task force in supporting all COVID-19 epicentres in Việt Nam over the last two years, confirmed during a conference on COVID-19 treatment this week that new guidelines can be expected at the end of this month, with updates to three criteria used to assess the pandemic level – new community cases in population number over a certain period, vaccine coverage, and the treatment capacity.
"With the current pandemic situation, the criteria concerning the number of new COVID-19 incidences in 100,000 people in a week no longer matters as much. The current trend is to focus on assessing the rate of severe patients, hospitalisations, deaths and respond to the collection and treatment of localities to assess the situation," Sơn said, adding that people will be encouraged to administer self-tests, notify health authorities, and come to the hospitals when symptoms show up.
The comment comes as reassurance as Việt Nam is seeing a resurgence of COVID-19 cases in the past few weeks, with daily case count reaching levels unseen since the peak of the fourth wave, but lockdowns and restrictions are noticeably fewer and farther between, thanks to much more widespread vaccination.
It should be noted that the health ministry's vaccination plan released earlier this year states the goal of administering 150 million doses of COVID-19 vaccine to cover 75 per cent of the country's population of roughly 100 million in April next year, but the way things are looking, Việt Nam might crush these figures quite easily.
With increasing vaccine supplies, the country has given over 116 million doses already out of the 140 million it has received, with over 90 per cent of the adult population receiving at least one dose and over 63 per cent doubly vaccinated.
Provided that the rate of 1.5-1.6 million doses given a day is maintained, the goal of 150 million doses would be reached before the end of this year. Quite an impressive feat.
Prime Minister Phạm Minh Chính has even ordered two dose coverage of the adult population this year, moving the goalpost in a positive direction.
Twenty-two localities – or a third of the country – have achieved over 95 per cent first dose coverage for people aged 18 and above – Hà Nội, Hải Phòng, Bắc Ninh, Vĩnh Phúc, Quảng Ninh, Đà Nẵng, Phú Yên, Khánh Hòa, Ninh Thuận, Bình Thuận, HCM City, Bà Rịa – Vũng Tàu, Đồng Nai, Long An, Lâm Đồng, Cần Thơ, Bến Tre, Vĩnh Long, Bình Dương, Bình Phước, Kiên Giang and Hậu Giang.
With a high vaccine acceptance rate, little tolerance for vaccine misinformation, what essentially is a vaccine mandate in the form of limiting activities for the unvaccinated in place, and also just as importantly – provided that the country has sufficient supplies – the 'all adults' goal is not looking like pipe dream, although in remote mountainous places with rough terrain and sparse population, the rate might be on the lower end especially when it comes to finicky mRNA vaccines like Pfizer and Moderna.
To keep up with living with virus, other than vaccines to help cut hospitalisations and deaths, one more component is required – COVID-19 medicines.
It looks like Việt Nam is not so far behind this time in getting access to medicine – with molnupiravir, the promising antiviral drug – in pilot use in southern hot spots for quite some time now.
About 250,000 pills have been used in Việt Nam, with initial results showing 72-93 per cent of patients testing negative for the coronavirus after five days of taking the drugs, with death rate in drug use group falling by 50 per cent compared to the non-use group.
Still, plenty of caution is needed – HCM City, the epicentre of the fourth wave in the country, is well on course for full reopening while still seeing 1,000-1,500 new cases a day since the start of November. Granted, that's down five times from the peak outbreak in August-September, when lockdown measures were so stringent, one was forbidden to go outside to shop for food, with soldiers and volunteers deployed to deliver food and essentials to local residents instead, a huge contrast to current days, where everything except for sensitive services like karaoke or massage venues is open for business.
The city has some 57,000 active COVID-19 cases being quarantined at residence for home treatment as of Thursday, according to Phạm Đức Hải, deputy head of HCM City's COVID-19 steering committee, but even when these cases are almost asymptomatic or have very mild symptoms to be qualified to be treated at home in the first place, with understaffed local health authorities, some have reported difficulties in gaining access to medicines in the health ministry's prescribed course.
The assistance of the city's military medical units is being required to buff up the local health stations.
We have to remember the lesson from our neighbour, Singapore, who in early September also announced similar shifting of focus to hospitalisations and deaths (also on the back of high vaccination rate) to adjust its virus management plans, then faced quite a struggle in the beginning before people got used to the new regulations.
A bit to the West, despite being ahead in the vaccination drive, is seeing record breaking surge in many areas, prompting the consideration the unsavoury prospects of lockdowns and booster vaccine mandates.
Children vaccination progress
This week, with the newest entries of mostly northern localities like Hải Phòng, Hà Nội, or Cao Bằng, 30 out of 63 localities – or nearly half of the country – have started vaccinating children aged 12-17 against COVID-19, conferring protection to this age group after the inoculation rate in the adult population has been on the right track.
About two million doses have been administered to children in this age group (Việt Nam only approves two types of shots for children, Pfizer/BioNTech and Moderna) after HCM City did it first in late October and is already getting second shots for some.
About 6,000 children have received two doses.
It is expected that after the vaccination rate in this age group reaches a certain level, schools will finally reopen for in-person learning after months of online classes – which were meant only to last a short period of time in response to the outbreak but have become somewhat a certainty at least until the end of this year in many places. And frankly, it has started to wear on students, teachers and parents alike.
For many students, getting to school for a vaccine shot was the first time they returned to school in ages, and for some who just started high school in September, the first time they've been to the very place they enrolled and got accepted in, quite a sad reality that Việt Nam had been spared in 2020 thanks to successful containment that saw life pretty much continue in a pre-pandemic 'normal' (the lack of more virulent and contagious mutations of coronavirus also likely helped).
Hà Nội's education authorities tentatively put the resumption of schools at around mid-December, but with a lot of conditions still attached – good vaccination rate and the outbreak under control. While the first criteria is arguably in the bag for Hà Nội (extrapolated from reported high application for vaccination among the high school students and the current vaccination rate in the capital city), the latter criteria, as ill defined and still largely a work in progress as it is, does not inspire much optimism for the two million students here.
The southern province of An Giang on Thursday decided to halt all online classes and television lessons for one week, starting next Monday, to "guarantee the health and reduce the stress/pressure from prolonged virtual learning" to students and teachers, the first in the country to do so. This suspension only applies to primary education, but it's apparent that purely online learning is not tenable for much longer. — VNS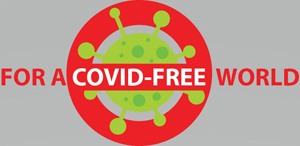 Việt Nam to focus more on COVID-19 hospitalisations, deaths rather than case counts have 1692 words, post on vietnamnews.vn at November 27, 2021. This is cached page on Talk Vietnam. If you want remove this page, please contact us.