Football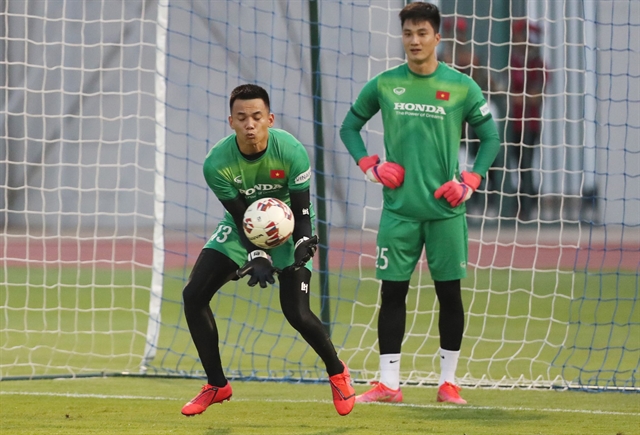 Goalkeeper Phạm Văn Cường (left) will strike to have an official place and first chance to compete for the national team in the coming AFF Cup. Photo of VFF
HÀ NỘI Phạm Văn Cường's dreams of professional football seemed over when he was 15. Sixteen years later, and against the odds, he is a part of the national team preparing for the ASEAN Football Federation Cup next month.
This is the first time that a national team practice has included five goalkeepers. Cường is under no illusions about how hard he will have to work to secure a spot in the first team.
"I am happy to join the national team. I will do my best to vie for a place in the starting line-up," said Cường, who is still working hard to keep his dreams alive.
A love with football pushed Cường to register to practise at the Military Zone 4 centre in 2003.
After the trials, Cường was recruited based on his speed, strength, acceleration and agility. Two years later though, he was dropped from the team because he was not tall enough to be a professional goalkeeper.
Disappointed, Cường returned home to continue his studies at school but he never gave up on his dreams.
In 2008, Cường, 18 years old, graduated from high school and came back to the centre. This time no one could deny him – his height of 1.86m was ideal for his position.
From the centre, Cường moved around a few different teams before settling at Quảng Nam FC. In 2017, they won the V.League title.
His performance that year gave him his first taste of the national team set up, at the age of 27. Although he was the third-choice goalie and did not get to play, he was a part of the squad for the last match of the 2019 Asian Cup qualifiers against Afghanistan, and the 2022 World Cup Qualifiers last June.
This time round Cường, now playing for HCM City, was called up after Nguyễn Văn Toàn suffered a shoulder injury.
First choice shot-stopper Bùi Tấn Trường has been worrying Coach Park Hang-seo because of his excessive use of social media during practice.
"The current goalkeepers of the national team have not worked well. Their performance has not helped the coaching board rest assured. This is why Cường has been called up," said former national defender Trương Đình Luật.
"Although he has not competed yet internationally, Cường is experienced and brave in the domestic league. He is also full of aspiration and confidence. Despite being the fifth choice goalie, Cường still has his chance and we believe in him."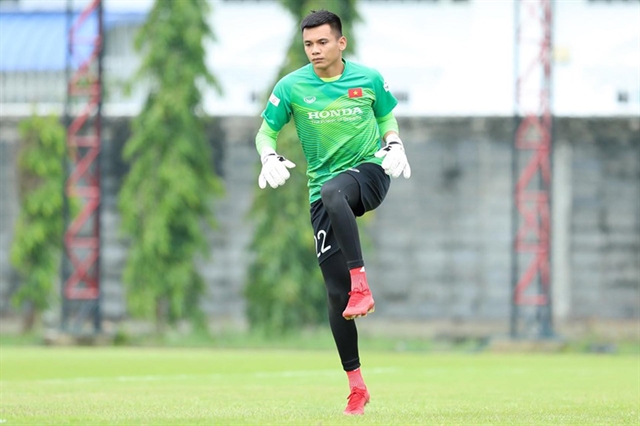 Goalkeeper Phạm Văn Cường will vie for an official place against four other teammates to have chance competing at the coming AFF Cup. Photo of VFF
Coach Park also emphasises that every player has a chance to earn a place in the first team. The competitive environment he builds in his training camps help players to reach their full potential – and those that impress are always in with a shot at selection.
Apart from first-choice Trường, the other keepers in the squad are Trần Nguyên Mạnh, who returns to the national team after two years, Nguyễn Văn Hoàng and Quan Văn Chuẩn, who are both also waiting for their first crack at international football.
"I am the last call of the team but I will do everything I can to be in contention to play," said 31-year-old Cường, who has been training with the team for a week in Vũng Tàu City.
Coach Park will shortlist 30 players for selection in the next few days. The squad will leave for Singapore to defend their title on December 1.
Việt Nam are in Group B. They will play Laos on December 6, Malaysia on December 12, Indonesia on December 15 and Cambodia on December 19. VNS
Shot stopper Cường hopes perseverance will pay off with national team selection have 976 words, post on vietnamnews.vn at November 29, 2021. This is cached page on Talk Vietnam. If you want remove this page, please contact us.