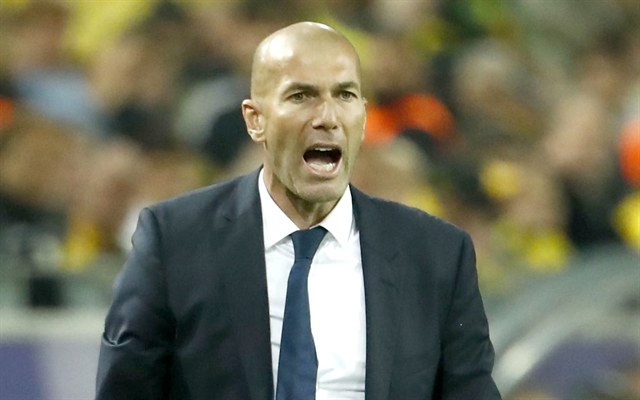 ZIZOU: Rumour has it, Zinedine Zidane has been learning English so he can tell Manchester United he doesn't want the job of manager. AFP Photo
Paul Kennedy
I hate to say I told you so, but, I kinda did.
From the day he was appointed as caretaker manger of Manchester United, I said loud and clear that Ole Gunnar Solskjaer was never good enough to be in charge.
Sure, things started ok, a few semi-finals, one final. And yes, I accept he did lead United to second place in the Premier League last season.
But for a team as big as Manchester United, second is nothing. It's a failure. Last week, after yet another disastrous result, Solskjaer finally got the sack.
Now United are seeking a new manager. Michael Carrick has been given the job on a caretaker basis, and there's even a suggestion they could appoint an interim manager until the end of the season while they want for their top targets.
Mauricio Pochettino is one of the names to be heavily linked with the vacant position, and so too is Zinedine Zidane.
However in some quarters it's been suggested the French man would be more likely to take the job at Paris Saint-Germain should Pochettino fancy heading to Manchester. And if he does, expect the move to happen at the end of the season rather than anytime soon.
That said, I think there's a bigger problem at Old Trafford that the appointment of the Argentinian would not solve.
I was speaking to a friend back in the UK, a supporter of United, and he feels the same. United's problems cannot be solved with a new manager. The club itself needs a complete overhaul.
I've never hidden my love of Liverpool, and ergo, my complete hatred of United, but I do think there are comparisons to be made between the two rivals.
Fourteen years ago, Liverpool were in serious bad shape. The club was owned by two American businessmen who were about as popular as seeing a facemaskless 'Karen' board your flight.
Results were poor and promises of money to spend on players and a new stadium were about as empty as a pauper's pocket.
After three disastrous years at the helm, the owners were eventually forced out and Liverpool began to rebuild.
But that was 2010 remember, a time when iPhone had just released their fourth model and corona was just a beer.
It took 10 years for Liverpool to get where they are today, and there was plenty of pain along the way.
Three managers came and went, including the extremely forgettable spell with Roy Hodgson in charge, and other than one League Cup triumph, Liverpool struggled for silverwear.
I expect the same thing to happen at Manchester United.
And for them to get back to the dizzy heights their supporters expect there will be plenty of pain before they see any gain.
Previous bosses post-Sir Alex Ferguson, have all been of a fairly decent calibre, but failed to delivery. Even David Moyes, who struggled after taking over from Sir Alex, is proving his worth now with West Ham.
So maybe the manager isn't really the issue.
Maybe the problems are more deeply rooted at Old Trafford, and with Newcastle about to get an astronomical cash injection, City, Liverpool and Chelsea showing no signs of relenting, there's a long road ahead for United, no matter who they choose to put at the wheel. VNS
Plenty of bigger problems still at Manchester United have 778 words, post on vietnamnews.vn at November 26, 2021. This is cached page on Talk Vietnam. If you want remove this page, please contact us.