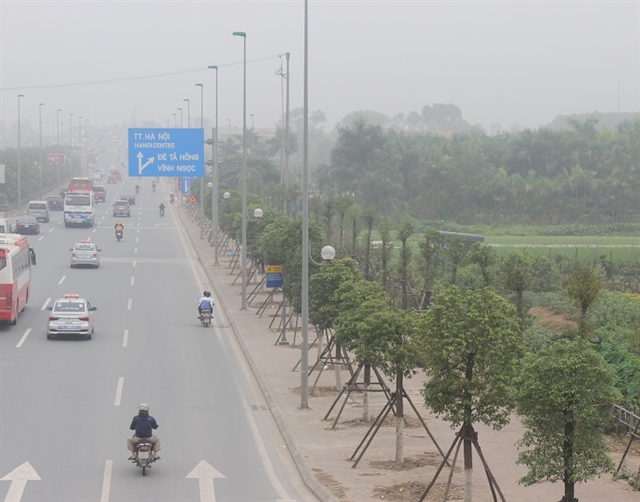 A view of Đông Anh District, located near some of Hà Nội's inner-city districts. Photo kinhtedothi.com.vn
HÀ NỘI — The Hà Nội property market is once again seeing a wave of increased land prices in suburban areas, thanks to rumours of some districts being developed under the model of "city within a city".
The first land price rise in those districts, including Đông Anh, Sóc Sơn and Mê Linh, happened in March after information came out about the Red River urban planning project.
The project is still in the planning phase and is expected to be approved at the end of this year. However, land prices are now increasing again in those districts because of a rumour on further developing these areas.
A piece of land near Đồng Đò Lake in Sóc Sơn District is currently valued at VNĐ12 million per sq.m, much higher than that the VNĐ5 million evaluation last year, according to the local people.
Land prices in Minh Phú Commune of Sóc Sơn District have increased by 30 per cent year on year. Land prices in Minh Trí Commune have surged to VNĐ10-12 million per sq.m, up from VNĐ7-8 million at the beginning of this year.
However, according to the local people, most of the land offered for sale in those villages is in protected forest areas. If buyers are not careful they will buy forest land and will not be able to build, the Vietnam News Agency reported.
The property market in Mê Linh District has been frozen for a few years because of the development of 50 urban projects, invested by private capital. However, the project, over a total area of 1,905 hectares, has been suspended due to a lack of capital.
Based on the rumour of converting Mê Linh District into a city, real estate brokerage centres have returned to Mê Linh, pushing the price of land up by 30 to 40 per cent.
"Every time there is new information relating to the Red River urban plan, the land prices in those districts increase. Investors are interested in regional planning; if there is investment potential, they will visit the land areas and quickly make investment decisions", said Nguyễn Nam, a real estate broker in Mê Linh.
Meanwhile, Đông Anh District has always had a busy real estate market thanks to its location near inner-city districts. The district has promoted infrastructure development for many years. Thanks to the rumour of developing a 'city within the city', investors are paying more attention to land investment in Đông Anh, causing land prices in some communes like Vĩnh Ngọc, Hải Bối and Xuân Canh to see an increase of 15-20 per cent and even 40 per cent.
A representative of the Mê Linh District Land Fund Development Centre said that the land prices in Đông Anh, Sóc Sơn, Mê Linh and Hòa Lạc are increasing, but there have not been many successful transactions.
In the future, Mê Linh District will enhance site clearances and build infrastructure to continue auctioning land plots in the district. The district will also publicise planning information and progress on infrastructure development projects, to prevent further rumours on land price and land speculation.
Regarding the rise in prices of land in those districts, the chairman of the Việt Nam Real Estate Brokers Association, Nguyễn Văn Đính, said that due to low property supply in the inner districts, investors tend to find investment chances in suburban districts like Sóc Sơn, Đông Anh and Mê Linh. Together with the rumours relating to the Red River urban planning, the land prices on those markets have been pushed up to a very high level.
However, few investors need long-term investments so land prices usually only increase for a while before falling back to their usual levels, according to Đính .
Hà Nội plans to develop five suburban districts of Hoài Đức, Đông Anh, Thanh Trì, Gia Lâm and Đan Phượng to become inner-city districts by 2025. With a large land fund, these districts will be key residential development regions in the future, according to Đính.
In 2021, four districts, Hoài Đức, Đông Anh, Thanh Trì and Gia Lâm, account for 30 per cent of apartment supply. This figure is expected to increase to 36 per cent by 2023.
"When the land fund in the inner city becomes limited, investors also tend to expand to the suburban areas. In addition, improved infrastructure also contributes to promoting the tendency of people moving away from the city centre," said Đỗ Thu Hằng, Senior Director, Advisory Services, Savills Hanoi.
"When the future supply is in remote areas, it will bring more options in terms of location and price."
Experts also note that investors who want to buy real estate at present need to determine whether this is a long-term investment, especially in the areas of Đông Anh, Mê Linh and Sóc Sơn or suburban districts. Those areas are all waiting for planning and large projects to be implemented, while the transport infrastructure connecting to the inner city is still developing. Therefore, these investments will not be profitable quickly.
Before deciding to invest, buyers need to find out about planning projects and land prices. This will help them avoid buying land plots without legality and abandoned projects, according to the leader of Đông Anh District. — VNS
Land prices rise in suburban Hà Nội due to planning rumours have 1164 words, post on vietnamnews.vn at November 20, 2021. This is cached page on Talk Vietnam. If you want remove this page, please contact us.