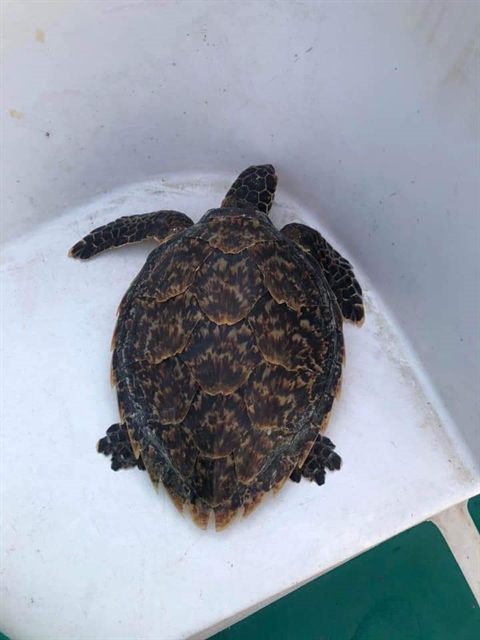 The hawksbill turtle (Eretmochelys Imbricata) is an endangered sea turtle species. One was recently rescued by a local fisherman off the Chàm Islands. Photo courtesy of Trần Quý Tây
CHÀM ISLANDS — The Chàm Island's Marine Protected Area (MPA) management board has released a hawksbill turtle (Eretmochelys Imbricata) – an endangered sea turtle species – back into the ocean after it was trapped in a drifting 'ghost net' of garbage (a fishing net inadvertently lost overboard by fishermen) in the water off the islands.
The MPA said a local fisherman, Trần Hùng of Bãi Làng village, found the turtle in the waters near Bãi Xếp, an islet. The turtles neck was trapped in bush of the fishing net. Hùng took it to the MPA.
The turtle, which weighed 1.5kg and had a shell length of 30cm, was healthy enough to be released back into the ocean a few hours later.
It's the third sea turtle that was rescued and released by local fishermen in the waters off Quảng Nam province this year.
The Chàm Islands MPA reported that 30 sea turtles had become trapped in fishing nets off the islands since 2018. Two-thirds die after becoming entangled.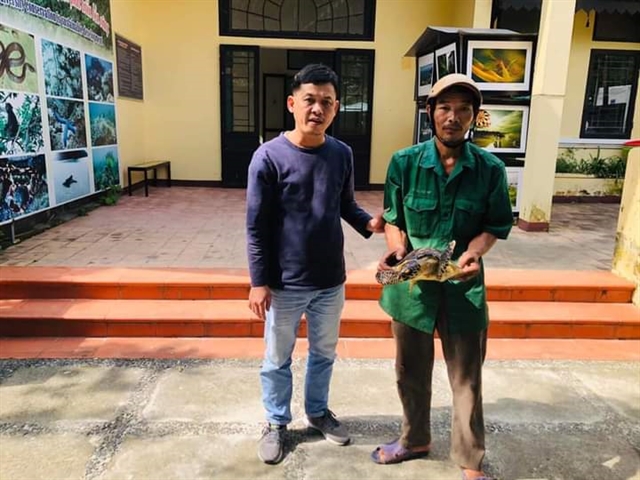 Local fisherman Trần Hùng (right) with the sea turtle he rescued from a fishing net. It is the third endangered sea turtle to be rescued by local fishermen in 2021. Photo courtesy of Trần Quý Tây
Only seven species of sea turtle exist in the world, and five of those are found living in Việt Nam.
Two endangered turtles were released by local rangers and the Chàm Island MPA in October and November, respectively.
Chàm Islands, 20km off the coast of Hội An city, has been built as the first ex-situ turtle conservation site in Việt Nam to help conserve turtle populations in the area.
The Islands had moved more than 1,600 turtle eggs from Côn Đảo Island National Park in southern Bà Rịa-Vũng Tàu Province to hatch on the warm Bấc beach in 2017-20. More than 900 baby turtles have been released into the sea from hatched eggs, the MPA said.
It is seen as the first site in Việt Nam to successfully promote the non-use of plastic bags and the 3-R (reduce, reuse and recycle) programme since 2011.
An expert, Lê Xuân Ai, said baby turtles often return to the beach where it was born and grew up to lay eggs themselves.
Chàm Islands-Hội An, which was recognised as a world biosphere reserve site in 2009, includes eight islets with 3,000 inhabitants.
It hosts more than 400,000 tourists each year. — VNS
Endangered sea turtle returns to ocean have 658 words, post on vietnamnews.vn at November 28, 2021. This is cached page on Talk Vietnam. If you want remove this page, please contact us.