The digitalisation of art and culture archives has been taking place around the world for many years, and Vietnam is no exception.
However, more resources need to be devoted to digitalising these archives for both preservation and future development, experts at a forum on the topic said recently.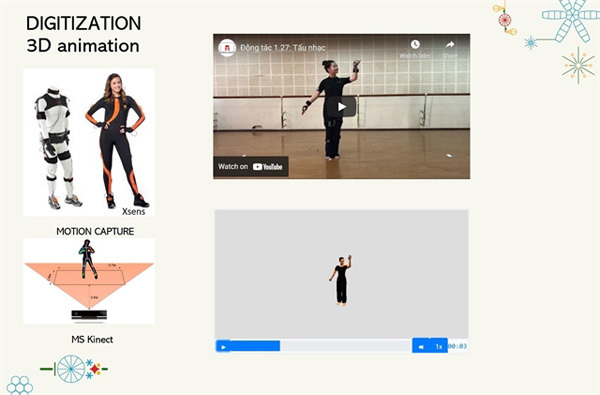 An illustration of the motion capture and 3D animation technologies employed by the Digital Heritage project on the disanso.vn website. — Photo courtesy of Le Thanh Ha
The Vietnam Art & Design Archive (VADA) forum brought together insiders from the local and international art and culture scene, to share their experience with digital archives. The forum focused on key issues like best-in-class digitisation practices, intellectual property rights and the accessibility of collections.
Experts at the forum agreed that demands for digital platforms have become more pressing than ever amid the COVID-19 pandemic.
A big concern is how to create and maintain accessible platforms for archiving that are technologically feasible and appealing to audiences, as well as financially sustainable.
"The collaboration between the art and culture sector and the technology sector is currently inadequate, leading to fragmented and infrequent digital transformation," said Le Thanh Ha, who is running the website disanso.vn as part of the Digital Heritage project.
"Art and culture digital archives tend to serve the purpose of preservation. The archived works have not yet been put to good use in other industries."
Ha and his colleagues at the Human Machine Interaction Laboratory, University of Engineering and Technology, Hanoi National University, use technologies such as motion capture and high-resolution 3D scanning for the Digital Heritage project, which is creating a multimedia database of Vietnamese culture with images, sounds, videos, 3D still models, 3D animations, and more.
Ha and his team developed a solution called Trealet to connect public users, content creators and the GLAM sector, consisting of galleries, libraries, archives and museums.
In the contemporary art scene, several digital archiving projects have also received support and sponsorship from local and international organisations.
One example is the Vietnam Art Archive (ViAA), initiated by the independent art space Heritage Space in 2020 and funded by the International Relief Fund for Organisations in Culture and Education of the German Federal Foreign Office, the Goethe-Institute, and other partners.
ViAA is expected to officially launch in December 2021. Its main mission is to archive and display contemporary Vietnamese artworks from the 1990s until now. It will be accessible to the public for free via a website.
"Contemporary Vietnamese artists are very active in their practice, yet their works tend to be publicised in a sporadic and unsystematic manner," said Heritage Space Artistic Director Nguyen Anh Tuan.
"Thus, the audiences are lacking a comprehensive view of the art scene. This is a big shortcoming. Amid the constant streams of creativity, technology and knowledge that we are navigating, it's important to have a proper archiving system to contribute to Vietnam's art history of now."
Digital archiving has been carried out by some museums and cultural institutes in Vietnam for several years, with a focus on traditional cultural heritage.
The Vietnam Institute of Cultural and Arts Studies (VICAS)'s Deputy Director, Nguyen Thi Thu Phuong, revealed that her organisation has been digitising over 800 intangible cultural heritage collections and archives from communities across the country since 1997, as part of Vietnam's National Target Programme on Culture.
RMIT University lecturer and co-chair of the VADA Forum, Emma Duester, hopes that the connections born from the event will boost the development of an ecosystem for art and culture archiving in Vietnam.
Duester and her colleague conducted a research project, interviewing 50 artists and cultural professionals in Hanoi, on the current practices of digitising art and culture.
The study found that the digitisation of art and culture has been occurring more systematically and across the sector over the past five years in Hanoi, including photographing, scanning, and making digital archives or stores for these artworks and collections.
"In a smart future, Vietnam needs a common, accessible and sustainable online platform for the display of major works of art and culture," she said.
"Such a platform would be available to public users from both Vietnam and abroad, as well as cultural professionals, educators and researchers. By doing that, we can promote the smart development of Vietnam's cultural, creative and design sectors," Dr Duester said.
Source: Vietnam News
Digitalisation of art and culture archives in need of a boost have 943 words, post on vietnamnet.vn at November 16, 2021. This is cached page on Talk Vietnam. If you want remove this page, please contact us.