Vietnamese Prime Minister Minister Pham Minh Chinh took part in a working session on digital transformation with Japanese technology corporations on November 24 within the framework of his official visit to the country.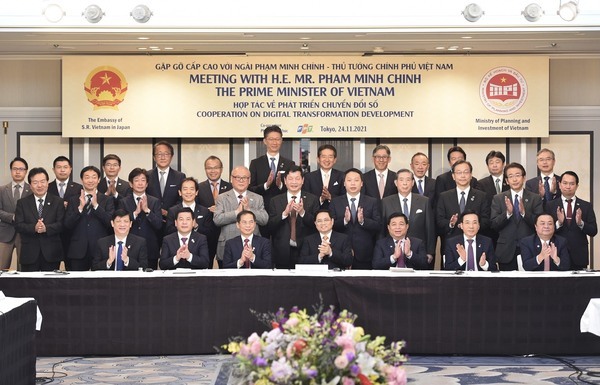 Prime Minister Pham Minh Chinh and Japanese entrepreneurs at the meeting on November 23
Chinh said the Covid-19 pandemic is accelerating the digital transformation process in many countries.
Vietnam has great advantages in economic development and digital transformation, including a high GDP growth rate, high openness of the economy, and membership in 17 free trade agreements (FTAs) with more than 60 countries, including the large markets of the US, EU, Japan, China, South Korea and ASEAN.
Vietnam's ability to adapt to development tendencies in the world, including digital technology, is very clear. International partners all support digital transformation in Vietnam.
Vietnam has set up a national digital transformation program to 2025 with a vision towards 2030, with three pillars – digital economy, digital society and digital Government. People will be put at the center of the process.
Vietnam is in the golden population period with a young, dynamic and skillful labor force. Vietnamese businesses and people are active in joining the digital transformation process. Its information technology and telecommunications are developing rapidly.
The digital economy's contribution to the economy is growing rapidly. Vietnam is striving for a 20 percent contribution to GDP by 2025 and 30 percent by 2030.
Chinh stressed that like other countries, Vietnam follows a specific approach to digital transformation that fits its conditions. However, it will not go afar from the common approach in the world, and thus, Vietnam can cooperate with other countries.
Deputy Minister of Information and Communications Nguyen Huy Dung said that Covid-19 has accelerated digital transformation. After 20 years, only 12 percent of Vietnamese people used online public services. But within one quarter during the pandemic, the figure soared to 24 percent. Eighty percent of Vietnamese students study online, higher than the OECD's average level of 60 percent.
"A lot of things which were initially planned to be implemented within 5-10 years could be implemented within one year," Dung said.
The Government of Vietnam has many policies to accelerate data development, striving to add itself to the list of top 50 countries in open data by 2025 and top 30 by 2030.
Vietnam now has 1 million workers in IT industry and it needs 2-2.5 million in 2025-2030.
Minister of Planning and Investment Nguyen Chi Dung said Vietnam has a program on supporting enterprises to go digitizing in 2021-2025, under which at least 100,000 businesses will receive support from the program and 100 of them will be typical success stories.
Thu Hang (from Tokyo, Japan)
Digital transformation process speeds up amid Covid pandemic: Prime Minister have 648 words, post on vietnamnet.vn at November 26, 2021. This is cached page on Talk Vietnam. If you want remove this page, please contact us.