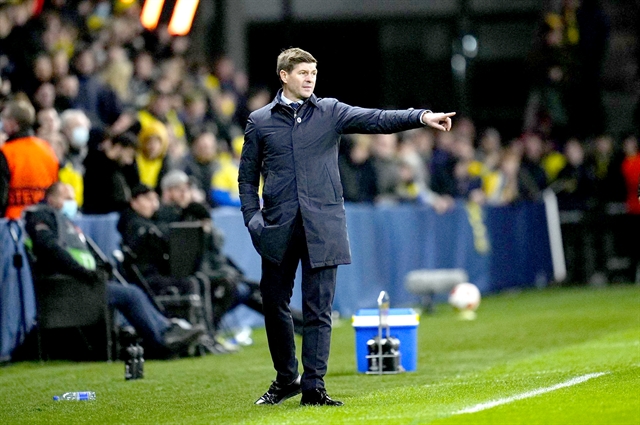 VILLAIN: Former Liverpool captain Steven Gerrard could face his old club very soon if he takes over at Aston Villa. AFP/VNA Photo
Paul Kennedy
By the time you are reading this column, chances are, Steven Gerrard will have been announced as the new manager of Aston Villa.
Word on the street is the current Rangers boss will take over from Dean Smith who was fired last week after a losing his last five games in charge. Villa currently sit in 16th position, just a few places above the relegation zone.
Gerrard himself was filmed by a fan getting off a train in London on Wednesday and all suggestions are he was meeting with the Villa hierarchy.
If he is appointed, it will be an extremely brave move for the former Liverpool FC captain.
Many Reds fans assume Gerrard is a future manager at Liverpool, and will be the perfect man to step into the hot seat when Jurgen Klopp decides to call it a day.
Gerrard has achieved great things during his three years in Scotland. This season he led Rangers to the title, after nine years of dominance by their Glasgow rivals Celtic.
But to leave for Aston Villa is somewhat of a gamble.
Let's face facts here, I'm sorry Villa fans, but there's not a snowball's chance in hell that your team will be challenging the likes of Liverpool, Manchester City or Chelsea in the foreseeable future, and the best Gerrard can hope for this season is Premier League survival.
Sure, if he's given a decent amount of cash to spend in January, Gerrard could improve Villa, but managing in the Premier League is a whole different ballgame than what he has been used to in Scotland.
In Europe, Gerrard isn't doing particularly well for Rangers this season, and trips to the Etihad Stadium, Stamford Bridge or the Emirates will be a lot more daunting than playing Ross County away.
I wouldn't go as far as to say it's make or break for Gerrard, far from it. He's still only 41 years old and this really is his first step into management.
But swapping the comfort blanket of the Scottish Premier League for the English version will certainly be test of his managerial credentials.
As a player, he was always up for a challenge. You could argue as a manager, the challenges that lay ahead could be even bigger.
He will be under the spotlight for sure. Managing in the Premier League is as intense as it gets.
He's not going to be winning games week in, week out, and for the immediate future, expect more losses than wins.
When he hung up his boots and decided to leave Liverpool, there were still plenty of playing options available, in England and Europe.
However Gerrard never wanted to face the club he loved so much, so instead opted for a season-long swansong in Los Angeles rather that have to play against Liverpool.
So really it's no surprise that the football gods are having a little chuckle right now looking at the Premier League fixture list.
December 11, Aston Villa travel to Anfield to play Liverpool.
Chances are Gerrard will be in charge in the opposition dugout and will no doubt receive an extremely warm welcome from the fans who still adore him.
But deep down I believe this appointment is just a stepping stone for the one job he craves more than any other. VNS
A gamble for Gerrard as he takes a step up have 863 words, post on vietnamnews.vn at November 12, 2021. This is cached page on Talk Vietnam. If you want remove this page, please contact us.