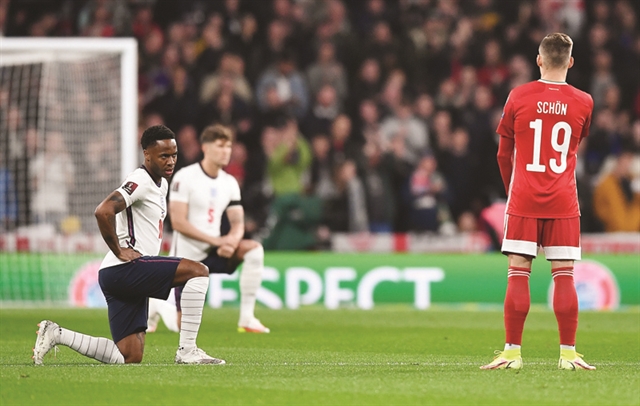 England players take the knee before the start of the game against Hungary at Wembley earlier this week. AFP Photo
Paul Kennedy
I woke up at the crack of dawn one morning this week genuinely believing I'd entered some sort of Twilight Zone, a time loop maybe, that had sent me back to the 1980s.
Checking my phone to see the result of England's World Cup qualifier against Hungary that had taken place a few hours earlier, I was met with a barrage of headlines about crowd trouble at the game.
Hungarian supporters had been fighting with stewards and police at Wembley at the beginning of the game. It started when the away fans booed and jeered the England players as they took the knee to show support to kick racism out of the game.
That, it seems, was like a red rag to a bull.
The visiting supporters reacted angrily to this gesture of solidarity, and lost the plot. A black steward working at the stadium was racially abused, and when the police stepped in, it all kicked off.
London's Metropolitan Police later issued a statement describing the incident as 'minor disorder' and confirmed they arrested a fan for "a racially aggravated public order offence" in relation to comments directed towards a steward.
While I accept that in the great scheme of things, this was a fairly minor incident, it is also a big indication of how racism still exists in football.
Remember in the first meeting of this World Cup qualifying campaign, England players of colour were abused in Budapest. And also this week there was trouble in Poland's win against Albania for more than 20 minutes when home supporters threw objects at the opposing players.
FIFA, football's governing body rightly condemned the ugly scenes.
A spokesperson said: "FIFA is currently analysing reports of last night's FIFA World Cup qualifier matches in order to determine the most appropriate action.
"FIFA strongly condemns the incidents at England v Hungary and Albania v Poland and would like to state that its position remains firm and resolute in rejecting any form of violence as well as any form of discrimination or abuse.
"FIFA has a very clear zero-tolerance stance against such abhorrent behaviour in football."
While I obviously applaud their stance, it does make me wonder when will it ever end? What needs to be done to eradicate racism, and hooliganism, out of the game?
Every now and then I get a pop-up video on my phone showing clips from old movies. Recently I've watched a few from films like Away Days, The Firm and Green Street , movies made back in the 1990s (1988 in the case of The Firm ) which, let's not beat around the bush, glorified fighting at football games.
But that was back then, this is now, and it's still going strong. Then excuses were made to justify the violence blaming society, and the lack of opportunities for young working class men at a time when jobs and prospects were low.
Thin reasoning maybe, but today, there's just no excuse.
This time next year we'll be preparing for the World Cup in Qatar and I do worry what will happen when hundreds of thousands of fans get together for what should be a showcase event that comes around once every four years.
That said, the Middle East is renowned for having a tough stance on crime. I just hope that if any of these so called fans do decide to cause trouble then the punishment meted out is swift and hard. VNS
When will it ever end? have 913 words, post on vietnamnews.vn at October 15, 2021. This is cached page on Talk Vietnam. If you want remove this page, please contact us.