Nham Hoang Khang, a well known hacker, has been detained and prosecuted by the Criminal Police Department (C02) under the Ministry of Public Security for the behavior of 'taking property by force'.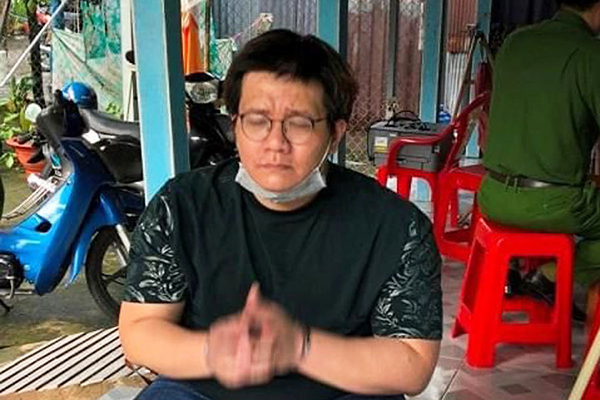 Nham Hoang Khang
The police found that Khang used his knowledge about IT to penetrate a computer network with gambling activities and extort VND400 million from the gambling ring.
Appropriate agencies searched Khang's residence in HCM City and house in Can Tho City.
Nham Hoang Khang is a well known name in Vietnam. He became better known after having a close relation with Nguyen Phuong Hang, the owner of the Dai Nam Tourism Complex.
Hang is a famous businesswoman who recently has organized many livestreams, talking about the problems of showbiz and celebrities.
Khang is known as the 'IT specialist' who helped Hang obtain important information about showbiz and celebrities.
Khang, 34, is a software developer. Khang is also well known in the IT community thanks to the ability of creating supporting software for iPhone and iPad. The coder usually provides services related to iPhone unlock.
One of the 'achievements' of Khang is inserting eSIM into locked iPhone (a kind of electronic sim integrated with many modern features, useful for smartphone users).
In the past, locked iPhones, after the activation of ICCID (Integrated Circuit Card Identifier), would have nearly all features of the international version, but users still could not use eSIM. Khang's solution was creating a virtual server, and then connecting users to the server through the proxy to insert eSIM into the phone.
Khang has been called a hacker as he recently has been involved in security cases. After Hang's livestreams, Khang had higher attention from the public. His Facebook page has seen the number of followers increase to 160,000.
The relation between Khang and Hang was established after the owner of the tourism complex offered a reward of VND1 billion to the person who could find the name of an anonymous Facebook account who sullied her.
Khang then helped the businesswoman find the account and receive the reward.
Khang wrote on his Facebook that he received VND500 million only, while the remaining money was given back to Hang, who will do charity with that money.
After that, Khang many times helped Hang find 'sensitive' chat content of famous artists. He also got involved in a lot of scandals related to charity activities of celebrities.
Khang once had a very close relation with Hang. However, the relationship has become worse because of conflicts. Khang has many times released information hinting about the wrong things Hang has done.
Trong Dat
Well-known Vietnamese hacker arrested have 631 words, post on vietnamnet.vn at October 5, 2021. This is cached page on Talk Vietnam. If you want remove this page, please contact us.