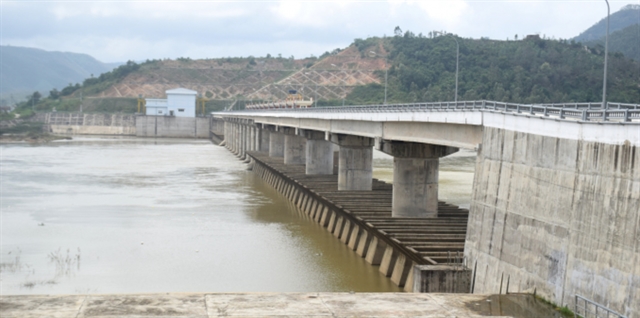 Irrigation work in Bình Định Province. The province is preparing for the 2021-2022 winter-spring rice crop. Photo nongnghiep.vn
HÀ NỘI ­– Localities in south-central coastal and Tây Nguyên regions needed to sufficiently prepare irrigation water sources for the 2021-2022 winter-spring rice crop to ensure the cultivation schedule, said Lê Thanh Tùng, vice director of the Ministry of Agriculture and Rural Development's Department of Crop Production.
The areas at risk of drought should switch from three crops to two, or arrange a suitable production schedule to avoid drought and salinity. They should also apply farming techniques to limit the impact of drought and salt water intrusion on rice areas, Tùng said during a meeting reviewing the 2021 summer-autumn and autumn crops and plan for the 2021-2022 winter-spring crop in the south-central coastal region, which was held in Hà Nội yesterday.
Localities had to promote the conversion of rice areas that were likely to suffer water shortages to other short-term crops to increase production efficiency and save water, he said.
According to the crop production department, the total area of the 2021-2022 winter-spring crop in the regions is 321,500ha, decreasing by more than one thousand hectares compared to the same period last year.
The average yield is estimated at more than 6.7 tonnes per ha and the output is expected to be more than 2.1 million tonnes, an increase of 10,000 tonnes compared to last year's winter-spring crop.
The department recommended that the localities needed to instruct local farmers to start sowing from December 10 to 31, 2021 and later than January 10, 2022 to harvest before April 30 for areas which have adequate water.
Particularly for three rice crops in Bình Định Province, the sowing has to start from November 25 to December 5, 2021, and from November 15 to late December in Khánh Hoà, Ninh Thuận and Bình Thuận provinces.
The areas that will face water shortages needed to be sown before December 10, 2021. The area is for 10-15 per cent of the total cultivated area.
Low-lying areas that have poor drainage capability need to sow before January 10, 2022, right after the water recedes.
The Tây Nguyên (Central Highlands) provinces must prepare irrigation water sources to sow from December 10 to 31, 2021.
Regarding the rice variety structure, the provinces should study the situation of each locality to use appropriate rice varieties.
However, it is necessary to promote the use of certified and short-term varieties with high yield, good quality, and good disease and drought resistance.
According to Tùng, due to the La Nina phenomenon, from October to the end of this year, the density of storms and tropical depressions in the East Sea will be more than the average of many years.
The total rainfall in the central and the Central Highlands regions in the last months of this year will be higher, so the early sowing of rice areas needs to be updated regularly with climate and weather information to ensure safe sowing and avoid damage caused by rain and flooding.
According to Nguyễn Văn Tỉnh, director of the Water Resource Department, the water sources for agricultural production in the region were mainly from irrigation and hydro-power reservoirs.
However, the reservoirs have just met 25-30 per cent of the total cultivation areas, Tỉnh said.
In general, the water resources for the 2021-2022 winter-spring crop will be adequate. However, there may be light droughts in Ninh Thuận Province and some districts of Bình Thuận Province which have small irrigation works.
In addition, areas that depend on water from hydropower systems such as Vu Gia – Thu Bồn, and Sông Ba may experience drought and local water shortages if the system does not operate sufficiently.
Tỉnh recommended localities should calculate the water sources for building up proper sowing schedules as well as closely co-operate with electric suppliers for proactively regulating the water from hydro-power reservoirs for production and daily life.
The provinces should also focus on building more irrigation works, large inter-regional water reservoirs and water transfer systems, Tỉnh said.
Nguyễn Thị Tố Chân, vice director of the Department of Agriculture and Rural Development of Bình Định Province, said the province had been zoning the areas which will face water shortages to actively respond and avoid losses.
The 2021-2022 winter-spring crop will be a difficult crop in terms of sowing timetable for the province as well as other localities in the region if the rain lasts until the end of December, Chân said.
Besides, the price of fertilisers and agricultural materials is too high now, she added.
The crop production department reported that in the 2021 summer-autumn crop in the regions, the cultivation areas reached over 181,000ha with a yield of 6.1 tonnes per ha and output of 1.1 million tonnes, an increase of 124,000 tonnes compared to the summer-autumn crop of 2020. – VNS
Water sources need to be prepared for winter-spring rice crop have 1020 words, post on vietnamnews.vn at October 26, 2021. This is cached page on Talk Vietnam. If you want remove this page, please contact us.